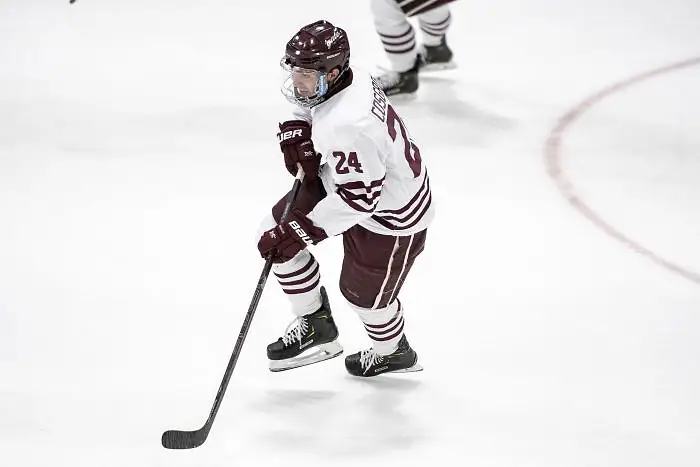 In beating and tying UMass Lowell on the road last weekend, Colgate moved closer to finding something that it's been missing – an identity.
"For us, it's focusing on process. Trying to figure out who we are," Colgate coach Don Vaughan said on Tuesday.
The Raiders took positive steps against the River Hawks, who were coming off a split against defending national champ Minnesota Duluth.
"It's hard work. It's pushing pucks behind defensemen. It's being aggressive in the offensive zone and not have to pull back and muck it up through the middle like we've had to do the last couple of years," Vaughan said.
Going into Friday night's game, Colgate was 0-3 and had scored only two goals. They fell behind early, but didn't sag.
"I didn't sense (a letdown) on the bench like I have some other times," Vaughan said. "Our guys were so dialed in."
They pulled out a 4-3 win on Ben Sharf's goal just nine seconds into overtime, then skated to a 0-0 deadlock on Saturday.
"To go in there and get four (goals) on Friday night was great for the guys," Vaughan said.
"Saturday we're back to goose eggs, but the effort was there. I really liked the way we played. It was up and down. There were long periods of time that each team had possession in the offensive zone. I told our guys at the end of the game, we're back to playing a fun brand of hockey."
Goalie Mitch Benson was excellent in both games. He stopped all eight Lowell shots in overtime on Saturday.
The defense pair of Nick Austin and Trevor Cosgrove, both juniors, played big minutes and was rock solid.
"They can both escape. They can be the way out of the zone. They did that on the weekend," said Vaughan. "It's good to see those two guys step up and contribute the way they did because we're going to need them to continue to do that."
Freshman center Arnaud Vachon scored his first goal on Friday and hit a couple of goalposts. At 6-foot-2 and 209 pounds, he is an intriguing player.
"He played an extra year of junior hockey at Brooks (in the AJHL) and he knew that that team would have a chance to win the championship and he was captain there," said Vaughan. "He's coming in here as a man.
"He's a 21-year-old freshman that is a big body, heavy, strong on the puck. He's going to continue to create for us offensively. He's hard to move and he can get up and down the rink. We expected him to come in here and hit the ground running and he has not disappointed."
Colgate hosts 1-3-1 Miami for two games this weekend.
Power surge for RPI
Scoring goals figured to be one of the challenges facing Rensselaer this season, but it hasn't been in the early going, thanks to a potent power play.
Four games into their season, RPI's success rate with the man advantage is a lusty 40 percent, second-best in the country. That's a major upgrade from last season, when they were 55th in the nation at 7.5 percent.
The Engineers are coming off a weekend in which they went a combined 5 for 12 on the power play in a 5-2 loss to Connecticut and a 7-2 win against Canisius.
The line of Jake Morello, Billy Jerry and Patrick Polino combined for eight points, including two on the power play against the Golden Griffins. A 5-on-3 goal by Polino in the second period turned out to be the game-winner.
"It's 2-1 with 13 minutes left in the second period. There was the opportunity to let that game get away. Canisius had some good chances. We had some untimely penalties," said RPI coach Dave Smith.
But, spurred by the Polino goal, the Engineers scored two more in the second period and rolled to the win.
"We're seeing that returning veteran guys know how to play (on the power play). Coach (Chuck) Weber has done a wonderful job with them, giving confidence to those groups and we've had some stability in those groups, not only from week to week but from last year to this year. They've been really important for the overall number," Smith said.
The coaching staff changed the lines after losing to Connecticut, and it paid off.
"We hadn't loved some of the cohesion, if you will, with some of the lines, so after a loss (Friday) night it gave us a chance to shake it up a little bit, maybe get a little more from some guys," said Smith.
"What (Morello, Jerry and Polino) in particular did well, just very responsible in terms of all three guys working together. They cycled the puck very, very well, with possession, not throwing it blind away. Patty and Jake's energy with Billy's size was a really good combination. Obviously, there was some excellent finish there as well."
Union's due
Union made history last weekend, and it wasn't the kind anyone's going to brag about.
The Dutchmen lost twice at UMass and it wasn't close on either night. That left them with an 0-6 record, the first time ever that they've started a season with half a dozen defeats in a row.
On Friday, Union was down by two after 40 minutes. But in the first minutes of the third they gave up a pair of goals 13 seconds apart and the game got away from them as they were outshot, 22-2. The final was 6-1.
It was no better on Saturday. The Dutchmen gave up a goal 58 seconds in and lost 5-0.
Union has struggled all over the ice, scoring only eight goals while giving up 25. Their team save percentage is .882. Only Canisius has worse puck possession numbers.
Rick Bennett's team has a pair of rivalry games this weekend, which should give them an opportunity to get things moving in a positive direction. Union hosts RPI on Friday, then will make the short drive to Troy for a rematch on Saturday.
No rust on Tsekos
It was a long time between goals for Zach Tsekos.
He scored eight times for Sacred Heart in 2017-18, then sat out last season after transferring to Clarkson.
On Friday, in his third game for the Golden Knights, Tsekos delivered all three goals in a 3-2 home victory over Vermont. Jack Jacome assisted on all three.
The hat-trick goal was a beauty as Tsekos faked out a defenseman in the neutral zone, closed in on the net and ripped the puck past Catamount goalie Stefanos Lekkas on the short side.
"We weren't necessarily expecting finish or bang for our buck early. When you sit out a year sometimes it takes eight to ten games, but he was dialed in in practice last year, give him a lot of credit," Clarkson coach Casey Jones said.
"His teammates like him, you can see that, they're cheering for him. Kudos to him. That's a nice way to start off his career here at Clarkson."