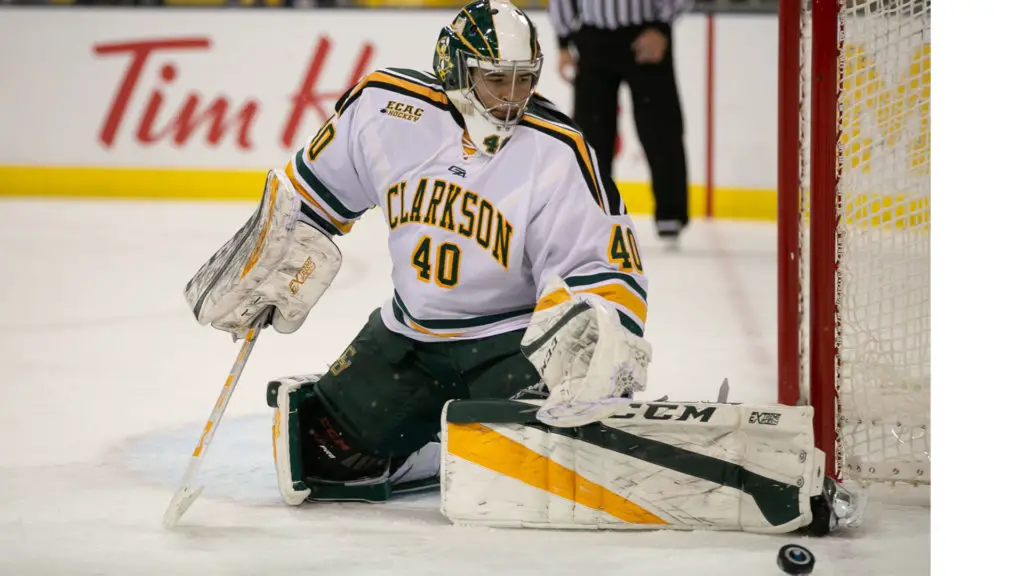 Jake Kielly was a standout in Clarkson's net last season.
When he passed up his senior year to sign an NHL contract, the odds were slim that the Golden Knights would find someone who could step in and deliver the same caliber of goaltending.
But they beat those odds.
Their new goalie, Frank Marotte, has been just as good, maybe even a tad better, by the numbers, than Kielly was last year.
A graduate student who played three seasons at Robert Morris, Marotte is one of the main reasons Clarkson is in first place in the ECAC, a point ahead of Cornell, and No. 7 in the national polls heading into games at Dartmouth and Harvard this weekend.
Kielly posted back-to-back seasons with a .929 save percentage before signing an NHL contract with the Vancouver Canucks last April. He's now playing for Kalamazoo of the ECHL.
Into the breach stepped Marotte, who has a .941 save percentage in 21 games. He is tied for second nationally with Tyler Wall of UMass Lowell. Only Dryden McKay (.950) of Minnesota State has a better save percentage.
Filling the void in the crease on short notice — Kielly didn't sign with Vancouver until April 1 — was a challenge for Clarkson coach Casey Jones and his staff.
"What we were looking for was to make sure we had experience in the net and competition for playing time. We'd heard good things about (Marotte). Didn't really know him, obviously,'' said Jones.
"In a perfect world, we were hoping Jake would have been back for his senior year. For Marotte to be available, for us to get a player with that much experience, we certainly lucked out there, that's for sure.''
The value of Marotte's experience was on display in Clarkson's win over Quinnipiac on Saturday night. The visiting Bobcats started strong, scoring their first goal five and half minutes in. The Golden Knights tied it with a power-play goal, before Quinnipiac grabbed the lead again four minutes later.
That was all that Marotte would give them. He finished with 31 saves in a 5-2 victory that left the Golden Knights alone in first place in the league.
"The thing that our players will tell you and our staff will tell you is he's really composed. There's not much of a blip. He's giving us a chance to win. If you look at the year, he probably had an off-night once. He's given up some goals that he probably wants back, but not many,'' said Jones.
"He's been able to lock it in for us. He's giving our team a lot of confidence. It's a race to three (goals). If we can get to three, we're probably in pretty good shape.''
Heading to New England for the weekend, Clarkson faces difficult opponents in Dartmouth, which is coming off a rousing come-from-behind victory over Boston University, and Harvard, which routed Yale 7-0 in a rivalry game played at Madison Square Garden.
The Golden Knights, riding an 8-1-1 streak, have won three of their last four even without injured captain Devin Brosseau.
"He's close. It's been week to week. We've got our fingers crossed,'' said Jones.
In Brosseau's absence, one of his usual linemates, senior winger Haralds Egle, has picked a perfect time to go on a hot streak. Egle, Clarkson's leading scorer with 24 points in 21 games, has six goals in his last seven, including goals in three straight.
"Obviously, Harold's had a nice progression for us in his four years,'' said Jones. "Harold, night in and night out, we always think is one of the best players on the ice, which means his consistency has hit a pretty good stride. He's obviously a key component for us. He's on the scoresheet most nights. His puck possession skills are really off the charts. He has the puck on his stick a lot.''
Other players have stepped up, too.
After going 11 straight without a goal, junior Jack Jacome delivered two goals against Quinnipiac.
"He was getting a little frustrated, but his analytics were all good, his chances generated were good. This weekend was big for him to kind of take that step. To have that second line produce with (Zach) Tsekos has been really good,'' Jones said.
Also chipping in recently have been sophomore forwards Adam Tisdale, a healthy scratch for a couple of games after Clarkson returned from the holiday break, and Nick Campoli and freshman Mathieu Gosselin.
"Campoli, who hadn't scored, he scored (against Quinnipiac). Tisdale had some time when he hadn't been in (the lineup), he gets a goal in back-to-back games. We think we should have some secondary scoring and some depth. We've been in a little bit of a funk offensively, for a little bit. Hopefully we can shake that,'' said Jones.
With a strong top line, excellent special teams (the penalty kill is second in the country and the power play is 11th) and a goalie who is playing well, Clarkson is well-positioned for the second half of the season.
"(In wins over Princeton and Quinnipiac last weekend) I liked our offensive-zone game, I liked our puck possession game. I was hoping we could get some guys off the schneid, get some monkeys off their backs to chip in regularly for us. If that's the case, I'll feel good about our team going forward,'' Jones said.
Harvard on big stage
Games between Harvard and Yale are always special, but last Saturday's was extra special.
"There's certainly a 'wow' factor playing at Madison Square Garden and being in New York City,'' Harvard coach Ted Donato said on Tuesday, a few days after Harvard's 7-0 victory.
"There's a certain memory factor that you have, playing against a historic rival like Yale, but there's no question when you have success it becomes a more enjoyable memory. We actually talked about that during the week with the guys. The final score wasn't really an indication of how close the game was, which sometimes happens in those high-profile events."
Donato hopes that playing on the big stage pays off down the road for the Crimson.
"As a coach, you want to have your players have great experiences and great memories, but you also want to put them in some spots where they're under the spotlight and in high-profile pressure situations. We feel like a game like that can give us some experience. You hope to be able to play in buildings like that, whether it's the Beanpot or the NCAA Tournament. It's a great opportunity to create that during the regular season,'' he said.
Brown is underwater
Brown has lost nine straight and has only one win in the last 13 games. With a dozen games left before the playoffs, it's now or never if the Bears are going to salvage the season.
A couple of the recent losses were excruciating.
Brown led Boston University, 2-0, on the road, but lost, 3-2, in overtime. At home on Sunday, the Bears raced out to a 3-0 first-period lead on Arizona State before losing 4-3 in OT.
"Some of these losses have been really, really difficult. We're up, 3-0, we're playing great hockey. And we find a way to just kind of give them the game,'' said coach Brendan Whittet. "Our mistakes seem to be really magnified."
Injuries haven't helped. Goalie Luke Kania is out for the season. Top-line winger Chris Berger appears to be headed that way, too. Winger Tristan Crozier has missed the last five games.
"We are what we are right now,'' Whittet said. "This season's not going as we hoped. You either lay down on the mat or you get up and continue to work and improve and battle and be aggressive. You've got to come up fighting.''