Is it possible for a team like Mercyhurst to improve on the 2000-2001 season? Winning the MAAC regular- and postseason championships and then taking a berth to the NCAA championships — and nearly upsetting Michigan in the first round — certainly will remain a highlight for coach Rick Gotkin and his club for a very long time.
But here's the shocker… this year's squad will be better than last.
Losing only three players to graduation, Mercyhurst already would be the far-and-away favorite to repeat as champions. But then take into account Gotkin's comments on recruiting.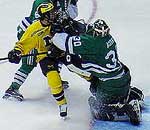 "We think that this could be our best recruiting class," said the reigning MAAC coach of the year. "As we become a little bit more high-profile every year, it's a natural progression for us. As soon as these guys settle in, we think they can be a solid class."
"These guys" are left wing David Rigley, utility forward Rich Hansen and defensemen Mike Kirby and T.J. Kemp.
Rigley is described by Gotkin to have "an NHL-quality shot" and to be "a pure goal scorer," while Hansen is a playmaker that Gotkin calls "very crafty." Though he can play all three positions up front, Gotkin wants to use him as a center.
Gotkin describes Kemp and Kirby as both being "power play-type defensemen…. Both kids are big and strong and love to finish their checks."
Now add all of that to the existing nucleus of players that carried the Lakers to victory last year and tell me what team in the league has a chance to knock them off.
Well, according to Gotkin, any team.
"I think every year is another challenge," said the modest coach. "Our goals will be the same as they were the last two years.
"Our immediate goal is to make the playoffs and hopefully with continued success, we break into the top four and have the first playoff game at home. And I don't think there's any reason we can't figure into this thing."
Figure into this thing? C'mon, Rick, I've been sold real estate in Arizona with better pitches than that.
All kidding aside, though, the sheer strength of the Mercyhurst lineup will give the team something it hasn't always been used to — a huge bullseye on its collective backs.
Every night, team after team will take a run at the Lakers in hopes of winning a game that maybe they're not supposed to. That's the spirit of sport and Gotkin knows it.
"As far as pressure goes, we always put a little bit of pressure on ourselves," said Gotkin. "There are bumps in the road, and we won't have any exceptions. How we overcome those bumps will dictate how successful we can be."
As far as returning players to watch, look no further than the man between the pipes. Peter Aubry, already voted preseason goaltender of the year by the league coaches, carried the club to its destiny last season, including a 47-save effort versus Michigan in the NCAA Tournament. That performance earned Aubry a spot on the West Regional all-tournament team.
Up front, the Lakers will return their top two scorers from a year ago in senior Louis Goulet and sophomore Adam Tackaberry. Both players posted identical 16-goal, 27-assist seasons last year and likely will carry a good part of the Mercyhurst offensive load.
The biggest loss for the Lakers was stalwart blueliner Jody Robinson. And Gotkin hopes that two solid rookies take some of that sting away.
So a notice to the other ten teams in the MAAC: take your best shot. The Lakers, simply put, will be hard to beat.