New teams, new coaches, renovated arenas. Those are just some of the changes this year in the ECAC West. Everywhere you look around the league, transformation is occurring.
Most noticeable is the addition of two teams this year, as Utica and Neumann join. That brings the league up to six teams for the first time since Mercyhurst, Canisius, and Niagara left several years ago.
"I think it's great for the league," said Manhattanville head coach Keith Levinthal. "Not only is it a very good league right now, but I think in a year or two this league is going to absolutely be phenomenal. I think there will be six real competitive teams and hopefully we can get one more team to get that automatic bid."
"I think we fit perfectly with the ECAC West, from a school standpoint — all private, all small colleges," said Utica head coach Gary Heenan. "Recruiting wise it helped us tremendously. Statistically, the ECAC West is the strongest conference in the nation. We know we've got our work cut out for us."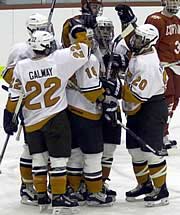 The attrition amongst longtime coaches was completed this past April when Glenn Thomaris resigned from the Elmira top job. It is amazing to think that three years ago, the shortest tenured head coach in the league was Eric Hoffberg of RIT with eight seasons under his belt at the time. And now Wayne Wilson, who replaced Hoffberg at RIT, enjoys the title of "Old Coach of the League" as he enters only his third season.
The other visible change is a mass renovation of three of the best-known rinks in the league.
Elmira added a new building off the back of the Murray Athletic center housing new locker rooms, and also renovated other parts of the rink.
RIT did some interior decorating, putting in a drop ceiling, new lights, and a new sound system.
Hobart enclosed one of the open sides of the rink with a new varsity building, holding a team locker room, training room, and coaches' office. Don't get your hopes up, though: the stands area, where the fans watch, is still nice and open, overlooking frigid Seneca Lake.
Those who have been around the league for some time might have trouble recognizing some of the old barns this season.
Here's a look at each of the six teams in the ECAC West, in predicted order of finish. Click on a team's name to see its individual preview.
1.Rochester Institute of Technology Tigers
Coach: Wayne Wilson, third season, 49-8-2
2000-01 Overall Record: 27-1-1, NCAA Runner-Up
2000-01 League Record: 6-0, Regular Season Champion, Playoff Champion
Quick Hit: RIT lost 154 points in scoring due to graduation and loss of eligibility — from the loss of only four players. RIT will need the new recruits to step up big to get back to the NCAA championship game.
2. Manhattanville Valiants
Coach: Keith Levinthal, third season, 22-28-3
2000-01 Overall Record: 14-11-2
2000-01 League Record: 2-3-1
Quick Hit: The Valiants surprised a lot of teams with a run late in the season last year, and made it all the way to the ECAC West championship game. Were the Valiants of 2000-2001 a flash in the pan, or was that just a glimmer of a future power in the making?
3. Elmira Soaring Eagles
Coach: Tim Ceglarski, first season
2000-01 Overall Record: 16-10
2000-01 League Record: 3-3
Quick Hit: New coach, new assistant coach, renovated rink, and some stud recruits. The big question is whether all of those changes will be enough to get Elmira back to the top of the ECAC West. Will this be just another rebuilding year?
4. Hobart Statesmen
Coach: Mark Taylor, second season, 6-15-4
2000-01 Overall Record: 6-15-4
2000-01 League Record: 0-5-1
Quick Hit: Taylor was able to recruit almost an entire team during the summer. Now that he has players of his own choosing, we will have to see if the Statesmen can become anything more than the also-rans they have been for so long.
5. Utica Pioneers
Coach: Gary Heenan, first season
2000-01 Overall Record: did not compete
2000-01 League Record: did not compete
Quick Hit: Some have compared the way that Utica is building a new program from the ground up to the process that Manhattanville went through two years ago. If the pundits are right, then Heenan could be on the road to success. But it would be an upset for a first year team to make the playoffs.
6. Neumann Knights
Coach: Nick Russo, fourth season, 14-47-2
2000-01 Overall Record: 2-22
2000-01 League Record: independent
Quick Hit: The Knights have been slowly building a program over the last three years. Each year, they have been increasing the financial resources, building a base of players, and playing tougher and tougher competition. But the question is, can the Knights compete against the big boys in one of the toughest leagues in the nation?