It's Crunching Time
Whip out your slide rules. The coming of a New Year also means that its time for USCHO to release its PairWise Rankings (PWR) and Ratings Percentage Index (RPI) for the current season.
The PWR for each region approximates the Division III selection committee's process for picking at-large teams and seeding the tournament field. However, unlike the Division I selection process, the weightings assigned to the selection criteria are not explicitly defined by the NCAA. Also, the NCAA reserves the right to shuffle the seeds based on travel costs.
In other words, although the PWR has correctly guessed the at-large field two years in a row, the actual selections and pairings may vary.
Additionally, the "combined" PWR and RPI are fun to look at, but are not applicable in selecting or ranking teams, since out-of-region games are not considered by the committee, but are included there.
More on the PWR and RPI next week. After all, isn't it a bit early to be talking about the NCAAs? Maybe not. While it's true that some teams have played as few as five games so far, others have played as many as 15. Believe it or not, the NCHA regular season ends in less than a month.
With that in mind, I'll assess news and happenings in each conference, as well as offer some fearless New Year predictions on what will happen in the final half of the season.
ECAC East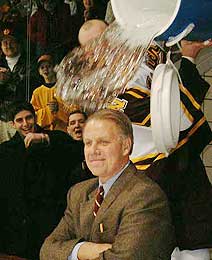 What's News — Norwich (10-0) is one of only two undefeated teams in all of college hockey (Bowdoin's women's team is 6-0-1), and has already beaten five ranked teams including regional rivals Middlebury and Plattsburgh. The Cadets' 4-1 win over 14th-ranked Trinity in the championship game of last weekend's Time-Argus tournament was extra special as it marked head coach Mike McShane's 400th victory.
"It was a great game to win the tournament, and we played well, and the game had a fabulous ending, and the kids played hard so that made it a little more special," said McShane.
He becomes the 15th coach in college hockey history to record 400 wins. McShane's overall record now stands at 401-267-45 in stints at Norwich, Providence, and St. Lawrence. His record at Norwich is 157-49-8.
Almost Certain to Happen in 2003 — Norwich will win the ECAC East title, and capture its second NCAA championship.
ECAC Northeast
What's News — Wentworth continues to impress in nonconference play, with the latest victim being Wesleyan, an 8-0 loser to the surging Leopards. Wentworth is now 4-1-1 nonconference, while the rest of the ECAC Northeast is a combined 7-28-5 outside the conference.
Johnson & Wales, which has been less successful in nonconference games (0-3) leads the Leopards by three points in the standings, with Wentworth having a game in hand. Lebanon Valley, led by Brian Yingling's 17 goals (leads the nation) will also contend, but if Wentworth netminder Raj Bhangoo continues with the hot hand, the Leopards will repeat as conference champs.
Almost Certain to Happen in 2003 — The Leopards will come close, but lose in the first round of the NCAAs.
ECAC West
What's News — What has been a two-horse race for the past three seasons, now becomes a trifecta. Manhattanville's season series split with RIT means that the Valiants are very much in the hunt for the ECAC West title and NCAA Pool B bid. What used to be a difficult-to-compute set of tiebreakers between RIT and Elmira is now geometrically more complicated. ECAC West correspondent Scott Biggar recently sent me a spreadsheet analyzing the various tiebreaking scenarios, and it looked like the plans for the invasion of Iraq.
There's still a lot of hockey to be played. Elmira must still play RIT and Manhattanville twice, and Hobart and Utica will have their say as well. But the very real chance exists that Elmira will split both series leaving the teams in a three-way tie, possibly for the ECAC West title, and certainly for the Pool B bid in terms of head-to-head play.
Almost Certain to Happen in 2003 — The host team will not win the ECAC West playoffs for the first time since 1997.
SUNYAC
What's News — While Plattsburgh has dominated the league for the past several seasons, the Cardinals have never had as big a lead as Fredonia does at the half-way point of the regular season. Plattsburgh, Geneseo and Potsdam all trail the Blue Devils by a whopping five points with seven games to play for each team. That means Fredonia can clinch its first SUNYAC regular-season title since 1995 by going 5-2 in those games. Key matchups will be road contests at Plattsburgh, Potsdam and Oswego.
Plattsburgh will almost certainly need to defeat Fredonia, and, with Oswego, Geneseo and Potsdam also in the running, probably needs to go at least 6-1 if it wants to retain the regular season crown.
Almost Certain to Happen in 2003 — Somehow, someway, the Cardinals will win the SUNYAC playoffs.
NESCAC
What's News — This conference is shaping up to the best race in terms of the number of teams that have a legitimate shot at the regular-season title. At the most, the other conferences have four teams with a strong chance; in the NESCAC there's six. Based on early-season performance, Bowdoin, Trinity, Williams, Colby, Middlebury and Hamilton could come out on top.
Trinity opened some eyes last weekend after a strong showing in the Times-Argus Tournament at Norwich. The Bantams easily handled sixth-ranked St. Thomas 7-2 and were tied 1-1 with the top-ranked Cadets with three minutes to play in the championship game before losing 4-1. Joe Ori led the way, scoring three of the Bantam's five goals on the weekend. The sophomore from Niles, Ill., was the runner-up for USCHO's Division III Player of the Week for the second week in a row.
Almost Certain to Happen in 2003 — One of the two Pool C slots will go to a NESCAC team.
NCHA
What's News — The major happening over the holiday break was the announcement that St. Norbert had suspended five players for off-ice rule violations. Freshman goaltender Eric Van Den Bosch, freshman forward Jon Schultz and sophomore forward Andy Trann were suspended from two to four games, while junior goaltender and former All-American Ryan Gill and senior defenseman Matt Stearns were suspended for the remainder of the season.
"We took this action because we feel strongly about this group," said head coach Tim Coghlin. "We have one focus and one set of priorities. When someone chooses to have their own priorities, we won't tolerate that, especially from upperclassmen. They showed by their actions that their priorities were not ours, and we needed to do what was best for the 25 guys that are here."
According to Coghlin, Gill and Stearns were held to a higher standard as upperclassmen, which is why they were punished more severely. Stearns, who played 65 games at St. Norbert, has now finished his career there.
St. Norbert's first games since the incident were a pair of dominating wins against St. John's (11-2) and Concordia (5-2), teams that were ranked at the time. Did the suspensions have any affect on those results?
"We've been dealing with this since the second week of December, so it's really behind us, " said Coghlin. "I don't think it had an effect on our play at all."
The second-ranked Green Knights face No. 6 Wisconsin-Superior in a pair of nonconference games this weekend. That means the teams will square off four times in the regular season, with a strong chance of additional postseason meetings. The teams played a total of seven games against each other in 2001-2002, including the regular- and postseasons. Why the additional nonconference games?
"This is a continuation from last season, " said Coghlin. "We both needed to fill games on our schedule at late notice. Last year they came here and this year we go there.
"I like playing games like these. It's been a while since we've had a really big game, and this should tell us something about a couple of our guys in terms of how they respond to the challenge."
Almost Certain to Happen in 2003 — Lake Forest will make the NCHA semifinals, and St. Norbert will make the NCAA semifinals, firsts for both teams.
MIAC
It was not a good weekend for MIAC teams, which went a combined 1-10-1 against the NCHA after a strong showing in previous weeks. Combine that with St. Thomas' rough weekend in Vermont (4-3 loss to Trinity and 4-2 loss to Utica) and you have a whole new meaning to the term "lost weekend." Only St. Mary's came out relatively undamaged with a 6-2 win against Wisconsin-Eau Claire and a 2-2 tie with Wisconsin-Stevens Point.
Gustavus Adolphus also got a win for the MIAC with a 6-3 victory over Wisconsin-Stout on Tuesday. It was the Golden Gusties' fourth straight win after opening the season 0-9. However, Gustavus is 0-6 in conference (six points out of a playoff spot) with 10 more league games to play.
Almost Certain to Happen in 2003 — Gustavus will make a run at the playoffs, but will end up a point or two short.
MCHA
What's News — While the second- through fifth-place teams seem to change positions from week to week, the team at the top hasn't changed. The Marian Sabres lead surprising Lawrence by a point at the midway point of the conference schedule. The teams split their first weekend series back in early November, and they'll square off in another pair of games at the end of January.
Northland gets a breather from the winter weather this weekend when the Lumberjacks travel to club power Arizona for a pair of games. Interestingly enough, Arizona's main hockey-in-the-desert rival, Arizona State, comes east for a series at Scranton.
Almost Certain to Happen in 2003 — Minnesota-Crookston will make a run at the title, but the Sabres will prevail and three-peat.