Our thoughts go out to Steve Moore, former Harvard skater who has made himself into a quite respectable NHL player. Unfortunately, he's been involved in a reprehensible act of on-ice violence, perpetrated by a star of the league, encouraged, apparently, by his coach. It started when Moore hit Vancouver star Markus Naslund, leading to a concussion for Naslund. This raised the ire of the Canucks, and in the next meeting, Moore was target No. 1. They thought the incident was behind them after Moore got into a fight in the first period, and held his own. But alas no, as the Canucks continued to take runs at Moore throughout the entire game. That is until power forward extraordinaire Todd Bertuzzi sucker punched Moore, and drove him face first into the ice, breaking Moore's neck and leaving him in a pool of blood. Moore is out for the year (he's lucky that's all), Bertuzzi is indefinitely suspended.
The entire Moore hockey-playing family, all Harvard alums including recent graduate Dominic Moore, have always been known to be class acts. It's hard to believe his original hit on Naslund was intentional, nevermind that it deserved the retaliation he got. But the stupidity of it is the reaction from fight lovers. They say that the incident could have been avoided had there not been an instigator rule in effect in the NHL. Theory being, without the instigator rule, a player could've started a fight with Moore during the original game, and gotten it over with. But because of the rule, which tosses a player who clearly starts a fight, nothing happened. I'm trying to understand the logic of this. This rule certainly didn't prevent the Canucks from headhunting Moore all night in the recent meeting. And it certainly has nothing to do with Bertuzzi's gutless cheap shot to Moore's temple.
Quickies
Speaking of former college players and bad NHL incidents, former St. Cloud State star Tyler Arnason was recently involved in strange one with his Chicago Blackhawks coach Brian Sutter. Apparently, in a bar somewhere, Sutter confronted Arnason about the need to work harder and play better. The New York Post's Larry Brooks said that Arnason's "laid-back manner and inconsistency have irritated Sutter throughout his three-year tenure behind the Chicago bench." The confrontation apparently became physical. Sutter certainly is not the first coach to get frustrated with Arnason — just ask Craig Dahl. But fisticuffs is another matter. On the other hand, Arnason did go out and score two goals the next game — a game which featured the NHL debut of former Cornell All-American goalie Matt Underhill. … The worst part, though, is that apparently the incident was witnessed by Chicago management and swept under the rug for four days until a newspaper broke the story. …
Last Thursday, Steve Saviano picked up his first penalty of the season. Prior, the Hobey Baker Award candidate had been channeling the honor's namesake. Hobey Baker took one penalty in his college career, and, the legend goes, he didn't deserve it, and it made him very upset. No one was arguing Saviano's call.
Good Luck
It's never easy to see someone you know and like get fired, in any walk of life. Such was the case this week when Princeton's Len Quesnelle was let go by the university, after 20 years of service as a player, assistant coach and then head coach.

Obviously, it's hard to defend eight wins in two seasons and a 17-game winless streak to end this one. But Princeton athletic director Gary Walters has to ask himself, who can win at Princeton? Did he ask himself that question? Well, first of all, we'll never know, because Princeton's publicity office is deflecting all media requests for interviews, saying that Walters is busy for the next month as a member of the Division I men's basketball committee. Oooooh-K.
But Don Cahoon, who coached from 1991-2000, was the only relatively successful coach at Princeton since the early '30s. And his teams never finished higher than fourth in the standings. Of course, the Tigers did win an ECAC tournament championship under Cahoon, and had three seasons of 18 wins or higher.
Thing is, Don Cahoon can sell ice to an eskimo. And he's one of the best coaches out there. He is an extremely rare personality and coach. I'm not even sure an older Don Cahoon today, minus a little energy from 12 years ago, could do now what he did at Princeton then. Especially when you add in the fact that the whole ECAC is down.
Admissions at Princeton are a big problem that are going to hamper any coach. Harvard forward Tim Pettit, he of the best release in the ECAC, is from a legacy family that dates back to the 1800s at Princeton. Yet he couldn't get in. Assistants, and lead recruiters, Brian Wiseman and Mike Bois are getting paid paltry wages. This kind of thing won't be solved with a new coach.
I'm not sitting here telling you that Len Quesnelle is a great coach and just a victim of circumstance. You could argue his case back and forth all day. But until other things on campus change, I don't think a new coach has a ceiling of any higher than 10 wins. I just know that he's all class and deserves to land on his feet.
As for some candidates, let's throw out some names. New Hampshire assistant, and former Lake Superior head coach, Scott Borek, interviewed for the position after Cahoon left. Dartmouth's Dave Peters is one of the more experienced Ivy League assistants. How about USNTDP Under-18 coach David Quinn? He was willing to be a masochist at Union, where he interviewed for that recent opening, and he shares Cahoon's BU heritage. As does John Hynes, also at the USNTDP. I've seen the name John Messuri thrown out there, a Princeton alum who coaches high school hockey in Massachusetts. And Jeff Kampersal, another alum who currently coaches the Princeton women's team. Pat Ford, current coach of the soon-to-be disbanded Findlay program, is an intriguing thought. How about Mark Dennehy, formerly a Princeton assistant now with Cahoon at UMass? I've long touted Dennehy as one of the next good young coaches out there, along with BC assistant Ron Rolston. I'd love to mention Middlebury coach Bill Beaney, whose son Trevor recently graduated from Princeton, but we've been down that road too many times to make that mistake again.
Greatness
Despite its growing popularity, college hockey is still the world's best-kept secret. And its greatness was on full display again this past weekend.
First Northeastern. Needing a sweep to get into the Hockey East playoffs — the only playoffs that eliminates a team — and no better than two ties out of Boston University, Northeastern had every reason to feel confident going into the weekend. Despite the long odds, it was playing a struggling Massachusetts, while BU was facing New Hampshire in a home-and-home. BU hadn't scored off UNH goalie Mike Ayers since early last season, over four games ago. But BU managed a 3-3 tie with UNH on Thursday, while Northeastern drew closer with a win on Friday. … Switch to Saturday, Northeastern is getting pounded, outshot 15-1 in the first period, yet leads 1-0. The Huskies go up 3-0 before UMass rallies to make it 3-2. Just as this is happening, New Hampshire finally ties up BU. If it stays like this, Northeastern is in, and BU is out. But just like that, BU scores again, and the Terriers lead. Back in Amherst, the Huskies hang on by a thread to win, just as New Hampshire ties it. Celebration time in Northeastern-land, eh? Not quite. Boston University, struggling to score all year, and shut out four straight times by Ayers heading into the weekend, comes up with an overtime game winner, on the road, and stuns UNH — thereby preventing UNH, by the way, from passing UMass — and avoids missing the HEA playoffs for the first time ever. Craziness.
What does this mean for UMass? The Minutemen got swept on the last weekend and struggled down the stretch. Though Don Cahoon has a way of finding playoff magic just when you think all has been lost. Now they face Massachusetts-Lowell, which shut out UMass twice earlier in the season. Those losses though, coming at a time when UMass was without two of its best players, were reversed because of Lowell's use of an inelgible player. Now UMass has its guys back, and Lowell has its team set, and I guess we'll find out for real who is better. Isn't it amazing how these matchups just have a way of happening?
Meanwhile, BU now gets Boston College in the first round, just the second time that's ever happened. Again, these matchups just work out. It's like the WCHA, where three of the five playoff series are rematches of the series that just happened this past weekend.
In the CCHA, things were just as crazy, if not moreso, considering that the positions being fought for were at the top, not the bottom.
Friday, three teams are separated by four points, and No. 3 is playing No. 1, who just happen to be bitter rivals. Meanwhile, No. 2 (Miami) is playing No. 4 (Ohio State), which is no slouch, but is out of the first-place hunt. So Miami makes a great comeback to overtake OSU, and draw even with Michigan, for the time being. Meanwhile, in East Lansing, you not only have the rival teams, by Al Montoya and Dominic Vicari are squaring off between the pipes — last year's star freshman goalie, and this year's. They exchanged shutouts the last time these teams met, in December. Then they were teammates when the U.S. won the gold in Finland at the World Junior Championships, and became good friends. They are locked in a tight battle until four goals are scored in a two-minute stretch of the second period, Michigan still up 3-2. But the Spartans, a great third-period team all year, score twice early in the third against a team, the Wolverines, which was 17-0-0 when taking a lead into the third. With a national television audience (and Oxford, Ohio) watching, and MSU trying to hold on, the Spartans get a power play late in the third. This looks in the bag. But wait, Joe Ryznar scores a shorthanded goal! to tie it up, and the Wolverines remain on top by a point.
Elsewhere Friday, Notre Dame, looking so impressive the previous weekend in sweeping Michigan — and thus setting up all of this top-of-the-standings drama — gets a crushing blow, getting shutout by Lake Superior upstart goalie Jeff Jakaitis. Just when prosperity was standing at the door, the Irish let it walk away. Notre Dame won the next night, but its NCAA status is shaky.
So we go to Saturday, where again, Montoya, balky hamstring and all, and Vicari are locked in a battle that stays scoreless until the third. Mike Lalonde's backhander eventually gives MSU a big 1-0 win, and the Spartans wind up just two points out of first. Meanwhile, Miami, seemingly inspired by all this, again rallies to tie Ohio State. But the RedHawks need a win, and they are pressing — which opens the door for the Buckeyes to take advantage with a late goal and a 5-4 win. Michigan celebrates, as its bitter football rival, Ohio State, wins.
Michigan State was one shorthanded goal allowed away from creating a three-way tie atop the standings. As it is, Michigan's eight losses are the most ever by a CCHA regular-season champ, which is just what happned in the ECAC the week before with Colgate. Can you say more parity?
By the way, I don't want to hear about this "backing in" nonsense. Michigan went 0-3-1 in the last four, and won the title anyway, so some say they "backed in." That is baloney. It's an overused term, and 99 percent of the time, it means nothing. There's a reason they play games in November too. They all count. Losing a couple games at the end is far more likely to simply be coincidence than anything. Sometimes you can tell a team is limping to the finish and is due for a playoff collapse. But it rarely is actually the case.
So how about the ECAC? Just four series this past weekend involving teams 5-12 in the standings, so no big deal, right? Well, Clarkson coach George Roll sits his captains, Tristan Lush and Rob McFeeters, for disciplinary reasons just before the big games. All Clarkson does is come out and roll Union to the tune of 8-3, on the road. The next night, the Golden Knights crush them again, and Union's strong play down the stretch is nothing but a distant memory. The Dutchmen have now lost 13 straight playoff games, including the last four at home, its only ECAC Division I home playoff games ever.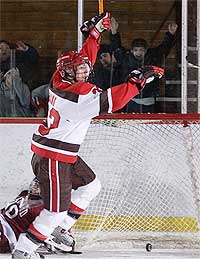 Meanwhile Friday, Yale jumps out to a 2-0 early lead, and St. Lawrence's Adam Hogg is tossed from the game. Nothing is going right for the Saints. But they get a goal and there's life, and then all of a sudden, early in the second period, Yale goalie Josh Gartner — son of NHL Hall of Famer Mike Gartner — who has played just about every minute for Yale this season, gets tossed from the game for butt-ending. This also means Gartner will miss Game 2. The Saints sense an opening, and take advantage. But not so fast, because little-used senior backup Peter Dobrowolski comes in and stands on his head. The game goes to overtime. St. Lawrence eventually does win, putting 59 shots on net against one of the nation's worst defenses. Saturday night, St. Lawrence in control, but Yale, still without Gartner, manages to get off the deck and tie the game in the last minute, forcing overtime again. And again, St. Lawrence wins.
Amid all of this conference maneuvering, there are NCAA implications galore. And the intricacies of the PairWise system is such that, with teams hanging on the edge of being considered a Team Under Consideration or not (defined as a team with an RPI of .500 or better), then every win or loss by one of those teams winds up throwing the PairWise for a loop. If Northeastern falls off the TUC bubble, who gets helped or hurt? What about BU? And Harvard? Say what you want for the PWR system, you gotta love this kind of intrigue (just bring your slide rule).
All of this on one weekend. And we haven't even reached the heart of the playoffs.
We touched on the WCHA earlier. There was basically just playoff positioning on the line, but the games were fun to watch. Saw Minnesota-St. Cloud State and Wisconsin-UMD on the dish both nights. Entertaining games. I'm still waiting for any defense at all to show up to last Friday's Gophers game. … The real shame of the weekend, though, was the injury suffered by Denver senior Connor James. The senior forward broke his leg, ending his college career. He had never missed a game previously in his four-year career.
Motley Rule
The fact that scoring is down, across the board, is no longer news. Everyone in hockey has been discussing it extensively. It's down more than ever. Thirty percent in the NHL just over the last decade alone. College hockey is showing similar trends. (Just don't tell the wide open WCHA, which is looking more like 20 years ago sometimes.)
The news, however, is the proposed NHL rules changes. And NHL rules changes have a way of seeping down to the college level eventually — though this time, we're hoping some college rules seep up to the NHL. Here are some that have been bandied about, though not all are proceeding to a final vote by the NHL.
• Reducing size of goalie pads. A no brainer.
• Goalies can't handle the puck behind the net. I hate it. Rules should not be made that directly restrict a valid skill of a player. Has the fact that goalies play the puck better than ever attributed to hockey's scoring decline? Absolutely. But that is not a reason to outlaw it. Sports should be about encouraging particular skills, not eliminating them. It's like when the dunk was outlawed in college basketball for a few years in the '70s.
• Shootout. An abomination to sports. Play 10 minute OTs at 4-on-4, that's fine with me. The argument that shootouts is "entertaining" is not valid. Naked women shooting fire darts at players would be entertaining. But I don't think we should add that (though I'd take that over shootouts).
• Widen the ice. I've long been against widening the ice to Olympic size of 100 feet. But something like a five-foot boost, to 90 feet, might be good. Of course, many college arenas are already wider, though the trend in recent years has been to go to 85 feet again. Too many people believed the game slowed down too much with 100-foot surfaces, and there was less hitting. This is very true in college, though there is probably more validity to widen the ice in the NHL, because the players are so big and fast across the board.
• Widen the neutral zone. This includes making the blue lines thicker, and moving the nets back close to the boards, where they used to be. These are no brainers.
• Full two-minute power plays. I don't like this. I realize that, originally, power plays were always two minutes, whether the power-play team scored or not. And that it was changed in the '50s as an artificial way to limit Montreal's potency. Further, I don't think power plays are that exciting. You may see further scoring, but excitement in hockey comes from scoring off the rush, or a bang-bang play in the zone. The power play is deliberate and slow most of the time. You may get more goals, but not more excitement, which is really the issue.
• Remove the red line. Would love to see it in the NHL. Maybe in the AHL as an experiment to start. But there's no reason not to do it. There was a day and age when you couldn't pass forward. I think we can allow passes over two lines.
• Make the nets bigger. I've talked about this before. Huge thumbs up. Goalies are bigger, the nets need to be bigger. It's that simple.