Even though Alabama-Huntsville defenseman Mike Salekin had his career-best four-game point-scoring streak snapped Saturday, all that means is Salekin is looking to start a new streak the next time UAH steps onto the ice.
Salekin is seeing an upgraded role on the Chargers this season after a 10-point campaign a year ago. That was after he sat out the 2003-2004 season to satisfy his NCAA eligibility. Salekin, from Castlegar, British Columbia, played one game with the Kootenay Ice of the major junior Western Hockey League as a 17-year-old and thus sat out his freshman year plus one game a year ago.
The last four years at Alabama-Huntsville have been dominated by names like Jared Ross, Craig Bushey and Keith Rowe. But with that trio having graduated, one might have assumed Bruce Mulherin would step into the scoring role. Not so, says Salekin, who is one of six UAH players atop the team scoring lead with eight points.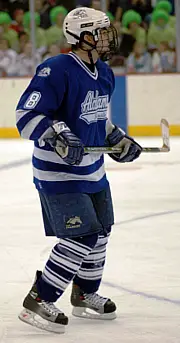 "I came into this year knowing the scoring would have to be more spread out," said Salekin, at 20 the youngest player on the UAH roster, even as a junior. "Playing with Shaun Arvai (also an eight-point scorer), I think we complement each other very well and we've both become more solid hockey players. With a lot of those guys gone from last year, that's put the onus on scoring on the rest of us and I think we've responded."
Salekin said that being an offensive defenseman has always been his bread and butter. Against Ohio State in Columbus two weeks ago, Salekin had two power-play goals and two assists, including one on Steve Canter's game-winner Dec. 2, as UAH beat and tied OSU, both nights scoring in the final minute of regulation.
That series gave the 6-foot, 185-pound Salekin a huge confidence boost. And knowing that he just has the second half of this year and next season in Huntsville has given Salekin motivation to make a name for himself in short order.
"When I sat out my freshman year, it gave me an opportunity to watch the freshmen in games and realize not many freshmen come in and play right away," noted Salekin. "You have to wait your turn and my turn is now. Our leaders right now are seniors and next year when they're gone, the attention has to shift to someone and it'll be my turn for that role."
UAH over the years has become somewhat of a Canadian reunion. This season, no fewer than 20 players are natives of the Great White North. Salekin said that was one reason (of many) that enticed him to come down south.
"I grew up playing against Grant Sellinger and Marc Narduzzi," noted Salekin of two of his current teammates. "But when I was recruited, (UAH assistant coach) Lance West kept in contact with me and I felt that was the right time in my life to make a change and move on. Being away from home hasn't really been an adjustment. In juniors (with the Merritt Centennials of the British Columbia Hockey League), I was away since I was 15 or 16, so now, it's just a new place really."
But this new home also has senior goaltender Scott Munroe, whom Salekin called "the best goalie I've ever played with."
"Scotty's so amazing in net," added Salekin. "He's built to be a goalie. Last year, I would have a horrible game, but I wouldn't be a minus because if I made a bonehead play or something, Scotty was there to bail us out.
"This year, though, I have all the hopes in the world for our team. I mean, we're playing well now and we're getting breaks here and there, but once Mulherin starts getting his goals (he had just one through the first dozen games) and the rest of us keep going, we could have something big here."
WSU Gets First Sweep of '05-'06
After last weekend's sweep of Merrimack at home, Wayne State is back in the win column after a horrid 1-9-2 start to a season many felt would find the Warriors challenging for the CHA title.
"Things are starting to turn around now," WSU junior forward Jason Baclig told MichiganCollegeHockey.net. "We're starting to get some team confidence all the way from our goalies, through to the forwards. We're starting to work real hard and we're getting rewarded."
Friday night, WSU had a 3-0 lead and held on for a 3-2 win.
"As Yogi Berra said, it's never over until it's over," WSU head coach Bill Wlkinson told MichiganCollegeHockey.net. "We had the 3-0 lead and then they come back with a power-play goal, then a mad scramble goal to put the screws a little tighter. I'm pleased though by the way we responded late, got the puck out, and kept our composure and didn't allow them to get the third one."
Mike Forgie scored in the waning seconds of overtime to give Wayne State a 5-4 win Saturday night. Baclig fired a pass to a waiting Forgie on the right side of the net who banged in a one-timer for the win.
WSU has now won three of four. Next up, Wayne State plays Northern Michigan at the Badger Showcase Dec. 30 with the potential to play host Wisconsin the next night. Western Michigan is the fourth team in the tourney.
"Our record might be what it is, but look who we play outside of the conference," WSU forward Adam Krug said. "We played Miami early on, might play Wisconsin in a couple weeks and then we play at Michigan State in January. We only lost 4-0 to Miami and hopefully coming up we can get a few W's on the board."
Beavers Get Verbals From Two More Minnesotans
Bemidji State has received two verbal commitments from two Minnesota natives from the North American Hockey League.
Fargo-Moorhead Jets assistant captain Ryan Cramer (International Falls) and Bozeman Icedogs' veteran Chris McKelvie (New Brighton), both forwards, recently gave their nods to suit up for BSU next fall.
"Playing Division I hockey has always been a goal of mine," the 19-year-old Cramer said. "This is exciting."
Bemidji State already sports one former F-M Jet in sophomore utilityman Shane Holman.
McKelvie, 20, committed this week.
"They have a great tradition as far as hockey goes," McKelvie said in the Bozeman Daily Chronicle. "They've got a pretty strong hockey team right now. I really like the hockey tradition, being in the Midwest, getting to play some big-time hockey. Academically, they have the major I want and am very interested in, exercise science.
"And everything about it was right financially for my family."
RMU Can't Solve Van Nynatten, NU Sweeps
Maybe Robert Morris shouldn't take a week off again.
Last weekend, the Colonials ran into a wall in the form of Niagara goalie Jeff Van Nynatten and were shut out in both games in western New York.
Sean Bentivoglio scored the lone goal in a 1-0 NU win Friday night and then the Purple Eagles took the series with a 3-0 whitewash Saturday night. Van Nynatten made 58 saves in the two games combined. Christian Boucher stopped 49 altogether for RMU.
"Both goalies played very well," Robert Morris head coach Derek Schooley told USCHO Friday night. "We had a week off, so some of the rust showed in the first period. We competed hard; I am not displeased in any way with our effort."
"Every CHA game is a battle from start to finish," Niagara head coach Dave Burkholder said. "Most of the guys around the country talked about how this league was up for grabs and today was nothing different. I love sitting back and watching a goaltending dual like that. But first and foremost we shut down their power play again which was huge. We worked on that every day because after last weekend, we didn't like where we were nationally on the penalty kill."
All I Want For Christmas …
Each CHA team has a need as the second half will be here soon enough. What better time to wish for something than the holiday season?
Air Force — Consistency. The Falcons don't want another fifth-place finish.
Alabama-Huntsville — For Scott Munroe to continue his stellar play in net and Bruce Mulherin to start finding the twine.
Bemidji State — Recognition. Ranked all season, the Beavers have the attention of the country. They need to maintain that since if eyes focus on BSU, they are also on the CHA.
Niagara — See UAH, but insert Jeff Van Nynatten's name.
Robert Morris — Anything but a last-place finish.
Wayne State — More wins. Obviously.
The CHA — An easy one — a sixth team for the 2006-2007 season.
On a serious note, take time to enjoy the holiday season, whichever holiday you may celebrate, and realize that no matter how rough things may seem at times, it doesn't matter this time of year. Enjoy family and friends and the camaraderie they bring, as well as the general good feelings that go around during this time each year.
To all of our readers, Happy Holidays, and soon enough, Happy New Year!
And to my family, especially my wife and son, I love you guys — Merry Christmas!