The 2006-07 CCHA: It's All Academic
This year, thanks to the wonderment of technology, anyone with high-speed Internet access could have viewed — and then reviewed, endlessly — the league's preseason Media Day.
Finally, fans across the league were privy to the inner workings of CCHA Media Day, from the jovial atmosphere to the short, short, short presentation of carefully spun information.
See how glamorous life is on the inside?
In fairness, what the league's live stream may have shown fans was the actual camaraderie among the league's coaches; for the most part, these guys really like and respect each other, they're very supportive of each other off the ice, and they absolutely are company men.
But the rest of the press conference — if that's what it can be called — felt as scripted as yesterday's news, every participant as spontaneous and fresh as history itself.
In fact, much of it felt like last year's Media Day, complete with the annual chestnuts about the toughness of the league.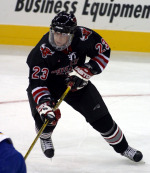 "It's going to be another challenge, it's going to be another great year in the CCHA," said Alaska head coach Tavis MacMillan.
"As has been said already, it's going to be a tough, tough year in the CCHA," said Nebraska-Omaha head coach Mike Kemp.
And Michigan State head coach Rick Comley, one of the most enthusiastic spokesmen for the league, took the rhetoric to the next level.
"I know polls are out, but believe me, I expect every game just to be a war," said Comley. "There's not a building that we go in, or a team that comes into our building that you don't have to fight for your life. So regardless of what expectations are going in, we're going to have a tremendous season within the CCHA."
Hyperbole aside, Comley and I agree on one thing: It will be a tremendous season within the CCHA, and that too is history repeating. There was exciting league hockey played during the 2005-06 season, with 26 tied games in league play. But the hockey that everyone was hoping would translate into NCAA gold (or silver, or bronze at the very least) ultimately resulted in same old, same old.
Even this year's preseason polls have an historical slant, in spite of Fred Pletsch's attempt at creating drama. "For the first time in recent memory," said Pletsch, director of communication for the league, "[There is] disagreement between the media and the coaches as to who's going to finish No. 1."
That disagreement amounts to a flip-flop in the polls between Nos. 1 and 2, but this is a cast of characters you've already memorized. Michigan State and Michigan were at the top, with the Spartans getting the nod from the coaches and the Wolverines endorsed by the media. Of course, MSU was No. 2 in the media poll, Michigan No. 2 in the coaches poll.
Seems as though we can, like, use notes from last year's test to study for this year's final.
(The one surprise of the preseason is that Miami, the regular-season champs by a relative long shot last year, were picked third in both polls. But perhaps that shouldn't at all be surprising, given the history of this league and the way that it thinks about itself.)
Looking at the CCHA for the 2006-07 season is as easy as One, Two, Three:
One Reason to Buy into the League's Competitiveness
As in, give us one reason to do so. Although talk of NCAA chances was kept to a blessed minimum at this year's Media Day — right down to commissioner Tom Anastos's giving the NCAA selection criteria short shrift in his prologue — the question near the top of nearly every fan's list is, "When is the CCHA going to show up to play in the NCAA tournament?"
According to Comley, the CCHA actually gained some ground in this respect last season.
"Our league took tremendous sides last year nationally. We helped out everybody in the league by how well we did in all our nonconference play. It helps tremendously when it comes time for the selection process."
I don't really see the ground that was gained. Perhaps the 2005-06 NCAA tournament is a text I need to review:
• Boston College 5, Miami 0
• Boston University 9, Nebraska-Omaha 2
• North Dakota 5, Michigan 1
• Michigan State 1, New Hampshire 0
• Maine 5, Michigan State 4
That's one win and one heartbreakingly close loss — both by the team whose coach claims the league made strides nationally last season. The rest? One and out. The CCHA's 2005-06 NCAA postseason record: 1-4-0, outscored by those nonconference opponents 24-8.
In the past few seasons, the CCHA has given ample evidence to disprove two treasured paradigms. The first, of course, is that the toughness of the league from top to bottom often hits the member teams in the old PairWise, something that last year's new playoff format was designed to address. An implied extension of that, of course, is that CCHA teams have such a tough time escaping from league play into the NCAA postseason that they're spent by the time they get there.
The second paradigm is generally accepted among most sports everywhere, and yet the CCHA has — through extensive empirical research — finally proven it wrong as well: Defense wins games.
Of course it doesn't. The CCHA has many fine examples of teams with solid overall team defense, as well as an exceptionally high number of excellent goaltenders. What did that earn the league last year? One NCAA win and eight tournament goals.
Something's not working here, and unless the league can provide solid scholarship — with, say, its first Frozen Four appearance since 2003? — nothing is going to convince fans that the league has learned anything from the repeated lessons that history has offered.
The Perennial Two: Michigan, Michigan State
The coaches picked the Spartans. The media picked the Wolverines. This is nothing new.
Given that MSU and Michigan share one of the most exciting rivalries in all of sports, who are we to complain? And I'm not complaining. It's a simple fact of the CCHA; there is no keeping the Spartans and Wolverines down.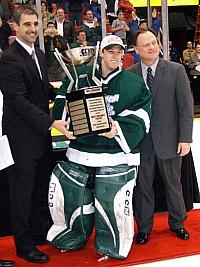 Before the early departure of Spartan captain Drew Miller, I would have put money (were I a betting woman) on Michigan State in the 2007 NCAA title game. And I'm still not convinced they won't get there.
Last year, the Spartans dominated the second half of the CCHA season, winning their 11th CCHA championship and contending until the final buzzer against Maine in Albany. Both their championship and their appearance in that game (their 15th) set league records.
Nearly equally storied are the Michigan Wolverines, whose third-place 2005-06 league finish was their first below second place since the 1990-91 season. Since and including 1992 — the first time the Wolverines appeared in the Frozen Four under the tutelage of Red Berenson — Michigan has made a league-leading nine FF appearance.
Since 1990, Michigan State and Lake Superior State have each made three FF appearances, and Ohio State its one and only.
Given the league dominance each team has shown — separately and simultaneously — in the league and college hockey, the Spartans and Wolverines are sure bets to be near the top at the end of the year.
Again, nothing new. League dominance. Presence in the national scene. Good (we hope) postseason potential. Good revenue producers for the CCHA, and teams that heighten the league's profile.
But isn't there room at the top for a Miami, which is becoming a dominant team under the guidance of Enrico Blasi, or an Ohio State or Notre Dame, two teams that can further heighten the profile of the league and college hockey? Or any number of darkhorse contenders?
Great programs, great coaches, and potentially great hockey, but any two-note song is boring.
Three Tiers, Again
And, finally, we're back to where we started — or at least where we've been stuck for many seasons.
We've got your upper tier, we've got your middle, and we've got the guys who can't seem to climb out from under. Sometimes the players change, but the result is the same.
Miami was the only team to break 40 points in league play in 2005-06, followed by Michigan State, and that, CCHA fans, constituted your top tier. Vying for the middle were Teams 3 through 10, Michigan through Ohio State, respectively, with just six points separating No. 3 and No. 10.
And Western Michigan and Bowling Green, with fewer than 10 league wins each, anchoring the field.
In 2006-07, the top tier may be more inclusive, but count on most of the usual suspects fighting for home ice at the end of the season. This, as the coaches will tell you, proves that the league is strong.
This, as just about every fan knows, proves nothing.
And Western Michigan and Bowling Green will probably anchor the field.
See? One, two, three. Simple arithmetic.
It's definitely time for the CCHA to get back to basics. The continued poor performance on the annual final known as the NCAA tournament shows that the league has a long way to go in the three Rs that really count: Readiness, Resilience, and Reality.
Here's a capsule look at each team, in my predicted order of their finish. Individual team previews can be accessed by clicking on each team's name.
I can tell you straightaway that Enrico Blasi will not be happy that the RedHawks are my preseason pick to finish first, that I may have picked the Wolverines and the Spartans too low, the Irish and pesky Bulldogs much too low, and Ohio State high beyond the reaches of sense and reason.
Remember, CCHA fans, that last season I picked Ohio State second and Miami sixth, so take this to Vegas at your own risk.
1. Miami
Head coach: Enrico Blasi, eighth season
2005-06 record: 26-9-4, 20-6-2 CCHA
2005-06 CCHA finish: first
2006-07 predicted ceiling/basement: first/fourth
Textbook RedHawks: The RedHawks return a solid team, but will they succumb to what shall henceforth be known as "The Kunitz Factor," the loss of a key man who held the team together? "We didn't lose a lot, personnel-wise," said Blasi. "When you talk about losing Andy Greene … you can probably argue that you did lose a lot, but most of our guys are back and intact and I know for a fact that they're a year older and more mature and stronger." Who knew that in addition to being the 2005-06 Spencer Penrose recipient, Blasi is also a poet?
Head coach: Rick Comley, fifth season
2005-06 record: 25-12-8, 14-7-7 CCHA
2005-06 CCHA finish: second
2006-07 predicted ceiling/basement: first/fourth
Textbook Spartans: Comley, too, is determined to show that the Spartans aren't the 2003-04 Bulldogs (from whom we get the Kunitz Factor). "We're not about individuals, we're not about any one player," said Comley. "We just have a collection of good kids who work hard, and we're hopeful that it's going to be a very good season in East Lansing." And given how decisively the Spartans played at the end of last season, Comley's assertions are easy to believe.
3. Michigan
Head coach: Red Berenson, 23rd season
2005-06 record: 21-15-5, 13-10-5 CCHA
2005-06 CCHA finish: third
2006-07 predicted ceiling/basement: first/third
Textbook Wolverines: In Ann Arbor, everyone is hoping that 2006-07 will provide no sophomore jinx. "We had a lot of young players last year, if you remember, 15 new faces in the locker room," said Berenson. "The players who were expected to play well in that group did. Jack Johnson certainly lived up to all the expectations that people put on him, and young Mark Mitera and [Andrew] Cogliano and the rest of the freshmen were strong, but they should be better this year and they'll be a bigger part of our team." And Johnson's dad really knows how to dance — both in the stands, and with the big boys.
Head coach: Mike Kemp, 10th season
2005-06 record: 20-15-6, 12-10-6 CCHA
2005-06 CCHA finish: fourth (tie)
2006-07 predicted ceiling/basement: fourth/sixth
Textbook Mavericks: The good news for UNO is that the best player in the league has returned. "Our biggest key to this year was a recruiting battle we won over the summer, and that recruiting battle was with the Los Angeles Kings," said Kemp. "We've got Scott Parse returning to be our captain for (our) senior year. All he's done is led our team in scoring for three consecutive years, set our school all-time scoring record at the end of his junior year, and last year of course, was all-conference, all-American and CCHA Player of the Year." The challenge for the Mavericks is to prove that they're more than the sum of Scott Parse, especially in their defensive end.
Head coach: Walt Kyle, fifth season
2005-06 record: 22-16-2, 14-12-2 CCHA
2005-06 CCHA finish: fourth (tie)
2006-07 predicted ceiling/basement: second/sixth
Textbook Wildcats: It's too easy to call Northern Michigan a team in transition. "We lost eight seniors a year ago," Kyle said. "We have 12 freshmen on our team this year that are all going to see significant ice time. We're going to have a difficult time replacing those guys." But in spite of the newcomers, the Wildcats still have an experienced senior class.
6. Ohio State
Head coach: John Markell, 13th season
2005-06 record: 15-19-5, 11-14-3 CCHA
2005-06 CCHA finish: 10th
2006-07 predicted ceiling/basement: fourth/10th
Textbook Buckeyes: Ohio State, picked in the 2005-06 preseason to finish first, rounded out last year's middle tier. "We started off with such high hopes," said Markell. "We just didn't have that last little bit of firepower. We had one of those years that we just weren't putting the puck in the net. I guess you have to go through those years to appreciate where you're at or where you're playing." This year, the Buckeyes — victims of the Kunitz Factor themselves last year — will have to try to attain respectability without the help of lead scorer Tom Fritsche.
7. Alaska
Head coach: Tavis MacMillan, third season
2005-06 record: 18-16-5, 11-13-4 CCHA
2005-06 CCHA finish: eighth (tie)
2006-07 predicted ceiling/basement: fourth/10th
Textbook Nanooks: Alaska suffered from the same disease as many CCHA teams last season, something just as deadly as the Kunitz Factor: No-goal-itis. "Up front, it's no secret, we've struggled to score goals and it's our biggest challenge right now," said MacMillan. "We felt we made some strides in the area of defending and goaltending but we've been challenged by scoring goals and it's something that we need to get better at and we feel like we've got the right kids — better yet, we're going to put them in better places to succeed this year."
Head coach: Jim Roque, second season
2005-06 record: 15-14-7, 11-12-5 CCHA
2005-06 CCHA finish: sixth (tie)
2006-07 predicted ceiling/basement: fifth/10th
Textbook Lakers: All LSSU needs to do is continue to improve, and it looks like Roque is happy with the direction of his Lakers. "Last year's team had a group of 12 seniors and they had been together since the beginning, so even though there was change going on with the team, they kind of took it upon themselves to protect each other and to protect the team," said Roque. "Almost to a fault they wanted to handle everything. I think it led to some of the younger guys being excluded."
9. Notre Dame
Head coach: Jeff Jackson, second season
2005-06 record: 13-19-4, 11-13-4 CCHA
2005-06 CCHA finish: eighth (tie)
2006-07 predicted ceiling/basement: fifth/10th
Textbook Fighting Irish: Last year, Jackson inherited a team that had talent but little self-confidence. "It is a very exciting time for me going into the second year, not knowing what to expect last year," said Jackson. "We made tremendous gains … and were a much better team in the second half mostly because of our defense." The challenge for Jackson, Paul Pooley, and Andy Slaggart — and the rest of the Fighting Irish — is to continue to breathe new life into a program that's trying to build an "external culture" of hockey in a Touchdown Jesus world.
10. Ferris State
Head coach: Bob Daniels, 15th season
2005-06 record: 17-15-8, 10-11-7 CCHA
2005-06 CCHA finish: sixth (tie)
2006-07 predicted ceiling/basement: fifth/10th
Textbook Bulldogs: Who are these Bulldogs? Seventh last year in scoring, eighth in defense, fourth on the power play, sixth on the penalty kill, this team defined average in 2005-06. "In regards to our team, it's kind of broken record, sounds like everybody else," said Daniels. "Some teams have good scoring, for us our strength will be in net." As we've seen, defense only takes a team so far.
11. Bowling Green
Head coach: Scott Paluch, fifth season
2005-06 record: 13-23-2, 8-18-2 CCHA
2005-06 CCHA finish: 12th
2006-07 predicted ceiling/basement: ninth/12th
Textbook Falcons: BGSU has to be the team with the most to prove this season, OSU's spectacular fall from grace in 2005-06 notwithstanding. "We scored a lot of goals last year, but we could not keep them out of our goal," said Paluch. "That's our biggest challenge as we enter. Six members of our defense last year who played a lot of hockey are back." But with a team defense that was 55th in the country, is that really an advantage?
12. Western Michigan
Head coach: Jim Culhane, ninth season
2005-06 record: 10-24-6, 7-16-5 CCHA
2005-06 CCHA finish: 11th
2006-07 predicted ceiling/basement: ninth/12th
Textbook Broncos: The big news for the Broncos is a $2.5 million facelift for Lawson Arena. "It's been a very rewarding experience," said Culhane. "A lot of dedication and a lot of time allocated to that program." For WMU fans, this has to be good news, an endorsement for a program that certainly can use a boost from the university's administration, and some nice work on one of college hockey's best barns. Better news this season would be for the Broncos to allow fewer than four goals per game, their average in 2005-06.
Thanks to Sean Caruthers for his Media Day contributions.