Like many other teams in the WCHA, Denver head coach George Gwozdecky is staring into the face of a whole new offense, so his plan is to build from the back line of defense, up to the front.
The Pioneers platooned goalies last season with Peter Mannino and Glenn Fisher, and their opportunities will not change this year. While he may not use the exact same formula in regards to their starts, he is counting on their play to take them back to the top of the league.
"Hopefully the position that's going to be the strongest for us is in goal," Gwozdecky said. "In my mind, they're the best one-two combination in the country. We're going to have to lean on those guys quite a bit."
Mannino's and Fisher's statistics from last season are eerily similar. Mannino went 12-8-1 with a .904 save percentage and a 2.71 GAA, just slightly better than Fisher, who was 9-7-2, .898 and 2.72.
The battle between the two, knowing that their coach will play whoever is playing best, and not necessarily platoon them, should make them, and the Pioneers, even better.
But as far as scoring is concerned, heading into the season that will be a bit of a mystery, and DU knows that is not a secret.
"This year's team is going to have a little bit different face," Gwozdecky said. "Ryan Dingle, who returns to us, had 27 goals last year, a terrific year. After that, it's going to be a little bit of a roll of the dice."
Up Front
Dingle will be counted on to repeat, if not exceed, his sophomore season: a 43-point effort. From there, it's a tossup.
Gwozdecky will look to veterans like J.D. Corbin, Geoff Paukovich and Patrick Mullen, but Dingle is far and away the leading returning scorer. No other returning player even netted 10 goals.
And like most other teams around the league, some fresh faces will need to take over right away — guys like Rhett Rakhshani, Tyler Ruegsegger and Brock Trotter. Those three have all shown they can get it done, but come from different levels — the U.S. NTDP, prep school and juniors, respectively.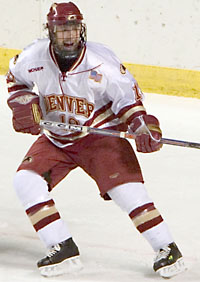 "Those are guys up front that we're going to lean on quite a bit on offense," Gwozdecky said.
On the Blue Line
Despite the loss of Hobey Baker winner Matt Carle, the Pioneers should be solid on defense with a triple threat in captain Adrian Veideman, Chris Butler and Andrew Thomas.
Outside of that, there will be plenty of players competing for the final lineup spots.
In the Crease
This is where it all starts for the Pioneers and it will be interesting how Gwozdecky uses Mannino and Fisher throughout the season.
Both of them are very capable goaltenders in the league and it does not sound like one will be favored over the other heading into the season. It will solely be based on which one is playing better when the weekend arrives.
"I think last year, one of the things that we saw on our team … at all the positions, our lack of depth at times led to complacency," Gwozdecky said. "Guys knew they were going to be in the lineup. There's no question that we have more depth in our lineup … and we're going to go with the guys who are playing at their best.
"You could call it motivation for our goaltending situation, but both Glenn and Peter really have that determined look in their eye."
The whole team has a look in their eye: it's the look of a 2005 national champion that did not get a chance to defend the title last season. Count on the Pioneers to be hungry.