Team Overview: Injuries took their toll on the Jumbos coming down the stretch last season as they seemed poised to make the conference playoffs. This year head coach Brian Murphy likes his overall numbers which should provide some much needed depth: "We will have better numbers so we shouldn't get caught only dressing 13 or 14 skaters like we had to do in a couple of games at the end of last season." We will be pretty young and have lost some key guys from last year's team but I like what we have back and really like our goaltending potential."
Juniors James Kalec and Issa Azat give Tufts a tandem of goaltenders that few schools in the league can match. If Kalec can return to the form he displayed as a freshman, Tufts could surprise a few teams and challenge to return to the playoffs again this year.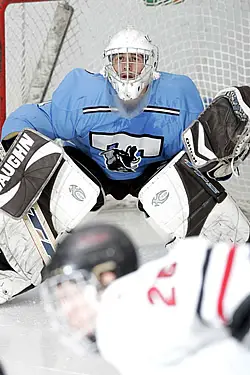 Offensively, sophomores Greg McCarthy (14-13-27) and Joe Milo (12-7-19) are potent scorers who have the ability to score big goals combining for six game winning tallies last season.
Special Teams: The Tufts power play was very effective last season accounting for over 40% of the teams total offensive output. Despite the loss of Matt McCarthy, younger brother Greg and Milo scored 17 goals on the power play and will look to build on those numbers this year.
Schedule: Despite their membership in the NESCAC conference, Tufts holds on to several rivalries during the regular season dating back to their ECAC playing days. Games with Salve Regina, UMass-Dartmouth, Suffolk and Johnson & Wales continue to perpetuate great match-ups with teams now playing in the ECAC Northeast.
Summary: Staying healthy will be a key for Tufts as last year's fade was primarily based on not enough bodies on the ice to translate effort into results. Special teams are a difference maker and Tufts has the talent to surprise some teams if they are not ready.