Team Overview: The Ephs' second-place finish last season might have been a surprise to everyone else but coach Bill Kangas: "You just want to keep building momentum and its cliché, but play better in every game than one you played the night before. We were fairly young last season but those guys have a full season under their belts so we will looking to see who can go to the next level and contribute a bit more this season. We expect to be pretty balanced and really try to take advantage of our team speed."
One forward who will surely be counted on this season will be junior Brandon Jackmuff. Jackmuff had a knack for scoring big goals for Williams last season as he posted eight power play goals, two shorthanded goals and four game winners in his sixteen total tallies.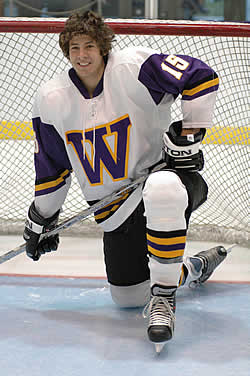 Williams, like Bowdoin, will be looking to find some stability in goal at the beginning of the season. Gone is last year's workhorse, Brad Shirley so the competition should be wide open between a couple of new netminders and last year's back-up goaltender Dick Redmond who went 3-2-2 in ten games last season.
Special Teams: The Ephs were pretty even in goals scored and goals against last season with a +10 margin but were dead even in power play goals for and against with 28 each way. They will look to improve on capitalizing on their chances this season.
Schedule: Coach Kangas likes to challenge his team and give them opportunities to play some tough opponents early in the schedule. This year is no different as Williams goes on the road in December to face Hobart, Manhattanville and Plattsburgh. Should find out early about the depth of this team and quality of goaltending.
Summary: Team speed and a young squad that grew together last year on both sides of the Atlantic will have Williams playing for home ice again this season.