The final weekend of the season is always bittersweet, but it is especially so when it marks the end of the hockey careers of two of the most distinguished ever to play the college game-2007 Patty Kazmaier Winner Julie Chu of Harvard and 2006 Patty Kazmaier Winner and 2007 Frozen Four Most Outstanding Player Sara Bauer of Wisconsin.
Right now, it's hard to imagine the college game without these two.
Chu played in three straight NCAA finals, and while her team came up short of the Frozen Four this season, she played more minutes of postseason hockey than many past Frozen Four participants. Her stamp was on three of the greatest postseason games ever – the 2003 double overtime NCAA final against UMD, the 2005 triple overtime NCAA quarterfinal against Mercyhurst, and this year's quadruple overtime NCAA quarterfinal against Wisconsin.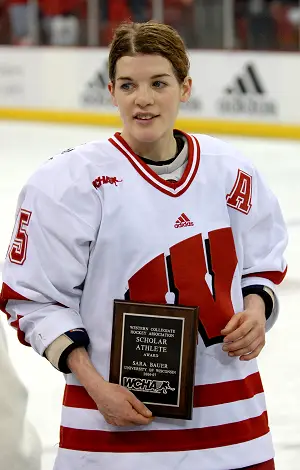 Sara Bauer receives her scholar-athlete award from the WCHA. Her 3.96 GPA among elite players is unprecedented.
John E. Van Barriger /
words-photos.com