Uncle.
That's what I'm saying in response to all the outdoor games now being played and planned for college hockey.
Enough is enough. It is getting ridiculous.
The most impactful "outdoor" college hockey game played in recent years was an intrasquad game of shinny by Notre Dame a couple of years ago. After getting swept by Michigan in a regular season series, coach Jeff Jackson took his team to a local outdoor rink in South Bend for an outdoor day of fun on the ice to refresh the team. Following that day, the Irish had a good week of practice, came back and clobbered Bowling Green and were off and running to a great second-half run.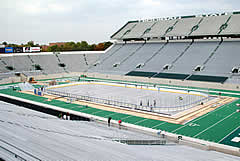 The Cold War game was a great idea — it was two in-state rivals in Michigan and Michigan State playing at Spartan Stadium on a beautiful late afternoon in the fall. It was an event, it was dramatic, it was the first of its kind and it was a great game.
The beauty of it was that it stood alone as a one of a kind event until the Frozen Tundra game at Lambeau Field between Wisconsin and Ohio State. The game was OK and the participants enjoyed themselves but no one has really brought it up since.
The NHL does the outdoor game, termed the Winter Classic as the once-a-year TV show it desperately needs to sell the game. The NHL really never has had a foothold on national TV in the U.S. and the Winter Classic now gives them almost complete control of viewers on a national over-the-air network (NBC) on Jan. 1, a day a lot of people are home. The NHL Network covers it wall to wall and its hockey broadcasters are on a hockey network talking to hockey fans. It's set up perfectly.
NCAA hockey is a completely different animal. It thrives on the passion and dedication of the players, fans and alumni and it doesn't need a gimmick. It needs hockey people talking to that demographic not bells and whistles. If the NCAA wants to create a buzz for college hockey on TV, its conferences and member schools should be partnering with the networks who have made college hockey a priority to figure out a way to make these broadcasts more economically viable to all parties.
This season there are a few outdoor games on the NCAA slate. The two biggies are men's games between Boston University and arch rival Boston College at Fenway Park and Michigan-Wisconsin at Camp Randall Stadium in Madison.
BU-BC is interesting at Fenway as that Stadium is part of American sports culture as are the Boston Red Sox. BU-BC is a good old fashioned rivalry and Jack Parker and Jerry York are Nos. 1 and 2 in wins among active coaches and each could overtake Ron Mason's 924 career wins in the next five years with good seasons. Both Boston natives, Parker and York have competed against each other as far back as when they played in high school. Boston is just a great city to do this.
The game also features the last two national champions in college hockey in a major media market that could well be America's best hockey city. It is a by-product of the Flyers-Bruins Winter Classic which is a good traditional matchup for the NHL in this event. As a standalone event I'd say BU-BC at Fenway is "staged" event but in concert with the celebration of hockey in Boston New Year's Day it is a great idea.
That game should be the only outdoor NCAA game. That is a huge historic hockey rivalry in a big time American sports venue. Eyeballs would tune into that just to see the rink on the field at Fenway Park. It is a very unique sell to the national American sports fan.
That brings us to the Michigan-Wisconsin game in February. The lure of a rink on the football field at Wisconsin just doesn't grab you like Fenway Park or Lambeau Field.
In February!
Legendary hockey writer Andy Baggot has covered the Badgers on ice for many years and we chatted about the date of the game. He told me that they did studies and that the average temperature on that date in Madison is about 20 degrees. Ticket sales for the event have been slow.
You'd better hope for great weather because a consistent breeze of any magnitude on a 20 degree day and you have frozen fans, frozen broadcasters, frozen refs (which would put them in a great mood) and cold goalies.
"But Dave, it's an event."
No it isn't.
That brings me to Wrigley Field and the Winter Classic last season. The overwhelming opinion from people who were there, media, fans, hockey people, etc was that the pre game was cool, the hanging out waiting to get in, the festivities, the parties outside Wrigley, the celebration, the pre-game ceremonies, etc. Once the game started it lost its hold on them, it was just another hockey game.
Michigan-Wisconsin is an event made for TV (a pseudo event) in a contest that normally wouldn't garner much attention. Michigan playing hockey in Madison happens once every two years in the college hockey showcase and the national big boys who broadcast college hockey have realized that while the games are usually good and competitive the atmosphere on Thanksgiving weekend is a little less than its normal electric self. No one wants to televise it anymore because there are too many empty seats.
That's a shame but is the financial reality.
"It's a Big Ten rivalry, Dave," I hear from my good friends in the Midwest.
Really?
I ask my friends here in NY that are alums of these schools if they care about this. These are die-hard hockey fans. Would they go? Will they watch it? There wasn't much interest.
To say there is a real rivalry between these two teams is stretching the truth; that is the vibe I got from those alums.
Big rivals?
It is the most overused and unproven cliché in sports. Since when is it a rule that because you are in the same conference you are "big rivals?" And on the ice they aren't in the same conference anyway.
"But Dave, they used to be!"
Know what? So were the Tigers and Brewers, and how much do those two teams getting together excite you?
Harvard and BC are more of a rivalry because they are 3 miles away from each other and are huge parts of the Boston hockey landscape.
Cornell and BU are rivals and their two games at Madison Square Garden the past two years have drawn huge attention and sold crowds of 18,200. Whoever dreamed up that idea is a genius. The average fan who saw highlights of that saw a packed house at the "World's Most Famous Arena" that proved you can sell college hockey to a non-college hockey market.
I'd support games-turned-events between teams in NHL buildings in famous hockey markets before I buy into this outdoor game nonsense. BU-BC at TD Garden is a sellout. Gophers-Badgers at Xcel Energy Center is a no-brainer. Michigan-Notre Dame at the United Center in Chicago could sell.
When was the last meaningful, impactful, landscape-altering game in any sport between Michigan and Wisconsin that anyone not connected to these schools can remember? Also — and this is kind of important — there is no Big Ten conference in college hockey and thankfully never will be. These schools are Big Ten institutions, but not on the ice. This game, at best, is between two college hockey teams who couldn't care less about the other until they run into each other in the NCAA tournament. Michigan beating Wisconsin in November in Ann Arbor was more about improving its record and showing it can go end to end with a good team than beating a rival.
This leads me to next year's outdoor epic in Ann Arbor between the Wolverines and Spartans. Maybe it's the cynic in me, but I can't help but feel Michigan is doing this just to break the record for outdoor attendance that MSU holds from the Cold War game. That is kind of cool, actually; can the term rivalry be on display any better than that?
On the other hand, the game is in early December and the weather in Michigan at that time of year is still pretty tolerable when you are outside. This game has some interesting appeal but still the point is the novelty of the outdoor game is starting to be less of a novelty, sort of like the hula hoop. After a while you just get bored and discard it.
A situation where the Wings played at the Big House against the Minnesota Wild in conjunction with a game between Michigan and Minnesota or even anticipated Michigan-MSU match would be an idea. The cross promotion would be terrific. You really have something to market. Like the Winter Classic, you have a bigger purpose than the game.
In Madison, hockey is sold. The Kohl Center is packed every night. You don't need this game to sell the game in Madison or in the state of Wisconsin. Badger Bob Johnson did that decades ago. Realistically, 75 percent of people who would watch this game on TV should be at it (you would hope for attendance reasons).
I don't know if I am in the majority or minority here, but enough is enough. I know the legends of the game grew up playing on the pond outdoors in sub-zero weather. I know the buzz is about creating that old-fashioned feel. They didn't wear helmets then, either. Equipment was cloth and plastic. Skate boots were leather. Sticks were wood. I'm for keeping hockey in the is and not in the was. Outdoor hockey was what we did as kids; indoor hockey is what we do as adults.
College hockey should be played where it belongs — inside its own rinks with its feverent crowds, pep bands and intimate atmospheres. Enough made-for-TV gimmicks. It works in the NHL — the league has greater appeal. This is an idea it is time to say goodbye to at the NCAA level. Hopefully we will do that next season in Ann Arbor.