A savvy gambler would tell you that playing with the house's money means that you don't care whether you win or lose, because you've already made your profit.
 
So forgive me if I'm among the many that felt that Yale's Ryan Donald's comments were a bit off after his Bulldogs beat North Dakota in the first-round game of the NCAA Northeast Regional at the DCU Center in Worcester.
 
Maybe Yale felt that way. Maybe they felt a regular-season ECAC title was sufficient. That victory was enough money in the bank for the Eli.
 
However, a gambler might also define this famous expression of simply having little expectations for yourself at the tables because of your profit.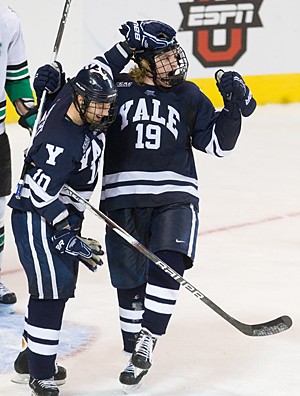 In that sense, Donald's expression of doubling down with the money already in the bank makes total sense.
 
Prior to Yale's game on Saturday, most everyone in the college hockey world was talking about the fact that Boston College, a 3-1 winner over Alaska, was set to meet North Dakota in the Northeast Regional final on Sunday. Sure, the matchup would be highly anticipated, but the problem behind that mentality was the Bulldogs.
 
"It lightened the mood for us," said Donald. "We felt we were playing with the house money a little bit. Not too many people were expecting too much out of us."
 
The underdog role isn't something that Yale has been familiar with this season. They were picked first in the preseason coaches' poll. They certainly had the target on their backs when they clinched the regular season title.
 
In all truth, Yale can possibly empathize with North Dakota. Two weekends ago, the Bulldogs were heavily favorite against Brown, which finished 11th in the ECAC regular season. Yale, though, couldn't handle the favorite's pressure and fell in three games.
 
Roles reversed, Yale certainly changed the outcome on Saturday.
 
"We did a good job of that role of the underdog tonight," said Donald. "We played a little bit looser than we did two weeks ago."
 
It's a phenomenon in athletics that is often difficult to explain. Ask New Hampshire why it was able to breeze past a heavily favored Cornell team on Friday yet lose decidedly to RIT, representing a league that has never been to the Frozen Four in its short history. Ask Villanova or Kansas or Georgetown in men's basketball.
 
Sometimes upsets are inexplicable, but that's what makes us keep coming back.
 
Saturday, Yale used a quick start, taking a 3-0 lead before holding on for the one-goal win. That though, was also a slow start for their Sioux brethren. North Dakota had been on a roll coming into the tournament, sweeping three games at the WCHA Final Five to win the title.
 
So no one expected somewhat of a no-show effort from the Sioux, especially the Sioux themselves.
 
"You can't really put a finger on it," said North Dakota's Derrick LaPoint. "Some days you have it, some days you don't. It's one of those things you can't really plan for. You can't really expect it."
 
Something else that few expected was to see Yale's Ryan Rondeau in net for the Bulldogs. Rondeau hadn't played a single game since November 21, and few were probably focused on that, as it was the same day as Yale's loss against Harvard in the famous Harvard-Yale football game.
 
After Yale was bounced by Brown two weekends ago, coach Keith Allain decided it was open season for goaltending.
 
"One of the things I told the team after we got knocked out of our conference tournament was that whatever goaltender deserved to play after these two weeks of practice was going to play," said Allain. "It was open season competition and Ryan won the competition."
 
Yet another gamble by the Bulldogs and yet another one that paid off. Rondeau finished the game with 34 saves, including 16 in the final period, when the Sioux had put on the full court press. It was only the fourth decision of the season for Rondeau.
 
With the victory in hand, Yale has earned something it never had before — an NCAA win in a game that meant advancement (Yale won a consolation game in the 1952 Frozen Four, its only tournament victory before Saturday).
 
Maybe that's money in the bank, and maybe, just maybe, that's how the Eli will approach Saturday's regional final.
 
If that's the case, you can truly say that this team is officially playing with the house's money, and this team is ready to cash its chips in, in exchange for a trip to the Frozen Four.