The past two years I was the analyst for NHL Network at the World Junior Championship when the event was in Canada. No one knew who we were up there; the games were on TSN in Canada. Now stateside in my third year, it's amazing how many people are watching these games and, conversely, how many people in the city, the hotel lobby, the arena, come up to me and say "Hey, saw you on TV last night."
It's always good to be recognized but it also is unique because it usually generates a question or conversation about Team USA and the tourney. I love it when this happens in the college rinks/areas we frequent with CBS College Sports; who wouldn't want to see what the people watching the games think and have them share their thoughts or ask me mine?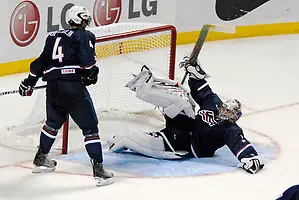 Up here in Buffalo, there are many questions that get asked. Some come from fans, some from scouts, some from the players, and some from their parents. It is a unique dynamic socially up here around the hotel, rink, media area, and I figured I'd take some of the questions folks have asked me and answer them in a greater forum.
Question: Is Team USA still the favorite entering the medal round?
Answer: Why would they not be? They have the best goalie in the tourney in Jack Campbell. They have seen some players rise to the occasion in the face of injuries (Mitch Callahan comes to mind here) and have played four very different games and won then all. They are generating shots, keeping chances against low and dictating the pace of games.
However, Sweden is going to be tough and the Canadians scare me also. The other pool is much better battle tested then the Americans. While the Russians have been hot and cold, they are pretty good and both Canada and Sweden really had to go to war to win their game against the Russians. The Sweden-Canada game was similar to the New Year's Eve epics and gold medal game played by the U.S. and Canada in the last two tourneys. I'm a big believer in battle-tested teams being favorites. If/when the U.S. gets by Canada on Monday and presumably faces the Swedes, I'd say they would be the better team on the ice prior to puck drop.
Question: There are more NCAA guys this year than in recent years. Is that on purpose?
Answer: Never asked, but American hockey is about college hockey so you can work that one out among yourselves with that little nugget. Of the four pros on the team, three (Kyle Palmieri, Jerry D'Amigo and Nick Leddy) have an NCAA background.
Question: How good is Charlie Coyle?
Answer: Real good would start the conversation. Future top-six NHL forward would probably finish it. As Charlie gets bigger and stronger and his mental game continues to develop he could be dynamic. He has been able to get this tourney to be played at his speed and has exposed teams that can't keep up. In a tourney dominated by 19-year-olds, the youngster from Boston University via the Eastern Junior Hockey League has done well.
On an interesting note, his linemate Kyle Palmieri is an EJHL alum and their linemate Chris Krieder was almost an EJ kid. Now, that would have been an interesting testament to that league to have the three guys on the top line all be alums.
Question: Is this team a lot like last year's team?
Answer: I do not like to compare teams. Was the 1984 U.S. Olympic Team like the 1980 one? This team is well put together and has a ton of the same components. Callahan is a lot like Luke Walker was last year, a guy who then-assistant coach Tom Ward said was there to "tenderize the beef" in pointing out Walker's physical play. Coyle reminds me of Krieder from last year.
If there is a big difference it is in the personality. Teams take on the personality of their head coach. Dean Blais is more of a gregarious guy who speaks his mind in a very strong yet respectful way. He has an edge and his team had one also. Dean told me last year somewhat tongue in cheek that "on Monday morning I want my guys more scared of me than who we play on Friday."
Keith Allain is more reserved, and this team in its mannerisms is also. Blais' team had a lot of guys who told you "I need to do more; I need to step it up." They gave you hints when Blais challenged them. This version is more about, "we have to get better every game." They have taken a stoic and businesslike approach.
Question: You have pumped the WCHA guys a lot. Why?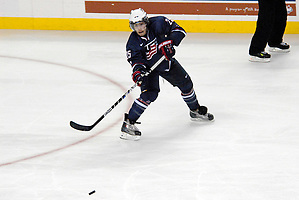 Answer: They have been really good. Justin Faulk in the first three games was really good. Nick Bjugstad is a burgeoning star. Brock Nelson was pretty darn good against the Swiss and deserved a better fate on some of his offensive chances. Drew Shore has been theregame in and game out and at times has had a huge impact on games. Derek Forbort probably has his best hockey ahead of him in the medal round as the style of play starts to resemble the way they play in the WCHA — hard and fast.
Question: How committed is USA Hockey to having a team that can play for gold every year?
Answer: While no team can play for gold every tourney (though Canada seems to) the answer to that question is it is very committed. Dave Ogrean and his staff get more progressive every year. The National Team Development Program has proven it works in developing players. the American Development Model is starting to change the culture of youth hockey. And Jim Johansson and Tim Taylor are constantly scouting young players, evaluating how to make this U20 program as cutting edge as possible while also not trying to reinvent the wheel. As the president of USA Hockey, Ron DeGregorio is in touch with every region on a constant basis, finding ways to cultivate the game among young players. USA Hockey is locked in.
Question: This came from a NHL scout and it cracked me up. "You love to say if this guy gets one goal he can get himself on a huge roll. OK, Mr. Smart Guy, who is that guy for the U.S. in the medal round?"
Answer: If he is healthy, I'd say Jeremy Morin but it is unclear what his status is. I think Palmieri has probably been as consistent as anyone and gut feeling is Palmieri is about to take this to another level. He is potentially about to play opponents in Canada and Sweden that play his game — fast and physical — and that just might push him to being a guy that can impact every shift he plays the next two games. He is playing with pro composure, pro swagger and pro skill.
Question: If you could take a player or two from the 2010 team that isn't there now, who would it be?
Answer: This actually came from a parent of one of the players. I'm big on the back line being the back bone so I'd take Cam Fowler and John Carlson. Carlson was the guy Ryan Bourque mentioned in Albany as someone whose shoes needed to be filled, and I still think the most untold story (other than me saying it constantly — check the film) was Fowler's total domination of Taylor Hall in the two games against Canada. Hall was a big deal last season from a fan and media standpoint. The vets on Team Canada were great but Hall could have been a difference-maker and because of Fowler he wasn't.
Question: Is there one thing you love about this tourney?
Answer: The people. It is like the draft. Everyone is here and the amount of people you get to connect and re-connect with is just phenomenal.