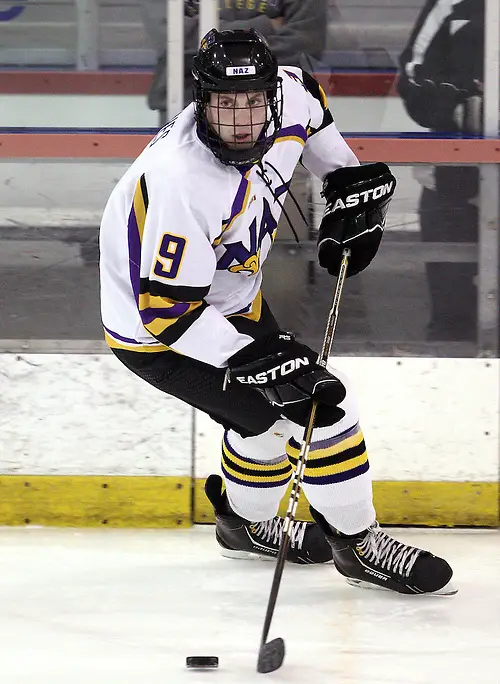 The wait is finally over for Nazareth College.
The Golden Flyers earned their first-ever ECAC West conference win on Friday night when they defeated visiting Manhattanville, 6-4, at The Sports Centre at MCC in Rochester, N.Y.
In a season of firsts for the nascent Division III program, this may have been one of the best.
"We've been in most games, and we did a good job," said Nazareth coach George Roll, who is closing in on 250 career wins. "It was certainly important for our program to get its first win in conference play."
After spotting the then-No. 11 Valiants a 1-0 lead, Nazareth exploded for five goals in less than nine minutes in the second period to go up, 5-1. Freshman forward Packy Jones paced the assault with two goals and an assist, including the game-winner, all in the middle stanza, and earned ECAC West Rookie of the Week honors.
Sophomore forward Julius Tamasy also scored twice and set up another goal against Manhattanville to garner ECAC West Player of the Week accolades.
"It was good," said Roll. "It was more relief for me, but I was glad for our guys. They have no quit in them, and they worked toward getting that first win."
The Golden Flyers (6-12-0 overall, 1-8 ECAC West) fell to No. 15 Neumann, 3-0, the following night, despite 37 saves from Ed Zdolshek, but that did little to deter from last weekend's accomplishments.
"I thought we played well the next game with Neumann," admitted Roll. "In the third period, they scored with five minutes to go to make it 3-0.
"We (still) have very good leadership and work ethic, and they (our players) understand the big picture."
Junior forward Mark Zavorin leads Nazareth in scoring so far this season with 10 goals and 10 assists for 20 points. Tamasy is second on the squad with five goals and 18 points, while Jones ranks third with totals of nine goals and 17 points. Freshman goaltenders Zdolshek (4-8-0, 4.25 goals-against average, .891 save percentage) and Joe Gladnick (2-4-1, 3.41 GAA, .902 save percentage) have split chores in net this year.
Nazareth will now look to upend Elmira this weekend in a home-and-home series that will begin in Rochester on Friday night. The visiting Soaring Eagles posted a 9-5 victory on Jan. 17 in the first meeting between the two teams, although Ben Waldman scored twice for the Golden Flyers that night and Zdolshek made 32 saves.
With just six games remaining in the regular season, however, Nazareth isn't looking to chalk up any moral victories.
"It's about growing as a program," said Roll of his team's progression. "Who knows what will happen in the playoffs?"
**************************
ECAC West Notes
No. 5 Hobart (16-2-2 overall, 8-1-1 ECAC West) kept its hold on first place in the conference by sweeping Elmira, 4-1 and 6-3, in a home-and-home series. Tommaso Traversa had two goals in the opener, and added a goal and two assists in the rematch. Nick Broadwater is 12-2-2 in net in 16 games so far this season for the Statesmen, and leads the nation with a .946 save percentage. He's also second among Division III regulars with a 1.45 goals-against average, and tied for second with four shutouts. THIS WEEK: at Utica.
No. 8 Utica (16-3, 7-2) pushed its winning streak to five games, and the Pioneers have now won 11 of their last 12 outings after topping Neumann by a 6-2 count and then Manhattanville by a 4-1 score. Trever Hertz notched a hat trick versus Neumann, while Ridge Garbutt scored twice and set up another goal against Manhattanville. Nick Therrien was named ECAC West Goalie of the Week after making 46 stops over the weekend, and is now tied for the national lead with 14 victories. THIS WEEK: vs. Hobart.
No. 13 Manhattanville (11-7-1, 4-4-1) has lost three consecutive conference games after falling at Nazareth and Utica last week. Scott Hudson scored twice against Nazareth, while Brian Fleming posted 46 saves at Utica. Fleming is now 8-6-1 through 16 games (2.70, .914, 1 SO) in goal for the Valiants. THIS WEEK: vs. Neumann, at Neumann.
No. 15 Neumann (12-5-2 overall, 4-5-0) saw its seven-game winning streak come to an end with the loss at Utica before rebounding to beat Nazareth, as Chris Bournazos scored twice and Braely Torris made 35 saves for the shutout. Torris is 6-3-1 through 12 games for the Knights, is 13th in Division III with a 2.02 goals-against average, and is third with a .940 save percentage. THIS WEEK: at Manhattanville, vs. Manhattanville.
Elmira (8-12-0, 3-7-0) has lost three straight contests after being swept by Hobart last week. Ryan deMelo made 40 saves in the first contest, and Jesper Strale had a goal and an assist on the weekend. The Soaring Eagles are averaging 19.5 penalty minutes per game, ranking them 10th in Division III, and are tied for 13th nationally with four short-handed goals to date. THIS WEEK: at Nazareth, vs. Nazareth.