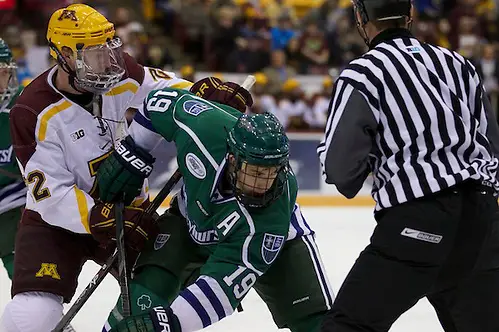 Welcome back once again to the USCHO Hobey Watch, everyone. It was a blast being on USCHO Live! this week with my friends Jimmy Connelly and Ed Trefzger, and now, as promised last week, it's time to complete our two-part look at the potential Hobey Baker Award finalists.
Last week, we took a look at the Big Ten, NCHC and WCHA, and we came up with 11 candidates. This week, we'll add in the Hobey candidates from Atlantic Hockey, ECAC Hockey and Hockey East.
Atlantic Hockey
Atlantic Hockey has never had more than one Hobey finalist in a year, and that finalist tends to come from the conference leader at the end of the regular season. With that in mind, Mercyhurst junior forward Matthew Zay (16g, 24a in 32 games, 1.25 PPG) has to be in the conversation.
However, the Lakers are in a real battle with Bentley atop the conference standings, and the Falcons have two players worthy of consideration. One is senior forward Brett Gensler (17g, 23a in 30 games, 1.33 PPG), who was in the mix early on last season but slowed down toward the end.
The other Falcons player to watch is junior defenseman Steve Weinstein (1g, 33a in 30 games, 1.14 PPG), the nation's leading scorer from the blue line.
The Atlantic representative on the list tends to be a forward, but not always — Quinnipiac defenseman Reid Cashman made the top 10 during the Bobcats' last season in the AHA and Air Force defenseman Tim Kirby did so in 2012.
My sense is that Gensler is the most likely finalist out of these three but it may depend, at least in part, on what happens down the stretch.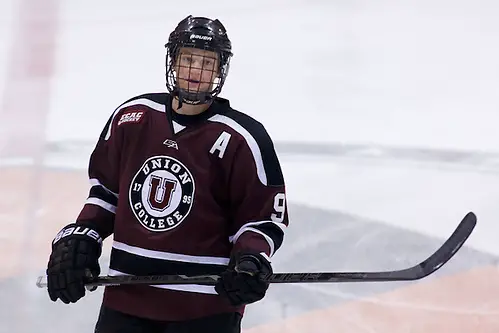 ECAC Hockey
This is a tough conference to figure out in terms of Hobey candidates, in large part because the candidates with the most superlative statistics — St. Lawrence senior forward Greg Carey (15g, 33a in 28 games, 1.60 PPG) and Rensselaer junior forward Ryan Haggerty (23g, 14a in 28 games, 1.32 PPG) — play for teams that have struggled this year.
Players like Union senior forward Daniel Carr (13g, 17a in 27 games, 1.11 PPG) and Quinnipiac senior forward Kellen Jones (16g, 21a in 32 games, 1.16 PPG) have the team success but are significantly behind Carey in terms of numbers (Carr is also day-to-day with an injury after a check into the glass against Cornell last weekend).
The candidates I like best in this conference come from the blue line. Cornell junior defenseman Joakim Ryan (5g, 14a in 24 games, 0.79 PPG) is ninth in the nation in defenseman scoring. Union junior blueliner Shayne Gostisbehere (7g, 16a in 28 games 0.77 PPG) is 10th.
It's also worth mentioning that Gostisbehere's teammate Mat Bodie (4g, 21a in 28 games, 0.89 PPG) is fourth in the nation in blue line scoring, although Gostisbehere was the only candidate nominated by Union, which says something about the respect the second team All-American's game commands.
My suspicion: Gostisbehere is Union's guy, with a solid shot at making the top 10, while Carey (No. 3 in the nation in points per game) has a good chance at his second consecutive Hobey finalist nod. I think there's room for only one Hobey candidate at most from a less-than-stellar ECAC team, which is bad news for Haggerty. Meanwhile, I'd also look at Ryan and Jones as potential finalists and keep a close watch on them down the stretch.
Hockey East
Well, there's one name we already know here: Boston College junior forward Johnny Gaudreau (27g, 34a in 31 games, 1.97 PPG). The questions is whether he'll be the only Eagles player in the top 10, as it's pretty hard to ignore his senior linemates, Kevin Hayes (22g, 28a in 31 games, 1.61 PPG) and Bill Arnold (12g, 32a in 31 games, 1.42 PPG), whose scoring averages are second and fourth in the country, respectively, behind Gaudreau. I highly doubt all three make the top 10, but Hayes is certainly a contender for a top-10 spot.
Elsewhere in the conference, I remain fairly intrigued by Massachusetts-Lowell sophomore goaltender Connor Hellebuyck (12-5-2, 1.84 GAA, .940 save percentage). He's started the River Hawks' last five games, going 4-0-1, and if he continues to emerge as the full-time starter, I think he's a solid candidate for a finalist berth.
The other goaltender to keep in mind is Northeastern's Clay Witt (15-8-2, 2.07 GAA, .943 save percentage). He leads the nation in save percentage while seeing more rubber than anyone else in the top 10, and he's the backbone of a Huskies team that appears NCAA-bound.
Outside of the goalies and the Eagles, Providence junior forward Ross Mauermann (18g, 15a in 30 games, 1.10 PPG) is the leading scorer for a contending Friars team, while New Hampshire junior Trevor van Riemsdyk (4g, 19a in 26 games, 0.88 PPG) and Maine sophomore Ben Hutton (11g, 12a, 0.82 PPG) are both putting up top-10 defenseman scoring numbers for teams that are in the mix for NCAA spots.
I'd also list Vermont senior forward Chris McCarthy (15g, 18a in 29 games, 1.14 PPG) as a dark horse potential finalist, with the Catamounts fighting for an NCAA berth.
Now, I've just named nine players from Hockey East, and I guarantee you won't see nine finalists from one conference. The guys I see as real potential finalists — at least, at the moment — are Gaudreau, Hayes, Hellebuyck, Witt and Mauermann, but keep McCarthy and Hutton on your radar as well.
So, we can add 14 players from the East to last week's 11 candidates from the West, and we now have 25 names to fill 10 spots. Here they are:
FORWARDS
Josh Archibald, junior, Nebraska-Omaha
Riley Barber, sophomore, Miami
Greg Carey, senior, St. Lawrence
Austin Czarnik, junior, Miami
Ryan Dzingel, junior, Ohio State
Johnny Gaudreau, junior, Boston College
Brett Gensler, senior, Bentley
Kevin Hayes, senior, Boston College
Kellen Jones, senior, Quinnipiac
Jean-Paul LaFontaine, junior, Minnesota State
Matt Leitner, junior, Minnesota State
Ross Mauermann, junior, Providence
Chris McCarthy, senior, Vermont
Michael Mersch, senior, Wisconsin
Sam Warning, junior, Minnesota
Matthew Zay, junior, Mercyhurst
DEFENSEMEN
Shayne Gostisbehere, junior, Union
Ben Hutton, junior, Maine
Joakim Ryan, junior, Cornell
Steve Weinstein, junior, Bentley
GOALTENDERS
Sam Brittain, senior, Denver
Connor Hellebuyck, sophomore, Massachusetts-Lowell
CJ Motte, junior, Ferris State
Clay Witt, junior, Northeastern
Adam Wilcox, sophomore, Minnesota
So, that's our watch list. Keep on watching, and I'll see you back here next week for another edition of the Hobey Watch.