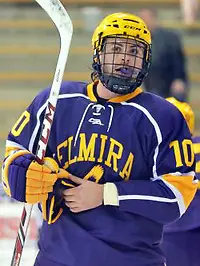 The team to beat in the ECAC West is … Elmira.
That notion wouldn't have put you out on a limb not too many seasons ago.
For half a decade, from 2008 to 2012, the Soaring Eagles owned the spot at the top of the league at the end of the regular season.
Each of those seasons – and six in a span of seven – found Elmira clutching an invite to the NCAA tournament, with a pair of third-place finishes to its credit.
Now, after an absence of two seasons, the Eagles are tabbed early on to regain their lofty perch.
"Elmira will be very good," said Gary Heenan, who has directed Utica to the last two ECACW regular-season titles. "The league seems to cycle with experience. We were old the last two years, now we are the youngest. We have our work cut out for us."
The Eagles did lose Jesper Strale, the league's leading scorer (9-14-23), but return Michael Collins (8-12-20) and Jarryd ten Vaanholt (7-12-19), both of whom landed among the league's top five point-getters.
Only Manhattanville senior Luc Van Natter interrupted Elmira's domination at the top of the scoring list.
"I think Elmira would be the team to beat coming into the season," said Nazareth coach George Roll. "That being said, the league as a whole had a very good recruiting year, so I would suspect that it will be tight at the top."
Hobart – with stellar goalie Lino Chimienti and sniping forward Mac Olson leading the way – could provide Elmira with its toughest competition.
At least Elmira coach Aaron Saul thinks so.
"The West will again be very tough," he said. "Hobart is the team to beat in the league with strong consideration for Neumann (ranked third in the preseason poll)."
Since the six-team ECACW does not receive an automatic NCAA bid, Elmira hopes a national title would hinge on another at-large invitation.
To bolster those, the Eagles have scheduled out-of-conference clashes with Babson, Oswego and Amherst.
"We want to start strong, continuing on our success from the second half of (last) season," said Saul.
Elmira
Last Year's Record: 16-10-1, 9-5-1
Coach: Aaron Saul, 8th yr., 6th at Elmira (96-76-18 overall, 77-51-9 at Elmira)
Key Returning Players: F Mike Collins, Jr. (13-17-30), F Jarryd ten Vaanholt, Jr. (12-17-29), F Greg Whittle, Jr. (5-14-19), F Tommy Sumi, Jr. (2-14-16), F Brian Depp, Jr. (11-7-18), D Eric David, Sr. (4-11-15), G Ryan deMelo, Sr. (3.31, .916).
Key newcomers: F Emil Blomqvist, Valley EHL (12-21-33), F Jeremy Marginsky, Rochester USPHL (11-33-44), D Mike Martin, Ottawa CCHL (2-11-13), F Brett Mackell, South Shore USPHL (0-2-2).
Key departures: F Josh Burnell, (15-19-34), F Jesper Starle (11-20-31).
Noteworthy: deMelo was named Most Oustanding Player in the ECACW league tournament.
Hobart
Last Year's Record: 14-9-4, 7-5-3
Coach: Mark Taylor, 15th yr. (208-130-36 all at Hobart)
Key Returning Players: G Lino Chimienti, Jr. (2.58, .912), D Ryan Michel, Sr. (1-18-19), D Terrence O'Neill, Jr. (3-10-13), D Bronson Kovacs, Sr. (6-8-14), D Peter Ryan, Sr. (2-2-4), D Carl Belizario, So. (5-11-16), D Jon Neal, So. (2-6-8), D Mitch Beyer, So. (5-5-10), D Conor Simon, So. (0-2-2), F Mac Olson, Jr. (15-12-27), F Ben Gamache, Jr. (10-15-25), F Bo Webster, Jr. (6-17-23), F Robert Sovik, Sr. (7-5-12), F Tomasso Traversa, Sr. (3-9-12), F Brad McBride, Sr. (5-9-14), F Nick Bingaman, So. (6-4-10), F Bobby Sokol, So. (3-5-8).
Key newcomers: F Brad Robbins, Bemidji State WCHA (1-1-2), F Kevin Lopatto, Springfield USPHL (19-59-78), F Jordan Haskell, Portland USPHL (10-25-35), F Tyler Wolf, Rochester USPHL (16-25-41), G Frank Oplinger, Minnesota NAHL (2.04, .925).
Key departures: F Tommy Fiorentino (8-6-14).
Noteworthy: O'Neill will miss the start of the season due to injury.
Manhattanville
Last Year's Record: 13-12-2, 5-8-2
Coach: Arlen Marshall, 3rd yr. (28-22-5 all at Manhattanville)
Key Returning Players: D Anton Racklin, Sr. (7-19-26), F Jake Mooney, Sr. (12-16-28), F Matt Coleman, Jr. (6-9-15), G Brian Fleming, Sr (3.18, .900).
Key newcomers: G Kyle Redmond, Northfield Mt. Hermon USHS (.943), D Anthony Ragone, Springfield USPHL (15-29-44), D Fabian Andark, Vaxjo SEL (0-7-7), D Thimmy Garbenius, Sodertalje SEL (2-9-11), F Stephen Gaul, Springfield USPHL (39-27-66), F Matt Smethurst, NY Apple Core EHL (11-15-26).
Key departures: G Alex Scola (2.65, .904), D Adam Young (5-2-7), F Lou Balzano (5-11-16), F Luc Van Natter (15-17-32), F Craig Simchuk (7-15-22), F Mark Rivera (11-16-27).
Noteworthy: The departed Van Natter was second in league scoring last year.
Nazareth
Last Year's Record: 8-16-2, 4-9-2
Coach: George Roll, 17th yr., 3rd at Nazareth ( 250-239-50, 14-35-3 at Nazareth)
Key Returning Players: D Scott Dawson, Jr. (2-13-15), F Ben Blasko, So. (11-15-26), F Julius Tamasy, Sr. (3-3-47), G Ed Zdolshek, (3.11, .908).
Key newcomers: F Dom Gabaj, Idaho WSHL (45-61-102), D Marcus Moles, Valley EHL (0-2-2), F Matt Manzella, Jr. Bruins USPHL, Prem. (1-3-4)
Key departures: D Jordan Ciccarello (3-9-12), F Mark Zavorin (7-11-18)
Noteworthy: Blasko led all ECACW rookies in scoring last year.
Neumann
Last Year's Record: 9-12-5, 4-8-3
Coach: Dominick Dawes, 7th yr. (93-53-21 all at Neumann)
Key Returning Players: F Shayne Morrissey, So. (14-9-23), F Ryan Luiten, So. (10-8-18), F Chris Bournazos, Sr. (4-13-17), D Casey Rogers, Jr. (1-12-13).
Key newcomers: F Mike Davis, D Doug Rose, F Liam Board, G Matt Gibney.
Key departure: G Braely Torris (2.84, .922).
Noteworthy: Knights lost just four mainstays to graduation.
Utica
Last Year's Record: 16-7-4, 10-4-1
Coach: Gary Heenan, 14th yr. (181-126-33)
Key Returning Players: D Mike Baird, Sr. (2-13-15), D Kevin Kirisits, So. (4-5-9), F Louis Educate, Sr., (6-12-18).
Key newcomers: 15 new faces.
Key departures: F Trever Hertz (8-17-25), F Jon Gaffney (9-12-21), F Ridge Garbut (12-12-24), D Mike Slowikowski (0-5-5), G Nick Therrien (2.15, .922).
Noteworthy: Big incoming class for Utica, which lost its top four scorers.