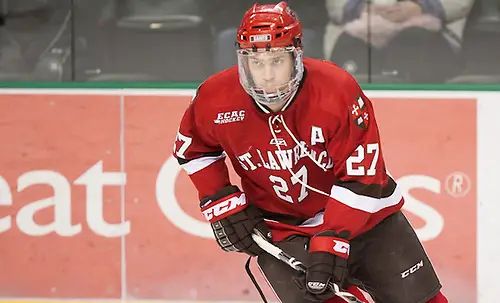 It's turning into an annual occurrence in ECAC Hockey: an undervalued team entering the season goes on a second-half run and finishes with a first-round bye for the playoffs.
That was the case last year with Colgate, while Rensselaer did the same two seasons ago. This year, St. Lawrence looks to be a good candidate to make it three years in a row a team picked to finish low in the standings finishes in the top four.
At 10-4 in ECAC play, St. Lawrence is three points behind first-place Quinnipiac and two points ahead of third-place Harvard.
Outside of highlighting the futility of preseason polls, the Saints' success this year has been built from veteran leadership and a solid freshman class that has contributed right away.
"I don't think people realized the goaltender [Kyle Hayton] we had coming in," said St. Lawrence coach Greg Carvel. "We're a very young team, but we're maturing pretty quickly. We've gotten good leadership. Patrick Doherty, Brian Ward and Gunnar Hughes have been outstanding. We feel like we are overachieving, which is always a good feeling."
Carvel had plenty of good things to say about Hughes, in particular, praising the senior captain who, while not the most skilled player, has been essential to the Saints' success thus far.
"I wouldn't trade him for anyone in the league," Carvel said. "His focus and intensity … he's the kind of player that gets under the skin of the other team and holds guys accountable, and he does it the right way."
It also doesn't hurt having a freshman like Hayton, who ranks among the national leaders in saves, save percentage, shutouts and minutes played. The Saints goalie deserves much of the credit for St. Lawrence's improved defense, which is tied for sixth in the nation after finishing 53rd last season.
But Carvel said he is impressed with the way his young team — the Saints play five freshmen on defense and several others at forward — play together as a group to eliminate opponents' chances.
"We have good positioning and good effort, and you've got to have all five guys on the ice playing together within the system," he said. "Most of the chances in games are off of transitions and turnovers, which happen. We've got a back end that handles pucks well and are pretty smart players."
St. Lawrence was lucky to have Hayton get off to a hot start. Carvel said the Saints were often outshot as they were trying to find their game earlier in the season.
"He had to stand on his head most nights," Carvel said of his goalie.
With such a young team, Carvel said the Saints were focused on how quickly the team's large freshman class would adapt to the college game, especially the physical adjustment compared to juniors. That also goes for Hayton, who has started all but one game this season.
"We've had a lot of discussion with him about where he's at physically and mentally," Carvel said. "He's really impressed me with how mentally tough he is."
St. Lawrence has shown some toughness of its own — its five-game winning streak came following a 1-6-1 stretch.
"We weren't playing poorly; we just had to convert [our chances]," Carvel said. "We [needed] more of a presence at the front of the net. I think our ability to finish our chances has been pretty good. When you make it a focus and work on it consistently, it eventually pays off."
Another empty pot for Harvard
Despite double overtime and a record-setting performance from Crimson senior Steve Michalek, Harvard will play in the consolation game of the Beanpot tournament for the seventh straight year.
The Crimson led 3-1 in the second period on Tuesday but ended up losing 4-3 to Boston University in the opening game of the Beanpot. The tournament is typically held on the first two Mondays of February, but was postponed to Tuesday for the first time since 1983 due to a snowstorm in Boston.
Michalek finished the game with a career-high 63 saves, a mark that broke the Beanpot record of 52 set by Boston College's Jim Barton in 1970.
A new look, but rivalry still there
Quinnipiac and Yale may have lost several of their big-name players from recent years, but that hasn't diminished the rivalry between the two teams. Ingalls Rink in New Haven was sold out for Saturday's 2-2 tie between the Bulldogs and Bobcats, and the building was loud from start to finish.
"That felt like a playoff game," said Quinnipiac forward Sam Anas, who scored both goals for the Bobcats. "That and Cornell are the two most playoff-like atmospheres we've played in this year. Our mindset going into the third period was to play that 20 minutes like it was our last 20 minutes of the year."
Bobcats coach Rand Pecknold said the game was a good experience for his younger players. Quinnipiac had five freshman and seven sophomores in the lineup against Yale.
"The place was rocking tonight; it was a great atmosphere," he said. "We've had that a few times at home this year but we haven't had it that much on the road."
The tie completed a three-point weekend for Quinnipiac, and allowed it to maintain a three-point lead over second-place St. Lawrence.
Quinnipiac was forced to make a late lineup change after the league announced a one-game suspension Saturday for defenseman Connor Clifton for a slew-footing incident Friday night at Brown. No penalty was called on Clifton during the game.
Pecknold seemed disappointed by the timing but didn't want to comment on the suspension. Sophomore Joe Fiala was inserted into the lineup at the last minute after already taking part in a bag skate, a repetitive skating drill, in Saturday's practice.
"That was pretty unfair to Joe to play after that," Pecknold said. "We didn't think he was going to play."
Around the league
• For the second time this season, Dartmouth overcame a third-period deficit to beat defending national champion Union. The Big Green trailed 2-1 entering the final period Saturday in Hanover, but freshmen Corey Kalk and Carl Hesler scored to give Dartmouth the win. Hesler's game-winner came with 1:27 left in regulation and gave the Big Green its third straight win. Dartmouth trailed Union 3-0 on Nov. 7 before rallying for a 4-3 win in overtime.
• Yale goalie Alex Lyon tied the school record with his sixth shutout Friday in a 4-0 win over Princeton. The sophomore is tied with Jeff Malcolm, who was the starting goalie on the Bulldogs' national title team two years ago, as well as Ryan Rondeau and Alec Richards.
• Princeton's Jonathan Liau (player), Quinnipiac's Landon Smith (rookie) and Lyon (goalie) won the league's weekly awards. Liau had five points in three games, including three assists in a 4-1 win against Army on Jan. 28. It was the first multi-point game by a Tigers player this season. Smith had a hat trick in a 5-3 win over Brown and leads all ECAC freshmen with 11 goals and 23 points. Lyon stopped 60 of 62 shots in a three-point weekend for the Bulldogs.
• Union forward Daniel Ciampini was named the league's player of the month for January, while Hayton won the goalie and rookie of the month. Ciampini had a national-best 11 goals in January and his 22 goals on the season are the most in the country as well.