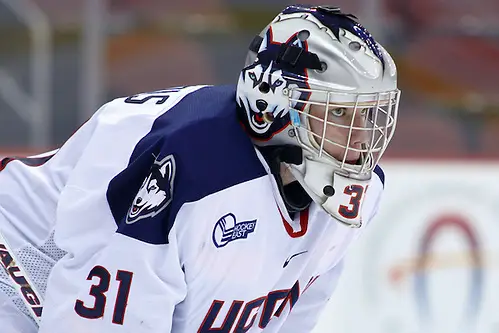 When it was announced that Connecticut was heading to Hockey East, you could almost hear the internal thought process of so many long-time Hockey East fans.
"They'll be the doormats of the league. At least (insert another team's name here) won't finish last this year."
Maybe that came with good reason. The Huskies had been a middle-of-the-pack club in Atlantic Hockey for more than a decade. Hockey simply never seemed a priority with extremely successful revenue-generating sports like men's and women's basketball.
But after just one season, we all know this UConn team will not be anyone's doormat.
UConn has the commitment from administrators. It has a coach in Mike Cavanaugh who can make this a winning program, having been a part of four national championship teams at Boston College. And, as we are quickly learning, this team is beginning to get big-name players.
Three UConn recruits – forwards Maxim Letunov and Tage Thompson along with defenseman Miles Gendron — were all ranked among the top 30 college recruits by the International Scouting Service.
"We were fortunate," Cavanaugh said of being able to attract top-tier recruits. "It's going to be a pretty formidable class."
Cavanaugh is well aware, however, that this year's success will not be based on the performance of freshmen. His club returns a number of talented players, many still underclassmen from his first recruiting class, who need to play major roles.
"We need our sophomores like Spencer Naas, Corey Ronan, Derek Pratt, we need those guys to take a big jump for us," said Cavanaugh. "You take leaps in the standings when your returners keep getting better."
One returner who has already opened many eyes is goaltender Rob Nichols. A 9-19-7 record may not say much to the average fan. But a save percentage of .918 for a goaltender who faced, on average, 37 shots per game last year is impressive. His presence in net can be a difference-maker.
"We're going to need [Nichols] to be on top of his game for us to be successful," said Cavanaugh. "He led the league in shutouts last year and probably saw more rubber than any other goalie."
Last season
10-19-4, 7-11-4 (tied for ninth) in Hockey East. Lost to New Hampshire in the Hockey East first round.
Names to know
Goaltender Nichols has some natural ability and could post league-leading numbers should the defense help him in front. Naas proved he has a nose for the net. And three freshmen — forwards Letunov and Thompson along with defenseman Gendron — are all ranked in the ISS top 30.
Three questions
1. Will the defense reduce the opponent's shot totals? Allowing 34 shots on goal per game is simply too much, particularly when your team is averaging seven shots fewer.
2. Who will step up offensively? Naas proved he is a goal scorer. But Shawn Pauly's 20 points is the leading point total for a returning player.
3. Can this freshman class be as good as advertised? You can always tout a team's rookie class but until they take the ice, it's hard to know just how well they can handle the college level.
Crystal ball
Jim Connelly (seventh place): In only year two in Hockey East, the team that many thought might serve as a doormat for a few years has an excellent recruiting class and a goaltender in Nichols who can steal games.
David H. Hendrickson (ninth place): One of the most pleasant surprises in all of college hockey last year, the Huskies showed they were no one's doormat. Moving higher in the standings, however, will only get tougher.