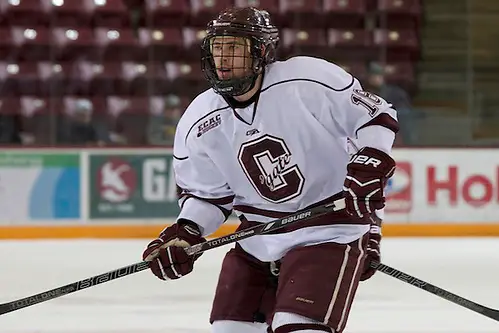 Colgate lost more than just skill when Ryan Johnston and Kyle Baun signed professional contracts. The Raiders lost leadership and experience on a strong, powerful offensive squad.
One of them was more expected to leave than the other.
"Johnston … he departed unexpectedly when he signed with Montreal," Colgate coach Don Vaughan said.
That doesn't mean Colgate is in any position to rebuild. Instead, it has reloaded offensively and is positioned to, once again, make a run at the ECAC Hockey championship.
"All of our expectations were to make the NCAA tournament and we basically came up one game short," Vaughan said. "This is a team that's very focused and knows what it takes to get there."
Tyson Spink (14 goals, 17 assists), Tylor Spink (7 goals, 13 assists) and Darcy Murphy (11 goals, 15 assists) are all back for Colgate as seniors and should provide a strong offensive presence, while goaltender Charlie Finn (2.03 GAA, .924 save percentage) should continue to be dominant in net.
"A healthy Tylor Spink … that's something that got lost in the shuffle last year," Vaughan said. "[Spink] missed the entire first half last year with a concussion. The interesting thing with the twins is they play so well together. I've never coached identical twins, but I'm telling you there's something there."
Last season
22-12-4, 11-7-4 (fifth) in ECAC Hockey. Defeated Dartmouth and St. Lawrence in the ECAC playoffs but lost to Harvard in the championship game.
Names to know
Tyson Spink shared the team goal-scoring lead with Baun last season at 14. Despite playing in just 23 games, Tylor Spink tied for fifth on the team with 20 points. Darcy Murphy has 40 goals in his first three seasons.
Three questions
1. Can they get over the hump? The Raiders were a win away from a conference championship.
2. Can Colgate replace Johnston (1 goal, 14 assists) and Baun (14 goals, 15 assists)? Both left to sign professional contracts with NHL teams, their departures made a major dent in what should be one of the ECAC's strongest squads.
3. Can they stay healthy? Injuries were a huge problem early last season.
Crystal ball
Colgate's offense remains strong and fills the hole made by Baun's departure. The Raiders fill the net and, backed by goaltender Finn, get back to the conference championship game with the purpose to finish what they started.