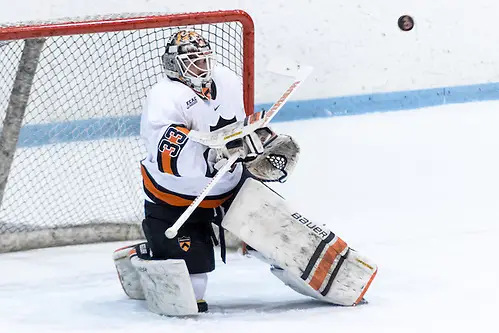 It was a rough first year under coach Ron Fogarty for the Princeton Tigers, who by the end occupied the basement of ECAC Hockey. In the second year for Fogarty, it's sort of like starting from scratch.
"It was a fun season of teaching the new structure [last year]," Fogarty said. "The thing you have to learn is that it takes time and you have to have a process and a plan. We didn't try to take shortcuts with the players."
Fogarty knows that his team struggled offensively, scoring only 39 goals en route to a four-win season.
"We didn't have much goal-scoring last year and hopefully we can add more this year," he said. "In saying that, we can move … to implementing more offensive systems and options for our players."
With a new structure and high expectations in mind, Fogarty also knows that Princeton hockey is a work in progress. And things like that don't get fixed overnight.
"We need all of our players to not just have their best seasons but have career seasons," Fogarty said. "Which is a stretch for a lot. We're going to ask players with 14 points to get 32, players with four goals to try and pick up 12. If we can have a handful of guys, five or seven, having a career year, that will put us in the right direction."
Goaltender Colton Phinney was the one bright spot for the Tigers last season, posting a .910 save percentage and 3.08 GAA. But all the pressure is on Fogarty to pull this program, which has been one of the worst in the country over the past few years, out of the basement and into relevancy.
Last season
4-23-3, 2-18-2 (12th) in ECAC Hockey. Lost to Dartmouth in the first round of the ECAC playoffs.
Names to know
Captain Mike Ambrosia has a big task in leading the way for the Tigers. Tommy Davis is one of four returning defensemen who played at least 20 games last season. And Phinney should get another chance to shine in goal.
Three questions
1. Can they win on the road? Princeton didn't win a single road game last season.
2. Where will the offense come from? Top scorer Jonathan Liau scored four goals and 10 assists last year, but the Tigers scored only 39 goals overall last season.
3. Can Fogarty turn things around?
Crystal ball
Princeton makes strides but the offense continues to struggle. Phinney plays well enough to pull the Tigers into 11th place.