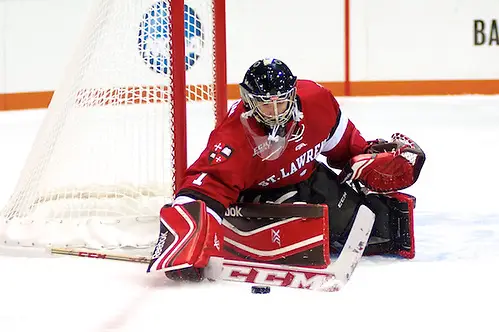 The players St. Lawrence lost last offseason might not have the cachet as in previous years, when the Saints saw Kyle Flanagan, Justin Baker, and Matt and Greg Carey depart Canton.
But graduated seniors Gunnar Hughes, Patrick Doherty and Chris Martin were key components on and off the ice for St. Lawrence. Those three, along with a talented group of underclassmen, helped the Saints to a second-place finish and trip to Lake Placid after being picked 11th in the league's preseason poll.
"Expectations this year will be much different than last year," Saints coach Greg Carvel said. "I think we were able to sneak up on some teams. That won't be the case this year."
Goalie Kyle Hayton was a major reason St. Lawrence exceeded expectations last season. As a freshman, Hayton ranked among the national leaders in virtually every goaltending category and set program records in GAA (1.97), save percentage (.937) and shutouts (five).
Carvel said Hayton covered for the mistakes of a young team early in the year but didn't have to steal games as often for the Saints as the season progressed.
"I think if we play as a team the way we are capable of, scoring chances should be way down," he said.
St. Lawrence might not have the big offensive stars of prior teams, but the Saints had 12 players score at least five goals last year. That, coupled with a more experienced defensive group led by puck movers Gavin Bayreuther, Eric Sweetman and Nolan Gluchowski, should gave St. Lawrence plenty of talent in front of Hayton.
"The real focus for us is that last year was a real nice year for us, but if we bring the same thing we brought last year, it's not going to be good enough," Carvel said. "We have to set our standards higher."
Last season
20-14-3, 14-7-3 (second) in ECAC Hockey. Lost to Colgate in the ECAC semifinals.
Names to know
Hayton, Bayreuther, Sweetman and Gluchowski form a solid defensive nucleus, while forwards Mike Marnell, Tommy Thompson and Brian Ward give the Saints depth up front. Carvel said incoming freshman forward Jacob Pritchard can score goals and will be an important piece for St. Lawrence moving forward.
Three questions
1. How will St. Lawrence handle the increased expectations for this season?
2. Can Hayton match — or even exceed — his production from last year?
3. How will the Saints replace the leadership of Hughes, Doherty and Martin?
Crystal ball
Don't expect much, if any, drop off for Hayton. The Saints should have no problem scoring goals and will finish with a first-round bye.