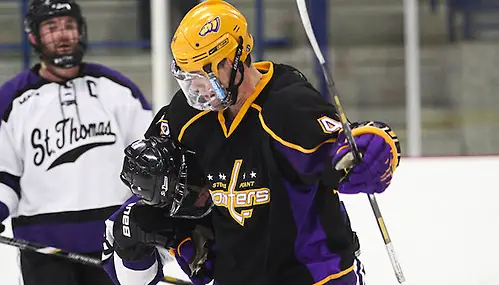 Last Year's Champion: Wisconsin-Stevens Point. The Pointers won the championship for the 10th time in program history and for the first time since 2000.
Favorites: Stevens Point, Wisconsin-Eau Claire and Wisconsin-River Falls are the top three favorites in the five-team conference.
Dark Horse: Wisconsin-Superior could end up being the surprise team in the conference as it returns 14 letter winners and will play 14 of its 25 games at home.
Players to watch: Joe Kalisz scored 18 goals and dished out 14 assists for Stevens Point. Teammate Kyle Sharkey is coming off a year where he scored 16 goals and tallied 16 assists…Eau Claire has three of its top four point scorers back, including Ethan Nauman, who struck for 20 goals and 13 assists. Brandon Wahlin struck for 21 goals and dished out 21 assists last year for the Blugolds….Kyle Gattelaro led River Falls with 13 goals and 12 assists, while Tanner Milliron led the conference in saves (729)…Superior is led by Anton Svensson, who led the team in scoring with 19 points…Justin Moody paced Wisconsin-Stout with 11 goals and 12 assists.
Notes: The Pointers will look to return to the national championship game after finishing as the runner-up a year ago. They return 18 letterwinners and have one of their best defenseman back in Ale Brooks, who finished second on the team in 21 assists. The Pointers have won 45 games in the last two years….Eau Claire has 21 letterwinners back, including Patrick Moore, who came up with eight goals and 21 assists last season. Jay Deo and Taylor Green are both back at goaltender, with each winning nine games last year…River Falls won the conference tournament title last year and should be in a position to contend for the title again as it opens with 12 of its first 16 games at home…Superior features two returning goaltenders in Bryce Fink and Cory Simons. Both started 11 games apiece. Head coach Dan Stauber is the program's all-time leader in wins with 249…Stout has only two seniors and returns 12 of its top 15 scorers. There are 12 juniors, three sophomores and 13 freshmen on the roster. Stout will look to build momentum early as it plays nine of its first 13 games at home.