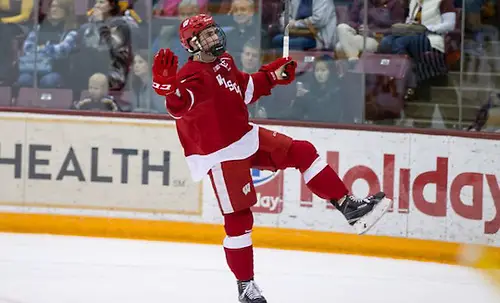 Going into year four of the Big Ten, Minnesota is once again picked to be atop of the standings, but that's about the only thing that has been consistent over the four seasons the conference has been in existence.
Well, kind of.
Aside from the inaugural season where the Gophers and Wisconsin made the NCAA tournament, the Big Ten has been a one-bid conference the past two seasons. Chances of at-large bids have been scarce as the six Big Ten teams have struggled against nonconference opponents.
A low RPI has not been due to a lack of trying, however.
Michigan State coach Tom Anastos said that scheduling difficult opponents is a priority and is a benefit both to his team and the conference as a whole.
"It's always a priority given the structure of our system – we're kind of married to each other," said Anastos. "Your nonconference [schedule] is critically important. We're always looking to create as difficult of schedule as we can, [but] it's hard to predict that two and three years away."
Anastos succeed at creating a difficult schedule. The Spartans, who were picked last in the preseason coaches' poll, play Denver, Michigan Tech and North Dakota before the holiday break.
Minnesota was picked first for a reason; the Gophers return the most experienced squad in the conference without question. According to coach Don Lucia, however, experience doesn't necessarily equal wins.
"The real key for us this year is did some of the returning players take a step?" he said. "You hope your seniors have good years. I've always been a believer that seniors tend to either have really good years or maybe struggle worrying about what's going to happen next in their careers."
Ohio State, which was predicted second behind the Gophers, will also try to remedy its nonconference woes. More specifically, the Buckeyes will try and be better out of the gate. Slow starts have plagued the team the past couple season and made postseason life difficult for OSU, despite the fact that Steve Rohlik's squad played very well during the second half of the season.
"We want to get off to a good start, there's no question," Rohlik said. "When you look at the schedule and teams we play and everybody across college hockey, the parity is so close.
"Certainly, you want to play your best hockey at the end of the year, but if we can get some wins in that start and try to get stretch run earlier than January, it would sure be nice."
Rohlik said the Buckeyes were able to keep games close during the first half last season, but that just resulted in close losses. He said that the team developed a new attitude at the Florida College Classic. Ohio State downed Boston College and Cornell at that tournament.
The Gophers won the Big Ten regular-season title by one point last year, but it's easy to argue that Michigan was the class of the conference. The Wolverines had a potent offense, but their defense was a liability all season long.
The Wolverines picked third in the preseason poll, and coach Red Berenson said he doesn't plan to use that as bulletin board material.
"I think we were picked fairly," Berenson said. "There's question marks surrounding our momentum going into the season. In terms of the freshman class, I don't know if we have the impact players that we've had the past couple years."
Impact freshmen were something everyone was getting used to at Michigan with Kyle Connor last season and Dylan Larkin the year before that. Connor left early, along with his linemates Tyler Motte and JT Compher. Defenseman Zach Werenski and Michael Downing also turned pro.
"I expected that we would lose a couple players," Berenson said. "We didn't think that we would lose five."
One bright spot from the Big Ten's first three seasons has been Penn State, the program that was new to college hockey when the conference came into existence. The Nittany Lions have gone from eight wins in 2013-14, to 18 in 2014-15 and 21 last season.
Coming into its fifth season at the Division I level, PSU coach Guy Gadowsky experienced a lot of turnover as his first group of freshman graduated after last season, but he said that spirits are still sky high at Penn State.
"Everyone around here is thrilled," said Gadowsky. "The wins that we had [last season] against the programs that we were able to do it [against] was beyond what we expected at this point."
The final talking point for the Big Ten this season is Wisconsin and its new head coach Tony Granato. The Badgers may have only 12 combined wins over the last two seasons, but they won't get any sympathy from the new bench boss.
"These guys have gone through some experiences that they either learn from and get better from or they stay in the same mode and feel sorry for themselves," Granato said. "I think we've chosen the positive one of learning from what happened and we've become better because of it."
Granato believes he took over a skilled team that has underachieved in the past. He mentioned the words "skilled" and "confidence" multiple times, saying there has already been "enough positive things" happening around the program to help start raising morale.