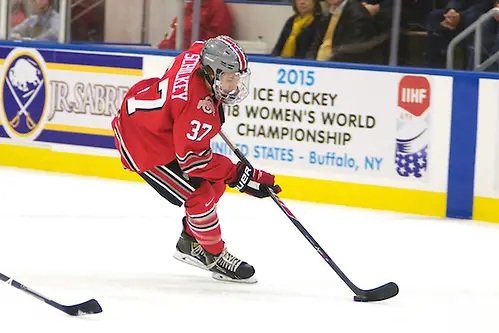 As the Big Ten teams enter the 2016-17 campaign, each club has strong assets returning, but question marks as well.
Here are the six team capsules, in alphabetical order:
Michigan
Last season
25-8-5, 12-5-3-2 Big Ten (second)
Lost to North Dakota in the deciding game of the 2016 Midwest Regional.
Names to know
One of the more interesting things about this year's Wolverines is that only one player, junior forward Alex Kile, was named in preseason by the Big Ten coaches as a Michigan player to watch. Kile had 16 goals last year and is one of three returning Wolverines who netted 10 or more last season, but clearly Michigan's offense is considered a wild card in the upcoming campaign.
"We're in another beginning of a year with a lot of question marks," said coach Red Berenson. "Mostly this year, it's offense. We're trying to refigure our forwards and our power play and so on."
The Wolverines were led last season by one of the most dynamic lines in college hockey, that of freshman Kyle Connor and juniors TJ Compher and Tyler Motte, a trio responsible for 83 of Michigan's 107 overall goals. All three opted for professional careers at the end of the 2015-2016 season.
Two returning forwards to watch are sophomore Cooper Marody and junior Tony Calderone. One freshman forward who may be an impact player is Will Lockwood, a native of nearby Bloomfield Hills, Mich., and an alum of the U.S. National Team Development Program. Berenson said that Lockwood has "looked good in the brief showings" of preseason practice.
Another freshman to watch, said Berenson, is defenseman Luke Martin, another player from the NTDP.
"He's a good sized defenseman," said Berenson. "He moves the puck well. He seems to have a good head for the game. He plays with an edge. He's a top student. He's a terrific kid. He's just a good fit for Michigan."
Berenson cautioned, though, that this year's 11-member Michigan freshman class may need time to develop. "In terms of the freshman class, I don't know if we have the impact players that we've had in the last couple of years."
Three questions
1. Can the Wolverines reload offensively following the departure of Connor, Compher and Motte? That is the most obvious question to ask, especially with the addition of five new forwards. The question of offense extends to special teams as well.
Berenson said that he's looking for Kile to play on Michigan's top line.
"Then," he added, "it's going to be a little bit of offense by committee after that."
2. While the most obvious question is about offense, the biggest question is one that has been dogging the Wolverines for several seasons: What about goaltending? By the end of last season, Steve Racine looked very good in net for Michigan, but Racine was a senior and is gone. Michigan returns senior Zach Nagelvoort and sophomore Chad Catt and brings in two rookies, Jack LaFontaine and Hayden Lavigne.
"Nagelvoort's our most experienced and he'll get a chance to start early and show where he is," said Berenson. "If his game is in place, then he'll be a good starting goalie, but Lavigne will be pushing him and young Jack Lafontaine will be pushing the two of them."
3. And what about the 11 new faces?
"We're optimistic," said Berenson. "We've got a good group, a big freshman class. They bring a lot of energy and enthusiasm, and we're looking forward to it."
Crystal ball
The Wolverines were picked third in the Big Ten preseason coaches poll, and Berenson said that the placement is a fair assessment. Berenson is confident in the defensive depth of the team, and there are questions about offense and the newcomers, so third is probably a solid bet – but never discount the Berenson effect, the ability of Michigan to reload and challenge for a title.
Michigan State
Last season
10-23-4, 6-12-2-1 Big Ten (fifth)
Lost to Ohio State in the quarterfinals of the Big Ten championship tournament.
Names to know
The Spartans are another team with just one name on the Big Ten preseason watch list, sophomore forward Mason Appleton, who had five goals and 17 assists in 37 games last season. Given that Michigan State averaged 2.51 goals per game in 2015-2016 (37th) and allowed 3.35 (49th) combined with a 10-member freshman class, it's not surprising that little is expected of the Spartans this season, but there are returning players that should not be underestimated.
Two veteran forwards who are poised to have solid seasons are seniors Joe Cox and Villiam Haag. Cox, the captain, had a bit of a breakout junior year, increasing his goal production from five his sophomore year to 11. Haag has yet to reach his potential, but he is a natural goal scorer and had four on the power play last season.
One name that is generating excitement in East Lansing is sophomore defenseman Jerad Rosburg, who sat out most of last season with an injury.
"Rosburg, in the preseason stuff which is very limited, looks real good," said coach Tom Anastos. "He hasn't played hockey competitively in quite some time because of that injury."
Anastos is optimistic about improving Michigan State's overall team defense. With the loss of Rosburg last year and the early departure of blueliner Josh Jacobs, Anastos said, "Our numbers were down. That put a lot of stress on our defense.
"I think we have some depth back there. We've got a little bit different skillset, too. Zach Osburn had a good freshman year and I think that experience will really help, but right now we have eight guys competing for time which we weren't even close to that last year."
In fact, Anastos views the entire 2016-2017 season more as an opportunity than a challenge.
"We're going through a period of turnover, player-wise, and coming off a very difficult season last season," said Anastos. "There's a lot of opportunity for guys to establish themselves, both returning veteran players in all positions, whether it's forward, defense, and certainly in goal."
Three questions
1. Who will emerge as the starting goaltender? That is the biggest question after the departure of senior Jake Hildebrand. Sophomore Ed Minney returns and two freshmen, John Lethemon and Spencer Wright, put up good numbers in junior hockey.
2. Can the Spartans improve their overall team defense? Anastos called defense "a real challenge for us as a team" in 2015-2016. "Our goals-against average really shot up last year and we just can't give up that many goals." With four freshman on the blue line and two rookies in net, defense may be a challenge again this season.
3. Will Michigan State find the identity it seeks? While the Spartans played hard last season, they often seemed hampered by a lack of overall cohesion, and Anastos has said that the team's identity never really emerged last year. With the turnover and newcomers this season, said Anastos, "We're going to have to show some patience."
Crystal ball
Michigan State is picked last in the Big Ten for a reason – not because of any lack of respect, but because of last year's overall performance and the sheer amount of uncertainty that faces the team this season. The Spartans may finish in the middle of the pack, but it's likely they'll be near the bottom, as the coaches predict.
Minnesota
Last season
20-17-0, 14-6-0, (First in Big Ten). Lost to Michigan in the Big Ten tournament final.
Names to know
Justin Kloos will serve as Minnesota's captain for the second year. He had 16 goals and 27 assists last year. Junior Leon Bristedt enjoyed a breakout season during his sophomore campaign, tying Hudson Fasching with a team-leading 20 goals. Eric Schierhorn started every game for the Gophers last year and finished his freshman season with a 2.69 GAA.
Three questions
1. After dropping its first three games last year, can the Gophers be strong out of the gate this year despite a typically-tough trip to Alaska at start the season?
2. Can the Gophers fare better against the in-state rivals?
3. Will Don Lucia sign a contract extension and how many more seasons does he have left at the helm?
Crystal ball
Minnesota will have a slow start, similar to last season, but will rebound by the time conference games roll around in December and take its fourth Big Ten regular-season crown.
Ohio State
Last season
14-18-4, 8-8-4-1 Big Ten (fourth)
Lost to Minnesota in the semifinals of the Big Ten championship tournament.
Names to know
The reason the Buckeyes are picked to finish second in the Big Ten is because Ohio State returns an experienced team, one that improved significantly in the second half of 2015-2016. For Ohio State, senior leadership starts in net with Christian Frey and Matt Tomkins, and a third senior. Logan Davis, who pushes his classmates.
"We've got three seniors, two seniors that have played an awful lot of games and kind of have split ever since they've been here," said coach Steve Rohlik. "I've got two quality guys. I'd love to have two guys go out there and both compete to win games until one guy says, 'Hey, this is my job.' I expect both guys to play well and I expect both guys to be in competition to play games."
Additionally, the Buckeyes return all but one of their double-digit goal scorers from a year ago, including senior forward Nick Schilkey, who registered nine goals last season. Schilkey brings much more than scoring to Ohio State's roster. Rohlik calls Schilkey a leader that is "off the charts."
"What he brings every day – on the ice, off the ice, 4.0 student, what he does in the classroom, his community service – those are the guys you dream about having in your locker room," said Rohlik. "I'm just lucky enough to have had the chance to coach him for four years."
Two more forwards to watch include sophomore Mason Jobst, who netted 12 goals and 18 assists last season, and senior David Gust, who improved from three goals his sophomore year to 11 in 2015-2016.
"The guys that are coming back, we need them all to be better," said Rohlik. "We don't need everybody to come back and just be status quo. That's going to be the focus right now – everybody's got to be better if we want to be better."
Three questions
1. Will the Buckeyes be able to capitalize on the momentum that they built in the second half of last season? Ohio State lost a lot of close games in the first half of last year and learned how to win some in the second.
"I think that's the biggest thing," said Rohlik, "to approach games like that to go out there and have expectations and knowing that every game's going to be tough but expect to win."
2. As experienced as the Buckeyes are in net, can they perform at a better level, more consistently? As Rohlik said, this isn't a team that can come back and expect to perform at last year's status quo to succeed.
3. Will the Buckeyes be able to shore up an overall team defense that allowed 3.47 goals per game last year, a defense that was 53rd-best in the country? Only two of their defenders are newcomers, and senior Josh Healey is certainly one of the best in the Big Ten.
Crystal ball
It's strange to think of Ohio State as a team contending for the Big Ten title, but if the Buckeyes can capitalize on their second-half momentum from last season and rely on their talented veteran team – and if they can remain healthy – they'll finish no lower than third and may snag a title.
Penn State
Last season
21-13-4, 10-9-1-1 Big Ten (third)
Lost to Michigan in the semifinals of the Big Ten championship tournament.
Names to know
The Nittany Lions graduated their first senior class at the end of 2015-2016, so adjustments to the roster will be made this year.
"For us, obviously, there are going to be a lot of changes at every position," said coach Guy Gadowsky. "It's going to be interesting for us as coaches to watch, to see how our identity is going to comes about. Three new defensemen, seven new forwards, and we don't yet have a goaltender that's started a Division I game."
There are 10 freshmen on the Penn State squad, and there's some buzz about Russian forward Nikita Pavlychev – mostly because he stands 6-foot-7. Gadowsky said that all of the newcomers were recruited for assets that will help the Nittany Lions be more competitive in league play.
"Looking at the Big Ten and how fast these teams are and how skilled these teams are, that's an area that we had to catch up in," Gadowsky noted.
Another freshman that may make an impact is goaltender Peyton Jones, who put up good numbers in the USHL. Goal is a position that is wide open for the Nittany Lions, after the graduation of Matthew Skoff and early departure of Eamon McAdam. Junior Matt Erlichman moves from the Penn State club team to D-I, and the Nittany Lions return sophomore Chris Funkey.
That said, Gadowsky doesn't have a starter in mind.
"We're optimistic that whatever route happens, we're going to be fine, but we're going to wait to see what happens rather than have a committed plan going into it," said Gadowsky.
Gadowsky added that Penn State is looking for leadership from seniors David Goodwin and Ricky DeRosa and junior James Robinson, all forwards. Goodwin is the leading returning scorer, but sophomore Andrew Sturtz led the Nittany Lions in goal scoring last year with 18. DeRosa only had six goals last year, but four of them were game winners.
Three questions
1. Who will emerge as the go-to goalie for the Nittany Lions? Or will Penn State be able to find a due consistent enough to split time in net? Goaltending was a strength for the team last year – steady goaltending, that is.
Said Gadowsky: "We're just going to see how it develops."
2. How will having such a large rookie class impact the team, especially since the program itself is so young? That is something that will be interesting to watch and, predictably, Gadowsky is optimistic.
"I think if we're successful, it's going to be because we have a lot of freshmen excited energy and that energy proves to be productive," said Gadowsky. "I know that it can go one way or another, but if we're successful, that excited, new energy that we have is going to be funneled in a productive way."
3. After posting their best season in their short program's history, will the Nittany Lions be able to capitalize on that momentum and continue to progress?
"You can only look at where we were for last year from the finishing of last year, and everybody around here is thrilled," said Gadowsky. "The wins that we had against programs that were able to [beat] was beyond what we expected at this point. That being said, this is a new year."
Crystal ball
The Nittany Lions were picked to finish fourth in the conference for a number of reasons: player turnover, the relative newness of the program itself, and the expectations of more established programs like Minnesota and Michigan. Of all the teams in the Big Ten, Penn State is the one that may finish anywhere from second to last. There are a lot of questions marks, but the Nittany Lions will likely finish right in the middle of things.
Wisconsin
Last season
8-19-8, 3-14-4, (Sixth in Big Ten). Lost to Penn State in the first round of the Big Ten tournament.
Names to know
Forward Grant Besse led the team in scoring with 11 goals and 22 assists. Luke Kunin was one point behind Besse and led the Badgers in goals scored with 19. Matt Jurusik showed some prowess in net during his freshman season, but a less than stellar defense in front of him led to an 8-16-7 record and 3.46 GAA.
Three questions
1. Can Tony Granato rid the Badgers of their losing culture that has been hanging around Madison for the past couple seasons?
2. Will a new coach help raise Wisconsin's attendance at Kohl Center from its noticeably lackluster number last year?
3. Can Granato, and his assistants Don Granato and Mark Osiecki, turn around the Badgers' defense that was ranked 55th in the nation last season?
Crystal ball
The Badgers won't finish last in the conference this season. Sadly, for Wisconsin fans, that's a bold proclamation in itself. With a new coaching staff, returning players in key positions and conference opponents losing a lot of scoring the Badgers will make a push for the third spot in the conference, but will more than likely find themselves fourth or fifth.