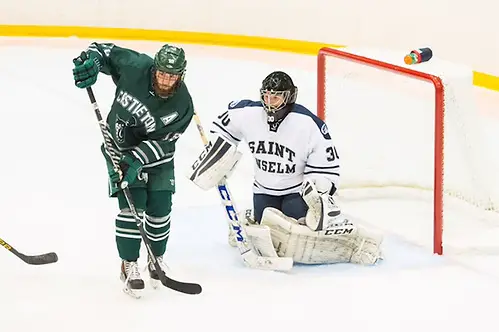 The conference championship game was canceled last season due to a campus outbreak amongst hockey players at St. Anselm, and the title by conference edict was given to the top-seed Stonehill Skyhawks. This year, all of the teams hope the ultimate conference champion will be decided on the ice, and it is no surprise that the Hawks are again favored by the conference coaches to win the title come the spring.
The favorite
With recent developments swirling around St. Anselm and St. Michael's no longer playing as conference members of the NEHC, where they participated as the only D-II programs, the Hawks are going to need to focus on the things they can control on the ice. They will be focused on showing their talent and it starts in goal with junior Shane Joyce, who has quietly become one of the better goaltenders in New England and certainly the foundation for strong play in the defensive zone for the Hawks.
Along with defenseman and captain Lawrence Taylor IV, the back-end is solid, so the focus is putting the puck in the net with a combination of proven players as well as some new freshmen expected to contribute on the score sheet.
The dark horses
Assumption lost the nation's leading scorer in Brandon Bete, but returns Brian Farrell, who partnered with Bete last season for a lot of point production. Senior Nick Commesso will be pushed by two freshmen in goal, but was a key factor for Lance Brady's team winning hockey games last season.
St. Michael's always seems to be around come the NE-10 conference tournament and their leadership from players like Danny Divis and goaltender Chris Johnson will be key in getting the Purple Knights to a position to play for the championship in the spring.
Players to watch
Assumption: Brian Farrell – forward; Nick Commesso – goalie
Franklin Pierce: Doug Michals – coach; Connor Mauro – forward
Southern New Hampshire: Joe Collins – forward; Jim Sylvia – forward
Stonehill: William Palmer – goalie; Evan Jacques – forward
St. Anselm: Shane Joyce – goalie; Lawrence Taylor IV – defense
St. Michael's: Danny Divis – defense; Chris Johnson – goalie
USCHO predicted finish
1. St. Anselm
2. Assumption
3. St. Michael's
4. Southern New Hampshire
5. Stonehill
6. Franklin Pierce
Former UConn coaching legend Bruce Marshall passed away this past summer, which was a great loss to the Franklin Pierce program and to the much larger college hockey community. Doug Michal, who played for Bruce at UConn, takes over as the interim head coach. Congratulations to Doug and the Ravens on winning their opener on Sunday against Post by a 3-0 score.
There are only six teams playing in the D-II ranks. but that doesn't diminish the intensity or level of play, especially when it comes to playing for a conference championship in the spring.