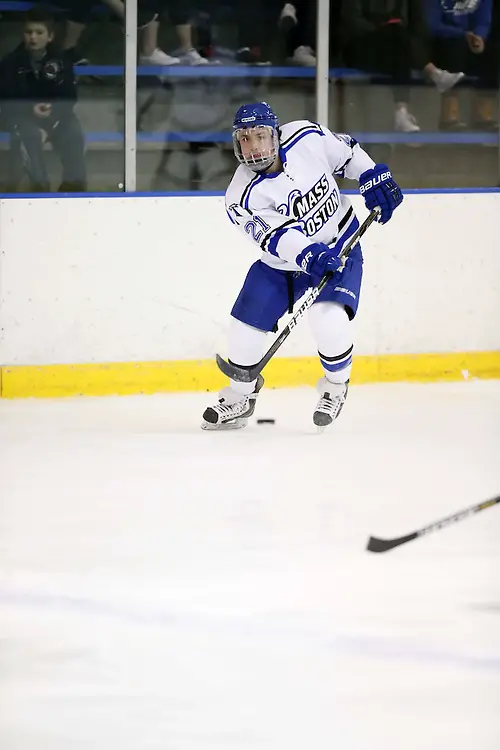 The conference is going through some upheaval off the ice, what with the departure of the University of New England to the CCC, school solvency issues with the Daniel Webster College program, and, most recently, the decision to not renew St. Anselm and St. Michael's conference participation for the 2017-18 season, making the conference an all-D-III group of seven schools.
All that said, the action on the ice is where there hasn't been a lot of upheaval, with three main contenders for the title, including last year's Cinderella team, the Beacons from Massachusetts-Boston. Obviously the two D-II programs have a lot to play for in their final season of conference play, and according to Beacons coach Peter Belisle, don't count out New England College and Skidmore just yet.
"This conference is tough every night," stated Belisle. "I know Skidmore had a good nucleus of players and brought in a really good class and NEC is always a talented team. Castleton has a new coach that will energize them. It will be a battle from start to finish.
The favorite
The Beacons, while having lost a lot, still have much returning in a strong defensive group and great center icemen who will help while three goalies battle to see who emerges as the number one guy between the pipes for the Beacons.
"I can't believe we were voted the favorites by the coaches," stated Belisle. "We graduated 10 seniors, including both our goalies and a really special player in Matt Lemire; you just don't replace a player like that who was so gifted offensively."
A key to the early season will be found in the maturation of the young players, which Belisle feels will be helped by the great team leadership he was in place.
"Albee Dailey is just a terrific captain for us," noted Belisle. "Last year he really did a great job with a heavily senior group and this year he will be needed to show the way to a much younger roster."
The dark horses
Norwich returns a very talented roster that saw a lot of injury and inconsistent play problems a season ago. When William Pelletier is healthy, he is a dynamic goal scorer, as is Kevin Salvucci. The defense has a full season under their belts and both goaltenders return with a focus to regain the title that has been resident in Northfield more often than not.
For Babson, two-time goaltender and conference player of the year Jamie Murray has moved on, so Matt Pomba will be looking to fill the crease for a talented and disciplined Beavers team that always seems to be there at the end. While Murray nursed a minor leg injury late last season, Pomba showed he can play at this level and the team defense certainly will help the cause of the young netminder who enters the season with limited game experience.
Players to watch
Babson: Matt Pomba – goaltender; Bill Seligman – forward
Castleton: Patrick Thornton – defenseman
Daniel Webster:* Ryan Murray – forward
Mass.-Boston: Tyler Bishop – defenseman; Albee Dailey – forward
New England College: Mike Whitehair – forward
Norwich: William Pelletier – forward; Kevin Salvucci – forward
St. Anselm: Brendon Kerrigan – forward; Shane Joyce – goalie
St. Michael's: Danny Divis – defense
Skidmore: Jack McDonald – goalie; Anthony Bird – forward
Southern Maine: Tyler Mathieu – forward
USCHO predicted finish
1. Mass.-Boston
2. Norwich
3. Babson
4. Skidmore
5. New England College
6. St. Anselm
7. Castleton
8. Southern Maine
9. St. Michael's
10. Daniel Webster College*
*travel partner for Southern Maine, but not an NEHC conference member
While a few teams played some nonconference action last weekend, conference play starts this week, so look for early indicators of where these teams are in their level of play. Expect some fast starts by the favorites and look out for the teams flying under the preseason radar; in November, everyone has a chance to win it all.