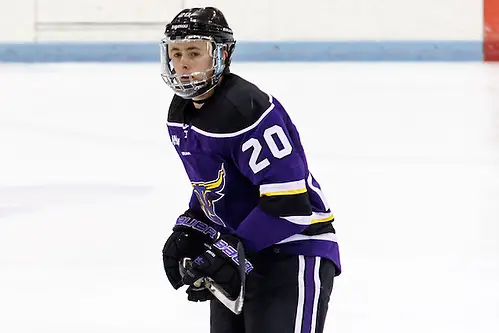 Marc Michaelis finished 2016 with a bang.
The Minnesota State freshman forward had 12 points in six December games. Was named the WCHA rookie of the month and grabbed national honors when he was named the Hockey Commissioners Association Division I College Hockey Rookie of the Month.
In 2016's final month the freshman from Mannheim, Germany, had points in five of the Mavericks six games and recorded his first career hat trick in a 7-3 win against Alaska on Dec. 3.
Because of the Mavericks' schedule, Michaelis hasn't played since Dec. 17 against Princeton, making his month-long statistics even more impressive when condensed into a two-week time period.
Heading into this weekend, Michaelis leads the WCHA with 26 points and 16 assists. He's been one of the WCHA's most lethal power play weapons with 13 power plays and has tacked on a pair of shorthanded goals for good measure.
On a national stage, Michaelis is second amongst all freshman in scoring.
He's also joining pretty elite company amongst former Minnesota State freshman scorers.
Former Minnesota State All-American Matt Leitner had 29 points during his freshman season (2011-12) and Michaelis could easily reach 30 this weekend with a strong series against Alabama-Huntsville.
Back during the 2003-04 season, David Backes, now with the Boston Bruins, had 37 points as a rookie. Michaelis could have the number tracked down within a couple weeks.
There's still a long second half ahead of us, but the German rookie has certainly laid the groundwork to grab postseason honors in four months.
Playoff bound
Bemidji State already knows 2017 is going to include a trip to the WCHA playoffs.
With 46 points, the Beavers have already locked up a playoff spot and can't finish any lower than eighth in the WCHA standings. The bigger question for 2017 is whether anyone will challenge the Beavers for regular-season title.
Michigan Tech is the closest, but still has a 10-point gap to close in the second half of the season. Bowling Green is third in the WCHA with 26 points, but any thought of catching Bemidji is an exercise in lunacy.
With that in mind, we turn our attention to the battle for home ice in the playoffs in the WCHA playoffs. And that's going to be important this season, since a combined 15-44-5 record in nonconference games has all but locked in the WCHA as a one-bid league for the NCAA tournament.
Ice chips
— Alabama-Huntsville had a strong regulation showing over the holiday break, but a pair of overtime losses ended 2016 on a sour note.
— Alaska-Anchorage is looking for power play answers in 2017. The Seawolves were just 8 for 106 on the power play in 2016.
— Alaska played on New Year's Day against Notre Dame and lost 5-0. The Nanooks were outscored 9-0 in the two-game series.
— Bowling Green's Mitch McLain was named the WCHA Player of the Month for December after leading the league with five goals in the month.
— Ferris State sophomore goalie Darren Smith has only allowed five goals over his past four starts.
— Northern Michigan and Lake Superior State are playing back-to-back home-and-home weekends to start 2017. The teams are playing for the Cappo Cup, which the Lakers won last season with a 2-1-1 record.
— Michigan Tech finished second in the Great Lakes Invitational. It was the final GLI to be held at Joe Louis Arena.
Players of the Week
This past week's WCHA Players of the Week were Alaska junior forward Matt Anholt (offensive), Ferris State freshman goalie Justin Kapelmaster (defensive) and Michigan Tech freshman goalie Angus Redmond (rookie).