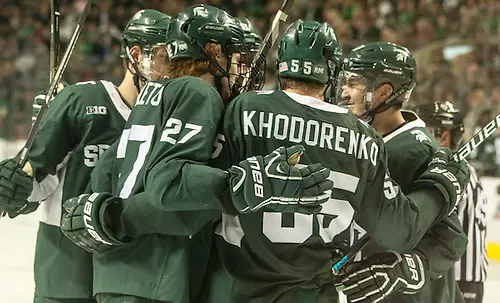 February is a strange month for Big Ten hockey.
Aside from Valentine's Day – a perilous holiday about which I've written much in the past – February brings the last of regular-season play for all other leagues but one, the NCHC, while B1G teams soldier on until mid-March. The WCHA has already crowned its regular-season champs — Bemidji State — and all but those NCHC fans and those of us who follow B1G hockey will see a title awarded before the month is out.
Feels a little unrequited, if you ask me.
So what's a fan to do in mid-February, when there's a month of Big Ten hockey remaining and a three-way race for first place, a two-way race for last and the prospect of three B1G teams making the NCAA tournament fading faster than your hope of hitting the Powerball?
Recapture the magic. That's what you do. Let's start with the magic numbers.
Magic numbers
Five wins for Minnesota, seven for Wisconsin and eight for Penn State.
Those are the first-place magic numbers.
With series remaining against everyone but Ohio State, if the Nittany Lions win out, they win all. In third place with 22 points – two behind Wisconsin and five behind Minnesota – the Nittany Lions arguably have the best remaining schedule of the top three teams, too. They face the only two teams ahead of them at home while playing Michigan and Michigan State on the road.
Wisconsin plays Minnesota and Penn State on the road. Minnesota travels to Penn State this weekend, hosts Wisconsin, travels to Michigan, and then hosts Michigan State to end the season. The Gophers, at least, end regular-season play with back-to-back weekends against the two teams at the bottom of the league.
There are mathematical possibilities for every team in the league to capture the regular-season title … if the planets align, someone lights some sage and the top three teams in the league suddenly lose their collective abilities to play hockey. In fourth place, Ohio State has 17 points followed by Michigan (10) and Michigan State (eight). Realistically, the bottom three teams are trying to finish as high as they can and to head into the Big Ten tournament strong. It is highly likely that the Buckeyes will finish fourth. Someone has to finish last, and that will either be Michigan or Michigan State.
At this point – mathematically speaking – anyone can finish in last place. There are 24 points remaining to be earned in regular-season play. These aren't alternative facts, but there are many long-shot scenarios.
Magic power play
"I know one thing. My heart's still in good shape because I didn't have a heart attack in that game."
That's how Minnesota coach Don Lucia summed up the emotional effect of the Golden Gophers' 6-5 road win over Ohio State Saturday night.
On his radio show Monday night, Lucia talked about the "roller coaster" of the contest.
"I really felt that when the game started we had some more energy on the bench, we seemed to have more energy than we had on Friday, yet we found ourselves down three nothing," said Lucia.
After losing 5-4 Friday, that's how Saturday's game began, with the Gophers in the hole by three goals before the second period was six minutes old.
Then the game got out of hand, as they say.
Two Buckeyes were ejected for major penalties in the game. Josh Healey was ejected in the second period for hitting Minnesota's Darian Romanko in the head and Luke Stork left in the third period for hitting from behind. Four of Minnesota's six goals were scored on those two Ohio State penalties; all six of Minnesota's goals were scored on the power play.
"We needed every one of those six power-play goals," said Lucia. "There was not a lot of five-on-five in the game on Saturday.
"It's not often you see a couple of goals scored on a major. It seems like more often than not, you get a major, you don't get a goal. I've always said you either score early and you get a couple or you don't get any at all."
Both the tying and game-winning goals were scored on the major penalty to Stork, Vinni Lettieri's goal at 12:34 and Jake Bischoff's at 15:34.
"We gift-wrapped it," said Ohio State coach Steve Rohlik after the game. "You can't be shorthanded for fifteen minutes of a hockey game or twenty minutes or whatever it was – I've never seen anything like it – and you know what? Good teams don't do that. We basically shot ourselves in the foot tonight. You can't give a good hockey team that many opportunities."
Minnesota (18-8-2, 9-3-0-0 B1G) take on Penn State on the road this weekend while Ohio State (14-8-6, 5-6-1-1 B1G) heads to East Lansing for two games against Michigan State.
There's no magic in this
Healey's hit was especially egregious and earned the Buckeye a two-game suspension, meaning that he'll miss Ohio State's road series against Michigan State this weekend.
As disturbing as the hit itself is the attention the hit received and how such play is being characterized by professional scouts. In his column for TSN Feb. 13, Bob McKenzie talked about Healey's free agency prospects, quoting an unnamed NHL scout who said that Healy "hits too hard for college hockey" and that the Buckeye's game "will be better suited for pro."
The story was circulated by NBC Sports along with a clip of Healey's hit.
To paraphrase a colleague of mine, any hit to the head is too hard for college hockey. In a time when major league contact sports are breeding grounds for life-altering concussions, it might be argued that any hit to the head is too hard for NHL hockey, too.
Magic goals
These are two of the prettiest college goals of the weekend.
Not everything about that Ohio State-Minnesota game Saturday night went Minnesota's way. Senior Nick Schilkey , another Buckeye free agent, is a gifted goal scorer. This one, scored at 16:55 of the second, is particularly slick.
? #mondaymotivation #GoBucks pic.twitter.com/zQkTkHD3aj

— Ohio State M Hockey (@OhioState_MHKY) February 13, 2017
I was lucky enough to witness this unassisted, shorthanded beauty by Michigan State freshman Taro Hirose at 19:10 in the second period of the Spartans' 4-1 win over the Wolverines Saturday night.
Taro Hirose's second in as many nights gives MSU a 3-0 lead near the end of the second – https://t.co/C8uh47MkCh

— MSU_Hockey (@MSU_Hockey) February 12, 2017
Hirose is another undrafted player who will turn 21 in 2017, meaning that he will become a very desirable free agent if he maximizes his potential in college.
While we're on the subject of pretty goals
In his Monday press conference, Wisconsin coach Tony Granato had some high praise for sophomore forward Luke Kunin , comparing his ability to release the puck to that of Tampa Bay's Steven Stamkos and the Washington Capitals' Alex Ovechkin.
"There are NHL players who are great goal scorers," said Granato. "You can say he shoots it like Stamkos, he shoots it somewhat like Ovechkin. He's in that area where if he's inside the top of the circles or inside the circles and he's got a chance to get it off, there's a pretty good chance it's going in.
"Being a righty shot, being a guy on the power that can kind of just find a way to get open when he needs to, he's got that ability. Is he going to score fifty goals in the NHL like those two guys did? I don't know about that, but I can tell you from what he adds to our team, he does the same thing for our team that Stamkos and Ovechkin does for theirs. He's a goal scorer."
Kunin leads the Badgers with 19 goals 25 games this season, the same number he scored in 34 games last year.
You have to make your own magic
Wisconsin's five-game win streak ran into Penn State's five-game winless streak in the Kohl Center last weekend, and after the Nittany Lions swept the Badgers, 6-3 and 5-2, Granato said that Penn State brought a higher level of competitiveness to the series.
"They were extremely determined and committed to get back on track and they played really, really well," said Granato. "They were hungrier for more parts of the game than we were and we haven't had that all year. There were a lot of factors that went into it. We were on a pretty good roll … and we ran into a team that threw some stuff at us that we didn't handle well. Our respect to them. They deserve it."
Penn State coach Guy Gadowsky Monday echoed what Granato observed about the Nittany Lions, that they played as a very determined unit.
"You could feel it, that everybody was pulling the same way, we all had a goal in mind, our objectives were really clear to us and it's amazing the difference in not only result but performance when that happens," said Gadowsky. "You wish you could bottle it. It sounds easy to achieve. It's not, but when it happens it sure is fun to watch and that's what we saw Saturday."
Penn State led 3-2 at the start of the third period Saturday and added unassisted goals by Denis Smirnov and Trevor Hamilton while outshooting the Badgers 18-10 in the final 20 minutes. The Nittany Lions outshot the Badgers 44-29 in the game.
Smirnov finished the weekend with three goals – including Saturday's game-winning goal – and two assists, breaking his own five-game, point-drought streak. Forward Nate Sucese had two goals and three assists – including assists on each game winner – in the series after four games without a point himself. Junior defenseman Erik Autio had an assist but was also plus-six on the weekend. Peyton Jones made 57 saves in the two wins.
"What we saw were some pretty special individual performances," said Gadowsky, "specifically Denis Smirnov, Erik Autio, Nate Sucese, Peyton Jones, but I do think … that was just a great team effort, especially in the third period Saturday night."
Wisconsin (15-10-0, 8-4-0-0 B1G) hosts Michigan this weekend while Penn State (18-6-2, 7-4-1-0 B1G) hosts Minnesota.
That once-in-a-lifetime magic
Well, at least in terms of college hockey players.
With a 4-1 win over Michigan in Yost Ice Arena Saturday night, this Michigan State team did something no other has been able to do since the 1989-90 season: Beat the Wolverines in their own barn twice in the same season. The Spartans and Wolverines played to a 4-4 tie the night before in Joe Louis Arena with Michigan taking the extra shootout point, but Michigan State shut out, 3-0, Michigan in Ann Arbor Jan. 20.
Michigan State coach Tom Anastos called the win "a positive night" for the Spartans. "We were solid defensively," said Anastos. "We made them earn their space."
And the Spartans made the most of several opportunities on the night – some of which they earned with that tight defense, some that were simply handed to them by a Michigan team that was utterly out of sorts for the final two periods of the game. Three Spartans – Zack Osburn , Taro Hirose and Mason Appleton – scored unassisted goals.
That's five unassisted goals scored in B1G play last weekend, in case you're keeping track.
For their part, the Wolverines were dejected after the game – but, according to their coach, also lacking in a bit of understanding.
"We didn't compete hard enough," said Red Berenson. "To me it's compete. It's preparation and compete. Whether last night's game influenced tonight's game in any way, I don't know, but I thought we had to be better tonight and we weren't even close to being better. We took a step backwards. There was no offense, the power play was out of sorts.
"Our kids care. They're all sitting in there. They're discouraged and they feel bad for themselves, but they don't understand what it takes to prepare on a daily basis in this league. They're figuring it out but that's too bad. It's too late now."
Wow.
Michigan State (6-17-3, 2-8-2-0 B1G) hosts Ohio State this weekend while Michigan (9-14-3, 2-8-2-2 B1G) travels to Wisconsin for two.
Three stars of the week
Two Nittany Lions and a Golden Gopher.
First star – Penn State freshman forward Denis Smirnov
Smirnov (Moscow, Russia) had three goals and two assists in the Nittany Lions' sweep of Wisconsin. Smirnov recorded his first career four-point game Saturday with two goals and two helpers. One of Saturday's goals was the game winner. This is his fourth career weekly Big Ten award.
Second star – Penn State freshman forward Nate Sucese
Sucese (Fairport, N.Y.) also had five points in the series against the Badgers, with two goals and three assists, including assists on both game-winning goals in the series. This is his second career weekly Big Ten award.
Third star – Minnesota sophomore forward Tyler Sheehy
Sheehy (Burnsville, Minn.) also had five points on the weekend as the Gophers split their road series with the Buckeyes. Sheehy had a goal and four assists. His single goal was the second tying goal of Saturday's 6-5 win, late in the second period. This is his fifth career weekly Big Ten award and his fourth of the season.
My ballot
1. Minnesota-Duluth
2. Denver
3. Boston University
4. Harvard
5. Minnesota
6. Union
7. Providence
8. UMass Lowell
9. Penn State
10. Boston College
11. Western Michigan
12. Cornell
13. Ohio State
14. North Dakota
15. St. Lawrence
16. Vermont
17. Notre Dame
18. Air Force
19. Bemidji State
20. Canisius