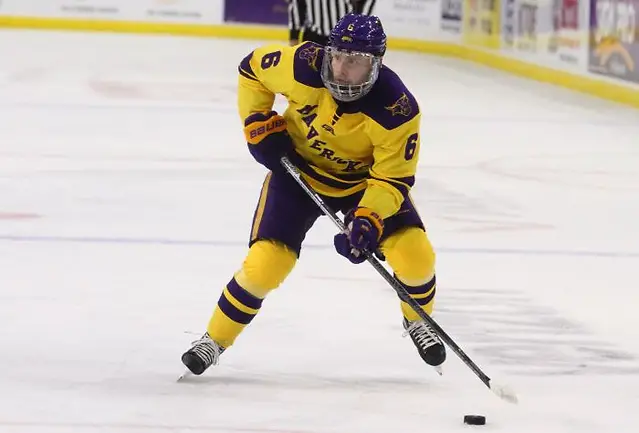 After losing so many pieces of last season's MacNaughton Cup-winning team, Mike Hastings wasn't entirely sure how he'd be able to replace that production so soon at Minnesota State.
That team lost four double-digit goal-scorers — in all, more than 35 percent of the Mavericks' total points from last season.
"When you lose your captain (CJ Suess) and the seniors that we had with him, Zeb Knutson, Brad McClure, Clint Lewis, and we had an early signing with Danny Brickley, you look at the amount of points that you lost there and there's obviously going to be a concern," Hastings said. "Do you have players either existing with your club returning or do you have some new young guys who can come in and pick up some of that slack offensively?"
The answer, it turns out so far this season, is a resounding "yes."
Thanks to a combination of a few experienced players who are now upperclassmen and some players who were more role players in seasons past, the Mavericks are 5-1 and have scored more goals (26) than anyone in the WCHA aside from Bowling Green.
"We've had some of the old and the new be a little bit of a stopgap for us offensively, and it's helped us early," Hastings said.
The "old" mostly refers to juniors Parker Tuomie and Marc Michaelis, the two returning scoring leaders from last season. So far, Tuomie has four goals and seven assists while Michaelis has three goals and four assists.
The "new" refers to a few different types of players. Freshman Julian Napravnik has stepped right in and played in five games this year, netting four points.
Max Coatta, a senior, isn't new, but he wasn't playing the same role heis has this season. His previous season high in goals is six; this year, he has four in just six games.
Charlie Gerard, a junior, has also upped his game this year, with five points in six games while mostly playing with Tuomie and Michaelis.
"He might have more in his first six games this year than he has had in every other year," Hastings joked.
That's not quite true — in each of his past two seasons, Gerard managed five points. But he's on pace to be a key player this year and far surpass that output, which is a good thing for MSU.
"He went from a sophomore to a junior, and he went from being an underclassmen to an upperclassmen, and that maturity is a big thing," Hastings said. "He's handled it well and it's helped his overall game."
The Mavericks also had to deal with the loss of all three goaltenders (Connor LaCouvee and Aaron Nelson both graduated, while Jason Pawloski left school with a year of eligibility remaining), which meant whoever played in the nets was going to be one of the newbies.
Mathias Israelsson, a transfer from Northern Michigan, had some collegiate experience but was a backup to NMU's Atte Tolvanen during his time with the Wildcats. Meanwhile, Dryden McKay is a freshman with zero experience at the college level. He ended up starting the Mavericks' first four games this season, against Boston University and North Dakota, and went 3-1-0 in the process.
"We start the game against Boston, he's never played, and I think in the first period he faced three 2-on-1s and a breakaway from Joel Farabee, who's a first-round pick, and it's like, 'welcome to college hockey,'" Hastings said. "But he played well and allowed us to get out of that period 1-1."
The Mavericks swept that series from the Terriers, with McKay in the net both times. He also started both games against North Dakota in Grand Forks — one of the toughest places to play on the road — and escaped with a split.
It should be surprising to see a freshman come in cold and play so well against two of the country's top programs, but with the track record Hastings and Minnesota State have had in recent seasons, it seems less so.
Israelsson got the nod last week against Alaska and also played well, allowing just one goal on the weekend and earning his team the sweep.
"Timely saves are just as important as that save percentage at times," Hastings said. "Those guys, both of them, have made an impact this season just because of when they've made those saves."
The Mavericks get another early nonconference test this weekend when they play a home-and-home series with instate rivals Minnesota. The Gophers have something of a new look this season, at least behind the bench — Hastings is very good friends with new Gophers coach Bob Motzko.
"They're our closest neighbor," he said. "They're the one that's in the yard closest to you. Any time you play someone within the state, it's special."