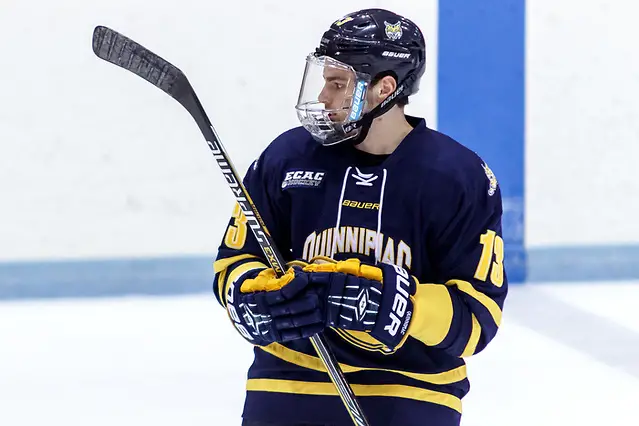 Quinnipiac is no stranger to lengthy unbeaten streaks.
The Bobcats ripped off a 21-game stretch without a loss en route to a national title game appearance during the 2012-13 season, and then started 15-0-2 in 2015-16, a season that also ended with an appearance in the championship game.
While the six-game winning streak to start the season was modest by comparison, it's still impressive, especially considering the roster turnover Quinnipiac has experienced over the last year.
The Bobcats have 12 freshmen on this year's team, the largest class of newcomers since 2009.
"I enjoy it — I've had numerous times in my 25-year career where we had a big chunk of freshmen," Quinnipiac coach Rand Pecknold said. "We always seem to do well. They're young and hungry and sometimes they don't know any better. The buy-in has been awesome and I give a lot of credit to the freshman class, but the older guys have been really good about it and holding them accountable, too."
That 2009 team finished two games over .500, but that freshman class emerged as key contributors by the time they were seniors, helping the Bobcats to program's first national title game appearance in 2013.
Several newcomers have already made an impact for Quinnipiac in the early going. Center William Fällström is one of the teams top faceoff men, and played on the top penalty killing unit Friday at Harvard. He's also the younger brother of former Crimson forward Alexander Fällström.
Ethan de Jong and Wyatt Bongiovanni skate on the team's top line with sophomore Odeen Tufto, while defenseman Peter DiLiberatore is a Vegas draft pick.
"It's been a good adjustment," said de Jong, who scored his first collegiate goal last Friday against Harvard. "With 12 freshmen, that's a good chunk of the team, so being with them every day, you can build a relationship pretty easily."
Those newcomers replace a number of important players who graduated from last year's team, such as forward Tanner MacMaster and defenseman John Furgele, along with a number of role players who left the team over the last year with eligibility still remaining.
That turnover comes after the program's first losing season since 1995-96, when QU was still a Division II program.
"We've talked a lot here in the last eight or ten years that if we play to our identity, we'll get our reward," Pecknold said. "We just strayed from it, for whatever reason [last year]. We had kids that weren't buying in and we were not rewarded."
While Quinnipiac is getting contributions from its newcomers, it's also getting plenty of production from its veterans as well.
Senior defenseman Brandon Fortunato and Chase Priskie are averaging more than a point per game. Priskie tied the school record for career goals by a defenseman in Saturday's loss to Dartmouth, which was the first loss of the season for the Bobcats.
Tufto has five goals already and is on pace to exceed the nine goals and 41 points he posted as a rookie. In goal, classmate Keith Petruzzelli has been solid after struggling to find consistency as an 18-year old freshman.
But the upperclassmen have contributed in other ways as well, as they've helped the freshmen adjust to the expectations at Quinnipiac.
"That's something we've been focusing on this whole offseason and even from last year," junior defenseman Brogan Rafferty said of Quinnipiac re-establishing its identity this season. "It was pretty evident that we didn't do great job with that, so this offseason it was a huge thing for not only Chase [Priskie] and Scott Davidson with the letters on, but the leadership group to step up to get them to regroup and focus."
If Quinnipiac continues to get contributions throughout its lineup, the Bobcats could be a contender in the league playoffs after getting picked to finish seventh in the coaches' preseason poll.
"So far this year, it hasn't been perfect hockey, but the buy-in has been excellent," Pecknold said. "If we do that, we'll win a lot of hockey games."