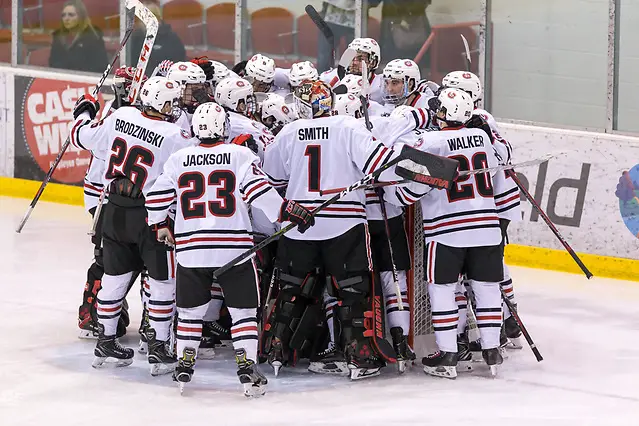 Coming off a sweep of the No. 5 team in the nation, and having started the season 9-1, most coaches would be happy, especially with the resiliency shown when his team had to rally from two-goal deficits in each game last weekend.
While St. Cloud State coach Brett Larson is happy with the results, he does still see areas where his team needs to improve, where they perhaps got away with something. While he praised his players for their ability to rally, he also sounded a warning note.
"Unfortunately, we're getting too good at that in a way because it's four games in a row now that we've had to come from behind," said Larson. "As a coaching staff, you're really excited about your team's resiliency, their confidence, their belief in each other. They don't get rattled. They've got a sense that they can come back. All those things are really important, but at the same time you know that you can't keep putting yourself down, especially in this league because eventually it's going to come back to bite you."
One of the things that helped the Huskies overcome the deficit was their power play. They scored one power-play goal Friday night, a goal by Jimmy Schuldt at 17:50 of the second period, that proved to be the game winner and capped a three-goal period in which St. Cloud rallied from 3-1 down. Saturday, they got power-play goals from Blake Lizotte and Easton Brodzinski in the second to complete a rally from 2-0 down and take a 3-2 lead.
What impressed Larson was how the Huskies kept plugging. Friday's goal came on their fifth power play of the game.
"What I've been impressed with on the power play is, even on Friday night, I believe they were 0-for-4, 0-for-5 maybe going into that last power play and they never lost faith in what they were doing — they never seemed rattled," stated Larson. "They just stuck with it, and when the moment came, they were able to get a big goal. So for me, that mental strength is a big piece of any power play because in this league there's so many good teams that are so good on the penalty kill that you might go 0-for-4 or 0-for-5. It's that sixth one that you really need to maybe change the game."
As a team, St. Cloud is solid across the board.
The Huskies are third nationally in team offense, fourth in team defense, eighth in power play, and second in penalty kill. Offensively in particular, the Huskies have a lot of ways to hurt an opponent, as they have six players averaging a point a game or better, and two just below that level. One of those six at a point a game is freshman Nolan Walker.
"We thought going into the season that one of our strengths would be depth, and we've been pleasantly surprised obviously with the freshmen impact on the scoring side of things and then the guys you expected like maybe a Ryan Poehling or a Robby Jackson and then guys that stepped up from where they've been in the past, like Patrick Newell," Larson said. "Right now, we feel like we don't have a fourth line. We feel like we've got really good at that when we're playing the right way, we can kind of have waves of lines coming at you. It's been a key to our success early."
Dávid Hrenák started both games in net against Denver. So far, he has a .918 save percentage and 1.86 goals-against average. While he has played the majority of games, junior Jeff Smith has played three, and Larson says both will see the net going forward.
"I think they're both going to get some playing time," said Larson. "We've got two really good goalies here, and competition is a good thing. So I think here before Christmas, both guys are going to get a few games."
This weekend, St. Cloud has out-of-conference games with Bemidji State, a team that picked up a win and a tie against North Dakota in October and a club Larson knows not to take for granted.
"I've kind of learned from experience at Duluth that Bemidji's a team that you better never overlook because they are one of the best-coached teams in the country," said Larson. "They play hard, they play to their identity, and they never take a night off. So in order for us to be successful this weekend, I know we've got to bring our best. We're going to have to bring our A game if we want a chance to come out of here with a win or two."