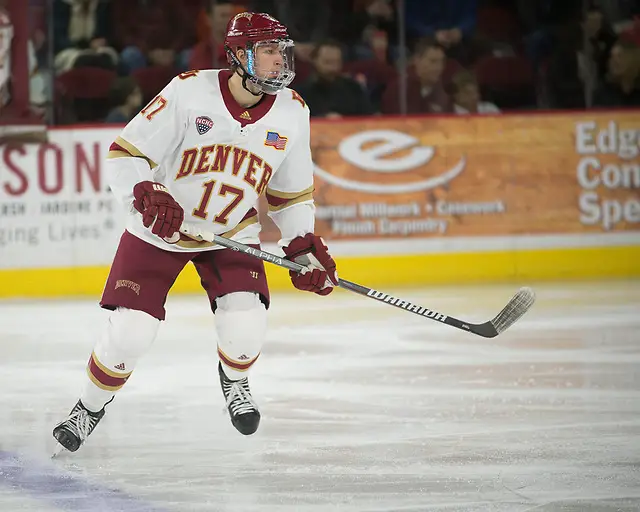 Each week, USCHO.com columnists will pick the winners of the upcoming games in their respective conferences.
Atlantic Hockey
Friday
Bentley at Boston College
This is one of those games that hits me right in my core. BC is something of a holy institutional to me as a Boston hockey youth and calling games for Bentley has been one of the greatest joys of my sports life. I'm picking with my heart because I believe in the "giant killer" image of the Falcons. BC is turning the corner, but a 3 p.m. start on Black Friday may be just what the doctor ordered for an upset. Bentley wins this one.
Holy Cross at Merrimack
The Warriors are a sneaky good team and have the wins over Boston University, Boston College and Bemidji State to prove it. I think they hold serve on the home ice against the Crusaders. Merrimack wins.
Saturday
RIT at Northeastern
The one story we're not talking about – an RIT win would actually start positioning the Tigers for a run at an at-large bid for the national tournament. But the Huskies are 5-1-1 since being swept by Union and are coming off a shutout win over Vermont. Northeastern wins.
Friday-Saturday
Sacred Heart at Canisius
I don't hate Sacred Heart in this matchup, but the 1 p.m. start times makes me leery of picking a team with a long trip. So I'll do the completely unbiased line of thinking and pick a split. But I'll go the distance and say Canisius wins on Friday, Sacred Heart on Saturday.
Niagara at Army West Point
The Black Knights haven't won on Friday at home yet this season and only went 2-3-3 last season on the first night when teams traveled to West Point. I'm assuming that owes to the players' responsibilities on campus as cadets, so I'm interested to see what happens this weekend when they have some time to relax. This is going to be one barn burner of a series, but I think Army sweeps.
Mercyhurst vs. Robert Morris
The Colonials will have a massive chip on their shoulders after last weekend's losses to Penn State, and I think that will create a passionate atmosphere against a Laker team that's undefeated in its last five games. Let the good times roll for this series. I'm taking the Lakers, but I'm saying at least one of these games goes to overtime.
Tuesday, Nov. 27
Holy Cross at AIC
The Yellow Jackets will have 10 days off after sweeping Air Force. I like Holy Cross to make this a great game, but AIC is starting to turn in one of those seasons that might make a case for votes in the national poll. AIC wins.
— Dan Rubin
Big Ten
Friday-Saturday
Michigan State at Minnesota
I love that it's all Big Ten hockey this week and that two series echo the old College Hockey Showcase that featured Michigan, Michigan State, Minnesota and Wisconsin on Thanksgiving weekend. The Spartans are looking to end a five-game losing streak and pick up their first B1G points. The Golden Gophers are 2-2 in their last four games, having split with St. Lawrence at home last weekend and on the road against Wisconsin the weekend prior. I don't know what is ailing Minnesota, but I know that they'll have a lot to handle from Michigan State. I'm calling a split: Minnesota wins Friday, Michigan State wins Saturday.
Wisconsin at Michigan
I'm not sure what's ailing Wisconsin, either, but the Badgers are underperforming on both offense and defense. Last weekend, Wisconsin lost twice on the road to Ohio State, and Wisconsin is 1-3-0 to start B1G play. The Wolverines are inconsistent but can score. I don't think there will be many sweeps in Big Ten hockey this season, but I'm calling one in Ann Arbor this weekend. Michigan sweeps.
Penn State at Ohio State
The Nittany Lions are scoring 5.73 goals per game. Last weekend, Penn State scored 11 goals in their road series against Michigan, but the Nittany Lions allowed a dozen goals and the teams split, with Penn State scoring in overtime the second night. The Buckeyes are allowing 1.83 goals per game and have allowed three goals in their last six games, a span that includes three shutouts. Three of those shutouts belong to senior Sean Romeo, and all on Friday nights. I have absolutely no idea how this will translate, but I'm calling another split in this one: Ohio State wins Friday, Penn State wins Saturday.
— Paula C. Weston
ECAC Hockey
Friday-Sunday
Rensselaer vs. UMass Lowell
The Engineers and the River Hawks play a home-and-home series this weekend with Lowell hosting on Black Friday. Teams can get their holiday shopping done on Saturday before reconvening in Troy on Sunday. After sweeping rival Union the last weekend in October, RPI has lost three of its past four. UMass Lowell is off to another slow start. With Tyler Wall being named Hockey East Player of the Week and more scoring depth, the River Hawks sweep.
Friday-Saturday
Quinnipiac at Maine
The Bobcats make the trek up to Orono to face the Black Bears on Friday and Saturday. Quinnipiac is playing some good hockey right now with a sweep of Cornell and Colgate. Maine is coming off a split with Boston University. A key for the Bobcats is to get Maine into the penalty box as the Black Bears average a full period in the box and Bobcats have the fifth-ranked power play in the country. Maine has the talent led by Jeremy Swayman in goal to earn the split. Black Bears win Friday and Quinnipiac takes Saturday's game.
Friday
Yale vs. Union
The two most recent NCAA national champions from the ECAC take their rivalry to Belfast, Northern Ireland for a nonconference game as part of the Friendship Four along with Boston University and Connecticut. The Bulldogs have one of the better players in the conference in Joe Snively, but the Dutchmen counter with depth on the strength of five players with four or more goals. Despite their 3-2 record away from Achilles Center, I got the Dutchmen.
Saturday
Yale vs. UConn
In the third-place game of the Friendship Four, I have Yale taking down in-state rival UConn. Rivalry aside, this should be an evenly-matched contest. I give Yale the slight advantage in their forward corps along with the slight edge on defense, but UConn has the advantage in goal with Adam Huska, who hasn't been unbeatable, so I think Yale will be able to find the net a few times. Bulldogs win.
Boston University vs. Union
If these teams meet, it will be the fifth time in the past five years with BU going 3-1-1 in those games. The Terriers have been struggling in terms of expectations of a blueblood program. It will be fun to see Union forwards go up against a BU defense that has five NHL picks playing in front of one of the most talented goalies in the country in Jake Oettinger. BU's skilled players are off to a slow start and I think Union can keep that trend going. Union wins the Friendship Four.
Vermont at Dartmouth
Both teams should be relatively fresh for the Battle of Northern New England. Dartmouth had last weekend off while the Catamounts have played the previous two Fridays. Vermont has been getting scoring by committee while also getting scoring from multiple lines. The difference is Vermont's leading scorers have four points each while Will Graber has double that point total. The Big Green have four other players with four or more points. Dartmouth wins.
Princeton at Massachusetts
Too bad both school's lacrosse teams don't play each other in the spring because that would be a very good prop bet. Which game would have more goals, the hockey or lacrosse game? The Minutemen have the nation's fifth-best offense while having the nation's third-best power play. Princeton has the nation's second-best power play along with one of the best lines in the country in Ryan Kuffner, Max Véronneau and Alex Riche. The difference in this game may be UMass' second ranked defense. I see this being more like the Kansas City Chiefs-Los Angeles Rams game than a 2-1 hockey game. UMass wins.
St. Lawrence vs. Clarkson
The two North Country schools will play a neutral-site, nonconference contest in Lake Placid. The Golden Knights are coming off a sweep of Michigan Tech while St. Lawrence went to Minnesota and earned a split with the Golden Gophers. I think the Saints will play Clarkson tough, but the Golden Knights have more skill. Clarkson wins.
Harvard vs. Cornell
Another neutral site, nonconference game as the Big Red play their annual game at Madison Square Garden. It should be an intriguing match between the two rivals as they are both off to slow starts. Cornell sits at 5-3 and didn't lose its third game until Feb. 3 of last season. Harvard is sitting at two wins. I expect this to be a grind-it-out type of game. Cornell wins.
— Nathan Fournier
Hockey East
Friday
Bentley at Boston College
The Eagles have been playing their best hockey of late. BC wins.
Holy Cross at Merrimack
Holy Cross was competitive against other Hockey East teams, but Merrimack's home ice prevails. Merrimack wins.
Rensselaer at UMass Lowell
A two-game home and home over three days, Lowell should win at home. UMass Lowell wins.
Friendship Four (Belfast, Northern Ireland)
Boston University vs. Connecticut
Despite some early-season struggles, I think BU advances to the title game. BU wins.
Saturday
Vermont at Dartmouth
Both teams have had their ups and down, but I think the Cats are the better club overall. Vermont wins.
RIT at Northeastern
RIT is playing some very good hockey and could upset. I just can't pick it. Northeastern wins.
Princeton at Massachusetts
A great test for the Minutemen, but I think home ice should help. UMass wins.
Friendship Four
Connecticut vs. Union/Yale
Either of these two opponents could cause problems for the Huskies. If Union, Union wins; if Yale, Yale wins.
Boston University vs. Union/Yale
I think Union would be a tough opponent for BU. Yale, maybe not so much. If Union, Union wins; if Yale, BU wins.
Sunday
UMass Lowell at Rensselaer
The River Hawks played well last weekend and should complete the home-and-home sweep if that play continues. UMass Lowell wins.
Friday-Saturday
Providence at Denver
This will be a great test to show where Hockey East and its top team stands against one of the best teams in the NCHC. Denver wins Friday, Providence wins Saturday.
Quinnipiac at Maine
The Bobcats are one of the best teams in the ECAC and I think are good enough to sweep. Quinnipiac sweeps.
Miami at New Hampshire
The RedHawks are a very strong NCHC team and UNH hasn't just proven itself ready just yet. Miami sweeps.
— Jim Connelly
NCHC
Friday-Saturday
Providence at Denver
Denver has only lost one of seven home games so far, but three went to overtime and all were against teams DU handled the night before. The Friars are 3-1-1 on the road so far but have yet to beat a ranked opponent in Rhode Island or otherwise. I think these will be close games, but I like Denver to edge both out. Denver 3-2, 4-3.
Alaska Anchorage at North Dakota
UND has been far more up-and-down so far this season than the Fighting Hawks would like to be, and they were made to look ordinary last weekend at home against Western Michigan. Alaska Anchorage isn't on Western's level, though, and this feels like a good chance for UND to get back on the horse. North Dakota 4-2, 4-1.
Miami at New Hampshire
UNH won one of its first 10 games against a not especially brutal early schedule, and Miami has been a pleasant surprise early on hasn't really proven itself on the road, splitting at Omaha and Colorado College and essentially doing the same at the IceBreaker. I'll take Miami to sweep here, but I'm not as positive about it as I could be. Miami 3-2, 3-1.
Arizona State at Omaha
Two words to describe this series: "You again?" Arizona State swept Omaha just under a month ago in Tempe, and ASU has won four of its last five games, but I don't see a sweep either way here. UNO is starting to get it together after a bad start to the season, and a third consecutive weekend split wouldn't be the worst thing in the world given what the Mavericks are facing. Arizona State 3-1, Omaha 3-1
— Matthew Semisch
WCHA
Friday-Saturday
Minnesota State at Bemidji State
A big conference test for both teams in the first of two in-state rivalry series in the WCHA this week. The Beavers will be looking to get back on track after getting swept by now-No.1 St. Cloud State. The Mavericks are looking to extend their six-game winning streak after steamrolling Ferris State last week. The big question will be if BSU's defense can fend off MSU's high-powered offense. Bemidji was able to hold off St. Cloud State in one game last week — they lost 1-0 — but couldn't keep the dam built in the other game, losing 7-4. I think the Beavs will win one low-scoring game on Friday before the Mavs bring out their big guns and win Saturday with a lot of firepower.
Northern Michigan at Lake Superior State
The Lakers have been the feel-good surprise of the early WCHA season so far. They're 6-3-1 with some solid wins against Michigan and Bowling Green under their belt. Meanwhile, the Wildcats are struggling more than people might have expected — at least, they haven't had a signature nonconference win despite being 4-2 in league play. Regardless, this is a UP rivalry series that I'm going to say is a split. Lakers win Friday and Wildcats even it up Saturday.
Alaska at Michigan Tech
The Huskies are perfect 4-0 in conference play while the Nanooks are 2-8-2, with the two wins coming in the WCHA. Despite the fact that UAF is 2-1-1 in their last four games after going 0-7-1 in their first eight, my gut tells me that the Huskies have what it takes to sweep the Nanooks in Houghton.
Alaska Anchorage at North Dakota
Poor Seawolves. They're coming into Grand Forks to take on an angry North Dakota team that got swept at home by Western Michigan last week. Still, the Fighting Hawks are not, in my opinion, a great team this year so I think it will be a much closer series for Alaska Anchorage than many might think. I'm going to say an UND sweep — but not an easy one.
— Jack Hittinger