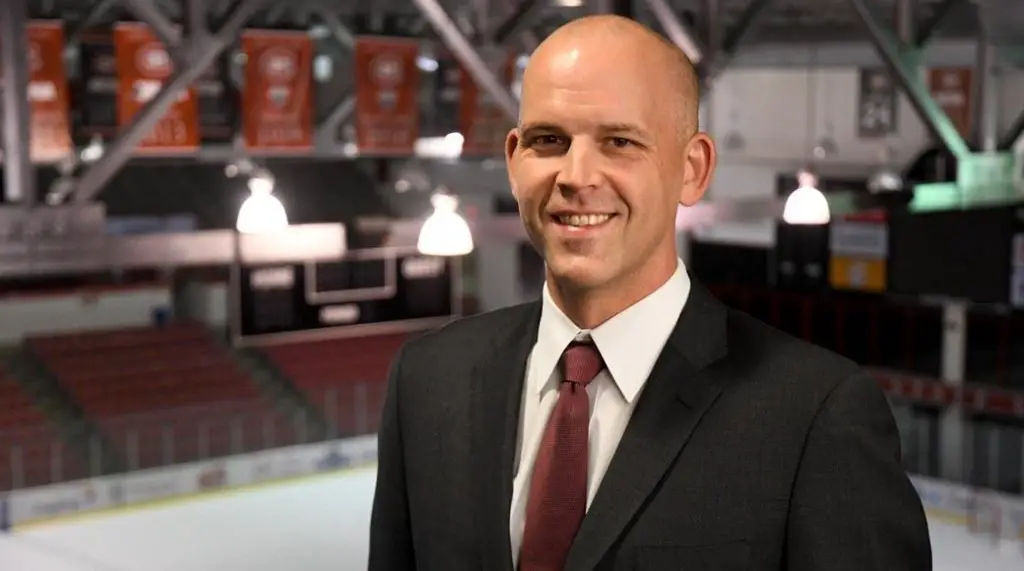 St. Cloud State announced recently the appointment of Steve Macdonald as the new head coach of the Huskies women's team.
Macdonald will move into the head coaching position at SCSU after serving for the past five seasons as an assistant coach for the Huskies under former head coach Eric Rud, who recently joined the men's hockey coaching staff at Miami.
"Throughout the search process, Steve Macdonald's passion for St. Cloud State University and our community was clear," said St. Cloud State director of athletics Heather Weems in a statement. "Over the past five years, Steve has been critical to advancing our recruiting networks and finding players who make us better. He has reached out to alumni to help create greater connection and pride within the program and he has spent hours on the ice in individual and team practice sessions honing skills and building confidence amongst our student-athletes.
"I am delighted to name Steve Macdonald as our head coach and have him continue his work at St. Cloud State, and to help our student-athlete achieve their goals and aspirations."
Macdonald becomes the fifth head coach in the history of the SCSU women's hockey program, which started in 1998-99.
"The St. Cloud State athletics programs are an important part of our university's experience," added St. Cloud State president Robbyn Wacker in a statement. "Our coaches play a significant role in the growth and development of our young men and women that impact them not only while in school, but long after they graduate to become leaders in their careers and communities. In his time with the program, Steve MacDonald has earned the respect of players, alumni, and colleagues as a mentor and teacher on and off the ice. He has his finger on the pulse of our program, and I am confident through recruitment and player development he will elevate our program."
Macdonald takes over a program that brings back six of the team's top 10 point producers from 2018-19 along with goalies Janine Alder, a two-time Olympian for Team Switzerland, and Emma Polusny, a member of the U.S. National Team at the IIHF World Championships in 2019. The Huskies finished the 2018-19 season with a 10-25-2 record (5-19-0 WCHA).
"I am tremendously humbled and honored to lead the Huskies women's hockey program," Macdonald said. "The opportunity to continue to be a part of the Huskies' tradition and build the program is one that myself, [assistant coach] Jinelle Siergiej, our staff, and the players are excited to pursue. We believe in the people and the possibilities here at St. Cloud State and can't wait to move forward."
Prior to his move to St. Cloud State in 2014-15, Macdonald served as an assistant coach for the women's hockey program at Minnesota Duluth from 2011 to 2014.
Then on July 17, St. Cloud State announced the promotion of Siergiej to associate head coach and the hiring of Molly Engstrom as an assistant coach for the SCSU women's hockey team.
"Jinelle has been such an integral member of the St. Cloud State women's hockey team for the past five seasons," Macdonald said in a statement. "She has positively impacted the program through her knowledge and dedication for assisting the student-athletes' growth both on and off the ice. Her tireless work ethic and passion to better those around her will only propel SCSU women's hockey forward. To be able to continue to work alongside her is truly an honor.
"Huskies hockey is thrilled to welcome Molly to the family. She is an individual that brings extensive experience as an athlete along with a wealth of hockey knowledge. After talking with her, it was easy to see that she will quickly connect with our staff and players. Molly will provide immediate contributions to the program with a fresh perspective and her ability to work with our student-athletes on a personal level in all aspects of their development. We could not be more excited to have Molly come onboard."
Both Siergiej and Engstrom have extensive coaching and playing resumes that includes Olympic and World Championship experiences along with playing collegiate hockey in the WCHA at Wisconsin.
Siergiej most recently completed her fifth season as an assistant coach with the St. Cloud State women's hockey team. She played for the Badgers from 2004 to 2008 and gained All-WCHA honors in 2006, 2007 and 2008. Siergiej was part of two national team titles at UW in 2007 and 2008 and left the campus as the Badgers' all-time leader in goals, game-winning goals and power-play goals.
Siergiej represented the United States at the 2010 Winter Olympics in Vancouver and brought home a silver medal with Team USA that year. She also played for Team USA and earned a silver medal at the 2007 IIHF World Championships, and was part of the Four Nations tournament with Team USA in 2006, 2007, 2009 and 2010.
"I am honored and excited to continue to work hard for our program here at SCSU," Siergiej said. "Although titles have changed, I continue to be committed in making this the best experience both on and off the ice for our players. I am thrilled to be coaching with Molly and for the exceptional hockey experience and knowledge she is bringing to our players. We share experiences on and off the ice that will be beneficial for our program and the future here at St Cloud State University."
Prior to her arrival at SCSU, Siergiej served as the head coach of the girls' team at Arrowhead High School in Hartland, Wisc., and was an assistant coach at Robert Morris during the 2013-14 season.
A two-time member of the United States women's hockey team at the Winter Olympics, Engstrom won a bronze medal with Team USA in 2006 at the Turin Winter Games and a silver medal in 2010 at the Vancouver Winter Games. She received the Best Defenseman award at the 2010 Winter Games.
A member of Team USA at six IIHF World Women's Championships from 2004 to 2011, Engstrom helped Team USA win IIHF World Championships in 2005, 2008, 2009 and 2011, along with silver medals in 2004 and 2007.
"I'm thrilled to be joining the SCSU staff and team," Engstrom said. "I can't thank Steve and Jinelle enough for the opportunity and for all of the people who reached out and helped me out during this job search. I'm excited to be back in and a part of the WCHA, and I'm really looking forward to the future here at St. Cloud State. "
She most recently served as a USA Hockey developmental scout since January 2019 and a IIHF U18 High Performance Camp coach-ambassador since April 2016.
Engstrom played and coached in the Swedish Women's Professional Hockey League from 2016 to 2018, and helped Djurgarden IF win the SDHL championship in 2017. She served as the girls' varsity hockey head coach and assistant athletic director at Kimball Union Academy in Meriden, N.H., from 2014 to 2016.
In addition to her professional playing and coaching experience in Sweden, Engstrom played professional hockey with teams in Minneapolis, Toronto and Boston in the CWHL and NWHL from 2007 to 2013. She helped her Brampton-Canadette Thunder team win the CWHL title in 2008 and the Minnesota Whitecaps win the Western Women's Hockey League crown in 2009.
A 2007 graduate of Wisconsin, Engstrom received First Team All-America honors in college, was named the WCHA Defensive Player of the Year in 2004 and 2005, and was selected as a Patty Kazmaier Award top 10 finalist in 2005.
She went on to receive a Masters of Sports Administration from the Russian International Olympic University in 2014.