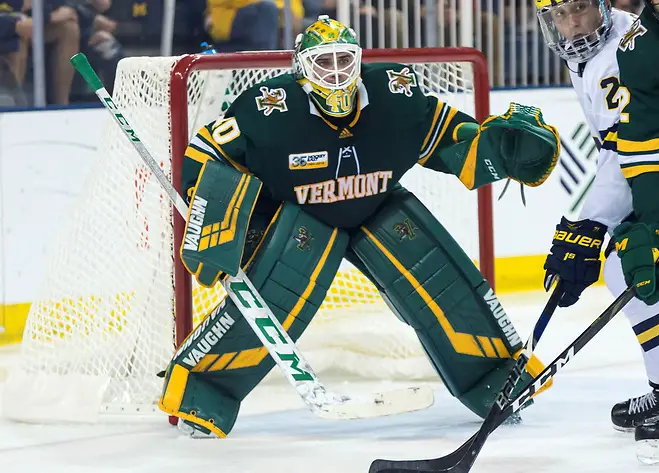 When Joe Bertagna assumed the position of commissioner in Hockey East in 1997, the league had won just three national titles and only four of its members – Boston College, Boston University, Providence and Maine – had ever reached a Frozen Four.
Additionally, the top of the Hockey East standings had become somewhat stagnant with that quartet, along with New Hampshire and maybe an occasional appearance by UMass Lowell or Northeastern, dominated the home ice spots each year in the Hockey East tournament.
Last season, Bertagna's 22nd in Hockey East, delivered a culmination of just how times have changed.
Massachusetts, a team that had qualified for the NCAA tournament just once in program history, reached the Frozen Four and national title game. The Minutemen were the 10th Hockey East program to reach college hockey's national stage.
To say this league has changed in Bertagna's 22 years is an understatement.
This season, though, will be the long-time commissioner's final after the athletic directors in the league chose not to renew his contract.
Anyone who knows Joe Bertagna knows he's not one to look back and tout his accomplishments, opting more to try to look forward in ways to improve. But as he enters his final season, it's difficult not to notice what has happened since 1997.
The league added three members – Vermont, Connecticut and Notre Dame (the latter of which has since left). It grew its league tournament monumentally, consistently putting more than 25,000 fans inside TD Garden over the two-night league championship.
Bertagna helped bring outdoor college hockey to the region with multiple editions of Frozen Fenway, an event that every team touts as a memory of a lifetime.
He helped bring the game across the Atlantic with the Friendship Four played annually in Belfast, Northern Ireland.
And that's all just on the men's side.
Lest we forget, Bertagna was a driving force in the creation of women's Hockey East. A longtime champion of women's hockey, Bertagna's league expanded to currently include 10 members, just one shy of the men's league.
All told, Bertagna's success in his position is immeasurable. And, in his mind with one season remaining, he's wants to see continued growth and success.
"I've never let myself get too high or too low," said Bertagna. "I know how strong [as a league] we are. Strength can be measured different ways. But if you look at the number of different schools that have played for the national championship or gotten to the Frozen Four in my time here, we've had great success and that's not the way things were when I got here.
"At that time, BC, BU, UNH and Maine had won 90 percent of the regular and postseason titles. That wasn't necessarily a healthy thing. But what's to teams like Providence, Northeastern, Lowell and now UMass, that's a great advertisements on how programs are putting resources into hockey."
Can 11 become 12?
That's been a question that's been asked since Notre Dame left the league three seasons ago. With 11 teams, the schedule is imbalanced, the playoff format has changed from qualifying every team to last year's format where only the top eight clubs qualify for the league postseason. And while there hasn't been a glaring issue with having 11 teams, 12 is a number that simply feels more correct.
That could be looked at as either opinion or fact. But no commissioner would tell you that creating a schedule with 11 teams is easier than doing the same with 12.
Bertagna now understands the league won't return to 12 clubs under his watch, but acknowledges that moving in that direction seems almost inevitable.
The question becomes, what school will become that 12th member?
Geographically, some smaller Atlantic Hockey schools like Bentley or Holy Cross seem sensible, though neither can meet the league's 4,000 seat requirement for a venue (though last season, Hockey East waved UConn's planned on-campus building which will be used part-time and is anticipated to have about 3,000 seats). But if those teams become more and more desirable, venue size could be overlooked.
There is always a possibility that a new program could come along. Rhode Island continually is mentioned in conversations but has never shown much momentum. Saint Anselm is among a quartet of teams still playing men's hockey at the Division II level, though this year will have their women's team compete in a league mixed with Division I and II members that could earn a bid in the women's national tournament. That could possibly create a hockey bug, though still doesn't seem likely as the school would have to elevate all of its sports to Division I.
And then there's Arizona State.
Yes, the Sun Devils geographically don't make sense. But given the fact that the program has deep pockets, an alumni base that is strong in New England (what school wouldn't want to sell an extra 1,000 tickets every night to the visiting team?), and regardless of leagues will have to travel via plane to every opponent (unlike Notre Dame, which can now bus to most games in the B1G). Add an easy commute via non-stop flight to sunny Tempe, Arizona, and a campus located less than five minutes from the airport. Suddenly Arizona State isn't as bad a fit.
In terms of existing programs, Arizona State, in fact, might be the most viable option. But it is possible that Hockey East members still feel a little scarred from the four-year failed experiment known as Notre Dame.
"We can say [Notre Dame] didn't work out, but it wasn't anything that would scar us looking at any other school outside of the region," said Bertagna. "I'm not going to have anything to do with the decision going forward. But I look at [Arizona State as a Hockey East member] as a boring administration who has the benefit of scheduling midweek games and seeing missed class time at a minimum, and have a regional TV deal and regional sponsors that all work really well when everyone is in that footprint.
"I think the coaches are very open to the idea, so we'll see where that goes. There are no ongoing discussions. But [Arizona State is] an attractive program for many reasons."
Competition on the ice
Certainly for a league like Hockey East, ultimate success is measured in national championships.
The last four years, all of the national titles have gone to the league that is arguably the only one more competitive nationally than Hockey East – the NCHC. But last year's Frozen Four with Hockey East placing both Providence and UMass in the field and the Minutemen in the finals is certainly a positive (when you consider the fact that neither of those teams even played in the Hockey East title game, that shows just how deep this league was a year ago).
But Bertagna agrees, that while you can have some expectations on teams that should be successful once again this season, year-to-year the league – and college hockey in general – gets more difficult to handicap.
"It's harder for me to be very good at handicapping because of the movement [pro signings] of undergraduates," said Bertagna. "It was easier when you only had to factor the loss of seniors and freshmen were 18 years old and you could have a reasonable expectation of what impact a freshman class can make.
"Now you have the loss of seniors and underclassmen, and you have [older] freshmen who come in ready to be impact players at 21 years old."
The league's preseason coaches' poll gave the nod to Boston College, a team that underdelivered on high expectations a season ago but likely has one of the strongest – if not the strongest – rookie class in the nation. But you can expect UMass to continue to be strong and build off its national runner up finish, as well as perennial powers like Northeastern, UMass Lowell, Boston University and Providence.
Will there be a dark horse to emerge. Maybe New Hampshire or Connecticut, both of which had strong finished a year ago. Maine always feels like it is ready to return to its glory days. Vermont has easily the league's best netminder if it can find a way to score. And Merrimack brings in 16 new players, the impact of which you can't measure until the puck is dropped.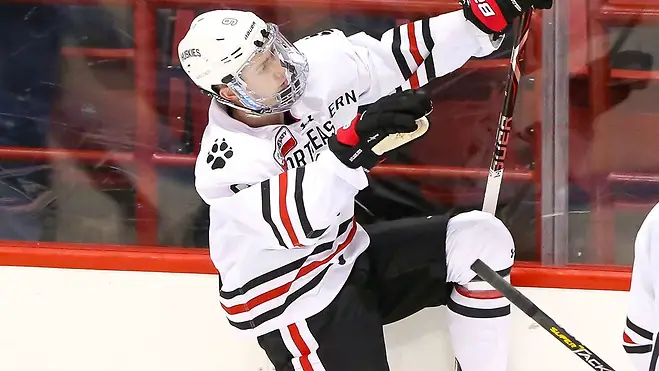 BOSTON COLLEGE
HEAD COACH: Jerry York, entering his 26th season at Boston College
2018-19 OVERALL RECORD: 14-22-3 (10-11-3 Hockey East, seventh)
KEY RETURNING PLAYERS: Senior forward David Cotton (23-13-36), junior forward Logan Hutsko (6-20-26), senior forward Julius Mattila (9-14-23), senior defenseman Jesper Mattila (0-9-9), senior defenseman Ben Finkelstein (1-9-10)
KEY LOSSES: Defenseman Casey Fitzgerald (2-12-14), goalie Joseph Woll (13-21-3, 2.41 GAA, .919 SV%), forward Oliver Wahlstrom (8-11-19), forward Christopher Brown (7-9-16), defenseman Michael Kim (3-12-15)
KEY ADDITIONS: Goaltender Spencer Knight (USNTDP), defenseman Drew Helleson (USNTDP), defenseman Marshall Warren (USNTDP), forward Alex Newhook (Victoria, BCHL), forward Matt Boldy (USNTDP), forward Mike Hardman (West Kelowna, BCHL)
2019-20 PREDICTIONS: Boston College's fall last year from its accustomed perch atop Hockey East was even more precipitous than at first glance. The Eagles not only dropped to seventh from first place, where they had finished three straight years, but an abysmal nonconference record resulted in a very un-BC like overall 14-22-3 mark.
That said, the attrition from early departures to the pros slowed dramatically this offseason and coupled with a stellar recruiting class led by four members of the U.S. National Development Team, could see the Eagles back atop Hockey East. Small wonder league coaches picked the Eagles to finish first.
"It doesn't mean anything," BC coach Jerry York says. "We'll have to see how we develop. Then we'll find out more about our team.
"Most of the freshmen will [need to make an impact]. But our line of Cotton, Hutsko, and [Julius] Mattila will be our go-to line."
Jim's pick: 2nd
David's pick: 1st
BOSTON UNIVERSITY
HEAD COACH: Albie O'Connell, entering his second season at Boston University
2018-19 OVERALL RECORD: 16-18-4 (12-9-3 Hockey East, fifth)
KEY RETURNING PLAYERS: Senior forward Patrick Curry (13-13-26), senior forward Patrick Harper (6-14-20)
KEY LOSSES: Forward Joel Farabee (17-19-36), forward Shane Bowers (11-10-21), defenseman Dante Fabbro (7-26-33), defenseman Chad Krys (8-12-20), goaltender Jake Oettinger (16-16-4, 2.44 GAA, .926 SV%)
KEY ADDITIONS: Forward Trevor Zegras (USNTDP), defenseman Domenick Fensore (USNTDP), defenseman Case McCarthy (USNTDP), defenseman Alex Vlasic (USNTDP), goalie Sam Tucker (graduate transfer from Yale)
2019-20 PREDICTIONS: Boston University second-year coach Albie O'Connell was very blunt in describing the feel he gets around his 2019-20 squad.
"It's definitely a different vibe," said O'Connell.
Different is probably a good tag for this year's Terriers team to have after what O'Connell tabbed as a disappointing 2019-19 campaign in which a team loaded with NHL talents finished fifth in the league and failed to reach the NCAA tournament.
But O'Connell feels this season is different.
"Definitely our [defensive] corps is deeper, and our goaltending has been solid," said O'Connell. "We're very optimistic how our team can do this year."
Goaltender, if anything, could be the biggest questions. With the departure of Jake Oettinger and BU's only other goaltender with significant experience, Max Prawdzik transferring to Arizona State, there are questions. But graduate transfer Sam Tucker, an All-ECAC selection at Yale, will hopefully stabilize the backend with Vinnie Purpura, a sophomore who saw limited minutes last year.
O'Connell termed his team "all in" headed into this season, noting that a year ago his club, which had five players depart early for the pro ranks, as having some guys with "a foot out the door" during the season.
That, he hopes, is something that can solidify what on paper is a very talented group of players.
Jim's pick: 5th
David's pick: 4th
CONNECTICUT
HEAD COACH: Mike Cavanaugh, entering his seventh year at UConn
2018-19 OVERALL RECORD: 12-20-2 (7-15-2 Hockey East, ninth)
KEY RETURNING PLAYERS: Senior forward Alexander Payusov (16-4-20), sophomore forward Jachym Kondelik (4-22-26), sophomore forward Ruslan Iskhakov (6-15-21), sophomore goaltender Tomas Vomacka (7-7-0, 2.32 GAA, .922 SV%)
KEY LOSSES: Goalie Adam Huska (5-13-2, 3.34 GAA, .896 SV%), forward Karl El-Mir (13-14-27)
KEY ADDITIONS: Forward Vladislav Firstov (Waterloo, USHL), defenseman Yan Kuznetsov (Sioux Falls, USHL)
2019-20 PREDICTIONS: UConn is a team that every year has taken small steps forward.
For head coach Mike Cavanaugh, he's ready to see his club take a bigger step in the right direction.
The Huskies return some incredible talent, most of which arrived in Storrs from Europe. The international-flavored lineup might produce pronunciation challenges for announcers but could translate to a very competitive team on the ice.
"I think college hockey in general has gotten more global," said Cavanaugh. "It's not like we're going over to Russia to get these kids. We're taking these kids out of the USHL. But when you get one, now all of a sudden [their teammates] feel comfortable."
A player that many will keep an eye on is Czech-born Tomas Vomacka, who last season as a freshman played a bulk of the team's late-season games, posting a 5-2-0 mark.
"The fact that Tomas finished the year as our starting goaltender and had some success down the stretch gives him some confidence heading into this season," said Cavanaugh.
Jim's pick: 9th
David's pick: 9th
MAINE
HEAD COACH: Red Gendron, entering his seventh season at Maine
2018-19 OVERALL RECORD: 15-17-4 (11-9-4 Hockey East, sixth)
KEY RETURNING PLAYERS: Junior goalie Jeremy Swayman (14-17-4, 2.77 GAA, .919 SV%), senior forward Mitchell Fossier (8-28-36), senior forward Tim Doherty (9-8-17), junior forward Eduards Tralmaks (8-9-17), sophomore defenseman Simon Butala (0-2-2)
KEY LOSSES: Forward Chase Pearson (16-13-29), defenseman Brady Keeper (7-15-22), forward Brendan Robbins (9-5-14), defenseman Alexis Binner (2-9-11), defenseman Rob Michel (3-6-9), defenseman Sam Becker (1-7-8), defenseman Keith Muehlbauer (0-6-6)
KEY ADDITIONS: Defenseman J.D. Greenway (Dubuque, USHL), defenseman Levi Kleiboer (Minot, NAHL), defenseman Dawson Bruneski (Drumheller, AJHL), defenseman Perry Winfree (Jersey, NCDC), defenseman Adrien Bisson (Ottawa, CCHL), forward Ben Poisson (Prince George, BCHL)
2019-20 PREDICTIONS: Will Maine finish in sixth place for a third straight year? Higher? Lower?
Arguably, a lot depends on the new defensemen that must fill roles following the departures of five regulars. The goaltending should be among the best in the league with Jeremy Swayman, and the forwards look strong despite the early departure of top goal scorer Chase Pearson.
"My expectations are pretty high," Maine coach Red Gendron says. "We're very solid at the forward position with some depth and some pretty good returning offensive players. We have very good goaltending with Jeremy Swayman. On defense, we've got some pretty good talent; we're just going to be young with five new players back there."
Those five new blueliners include junior J.D. Greenway, who played two years at Wisconsin before spending last season in the USHL, along with Levi Kleiboer, Dawson Bruneski, Perry Winfree, and Adrien Bisson.
"We have a pretty good core," Gendron says, "so I'm expecting big things from the team."
Jim's pick: 10th
David's pick: 7th
MASSACHUSETTS
HEAD COACH: Greg Carvel, entering his fourth year at UMass
2018-19 OVERALL RECORD: 31-10-0 (18-6-0 Hockey East, first)
KEY RETURNING PLAYERS: Sophomore goalie Filip Lindberg (11-4-0, 1.59 GAA, .934 SV%), junior goalie Matt Murray (20-5-0, 2.11 GAA, .919 SV%), junior forward Mitchell Chaffee (18-24-42), sophomore defenseman Marc Del Gaizo, D (13-16-39)
KEY LOSSES: Defenseman Cale Makar (16-33-49), defenseman Mario Ferraro (2-12-14), forward Jacob Pritchard (16-31-47)
KEY ADDITIONS: Defenseman Zac Jones (Tri-City USHL), forward Cal Kiefiuk (Central Illinois, USHL)
2019-20 PREDICTIONS: There is no question that 2018-19 will be looked at as a watershed moment for UMass. Taking the school's first regular-season title and advancing to the national title game, eventually falling to Minnesota Duluth, the Minutemen acquired plenty of experience upon which it can build.
Though the national title game loss was less than ideal, the way it occurred, says head coach Greg Carvel, was helpful in making the players understand there is still plenty of work still to do.
"We've been preaching the same thing since Day 1," said Carvel. "To see it fulfilled gives your players more confidence in you as a coach.
"We were humbled in that national championship game. I'd rather lose that game 3-0 than 4-3 in overtime. We left with our tail between our legs and that taste is still in our mouths."
The biggest question to answer for UMass will be how it fills holes left by the (very much expected) departure of Cale Makar and Mario Ferraro. No players can fill those holes, but Carvel is convinced that those holes won't remain empty.
"We won't change a single thing," said Carvel. "We're replacing those two guys with experience, depth. Since I've been at UMass, I've always felt like I've thrown a young, inexperienced team on the ice. Now I feel like we're starting to become an older team and that's a comforting thing."
Jim's pick: 1st
David's pick: 2nd
UMASS LOWELL
HEAD COACH: Norm Bazin, entering his ninth season at UMass Lowell
2018-19 OVERALL RECORD: 19-13-5 (12-7-5 Hockey East, fourth)
KEY RETURNING PLAYERS: Senior forward Kenny Hausinger (13-9-22), junior forward Connor Sodergren (5-16-21), sophomore forward Reid Stefanson (8-12-20), senior goaltender Tyler Wall (11-7-3, 2.08 GAA, .921 SV%)
KEY LOSSES: Forward Ryan Lohin (12-15-27), forward Ryan Dmowski (14-9-23), defenseman Mattias Goransson (4-16-20)
KEY ADDITIONS: Forward Matt Brown (Des Moines, USHL), forward Brian Chambers (Sioux Falls, USHL), forward Andre Lee (Sioux Falls, USHL), forward Carl Berglund (Sioux Falls, USHL), goalie Logan Neaton (Prince George, BCHL)
2019-20 PREDICTIONS: The River Hawks are still a team of underclassmen, but don't let that fool you into thinking this team isn't ready to be competitive. Between a talented sophomore class, a group of highly-touted freshmen, and a scattering of upperclassmen – most notably goaltender Tyler Wall – this is a Lowell team that should be strong.
Like last year, a major challenge will be generating offense. Kenny Hausinger showed great offensive sparks last season and returns as a senior but will need some help from anyone and everyone.
But goaltending is the area most will focus on, with Wall hoping to go out similar to the way he entered. Wall set a wins record as a freshman (26) but over the last two seasons has posted a combined 14 victories. Head coach Norm Bazin says his No. 1 goaltender is focused.
"Tyler is ready to have a monster year," said Bazin. "I like the way he's come back. He's streamlined his body. He's a very, very intelligent kid."
Jim's pick: 4th
David's pick: 6th
MERRIMACK
HEAD COACH: Scott Borek, entering his second season at Merrimack
2018-19 OVERALL RECORD: 7-24-3 (4-18-2 Hockey East, 11th)
KEY RETURNING PLAYERS: Sophomore forward Chase Gresock (11-13-24), senior forward Tyler Irvine (6-12-18), senior forward Sami Tavernier (4-12-16), junior defenseman Dominic Dockery (1-4-5), sophomore defenseman Tyler Heidt (1-3-4)
KEY LOSSES: Goalie Craig Pantano (6-15-3, 3.52 GAA, .889 SV%), defenseman Johnathan Kovacevic (4-14-18), forward Derek Petti (7-11-18), defenseman Alex Carle (2-7-9), defenseman Ryan Cook (1-4-5)
KEY ADDITIONS: Goalie Jere Huhtamaa (Jokerit U20, Jr. A SM-liiga), defenseman Patrick Holway (Maine, Hockey East), defenseman Declan Carlile (Muskegon, USHL), defenseman Jacob Modry (Wenatchee, BCHL), defenseman Zach Vinnell (Camrose, AJHL), defenseman Zach Uens (Wellington, OJHL), defenseman Liam Dennison (Youngstown, USHL), forward Filip Forsmark (Tri-City, USHL)
2019-20 PREDICTIONS: You're gonna need a program to follow this year's Merrimack Warriors. Second-year coach Scott Borek has brought in 18 — count 'em, 18 — freshmen in an effort to lift the Warriors out of the Hockey East cellar.
All three goaltenders are freshmen. Five freshmen and Patrick Holway, a junior transfer from Maine, will patrol the blue line. And nine freshmen will compete up front.
The new faces outnumber the returnees, 18-11.
"We had a great group of kids last year who worked really hard through our last game," Borek says. "I was really impressed with the student-athlete at Merrimack. But we have a whole new group now.
"So it's going to be a learning curve for all of us, including the coaching staff. We recruited all these players, but we're still not aware of what they can do in college hockey."
Small wonder Hockey East coaches unanimously picked Merrimack to finish last.
"I like our group a lot," Borek says. "They'll definitely grow throughout the year. Hopefully, our results will be better than what people are predicting. I'm excited about our team and our kids."
Jim's pick: 11th
David's pick: 11th
NEW HAMPSHIRE
HEAD COACH: Mike Souza, entering his second season at UNH
2018-19 OVERALL RECORD: 12-15-9 (8-10-6 Hockey East, eighth)
KEY RETURNING PLAYERS: Senior forward Liam Blackburn (10-14-24), sophomore forward Angus Crookshank (10-13-23), junior defenseman Max Gildon (6-15-21), junior goalie Mike Robinson (11-12-8, 2.48 GAA, .915 SV%)
KEY LOSSES: Forward Ara Nazarian (12-11-23), forward Marcus Vela (6-12-18)
KEY ADDITIONS: Forward Lucas Hermann (Madison, USHL), forward Robby Griffin (Boston Jr. Bruins, NCDC), defenseman Kalle Erickson (Madison, USHL), sophomore forward Filip Engaras (available mid-November)
2019-20 PREDICTIONS: Season 1 for head coach Mike Souza had plenty of highlights.
A number of streaks throughout the season where his team seemed like a contender gave the UNH faithful plenty of hope. It was the lulls when the team struggled that pushed it to an eighth-place finish in Hockey East and something Souza hopes to build on.
"There were lulls in the results and we're in a results business," said Souza. "I always felt like we were moving in the right direction in the way we wanted to play."
UNH played in 14 overtime games last season, nine ending in ties.
"We had enough to get us there, just not enough to get us over the top," Souza said.
The Wildcats return a solid core nucleus from a year ago and add a handful of players that excites Souza. One player who will join the team in mid-November is Swedish-born Filip Engaras, a player who Souza believes is big and strong but also dynamic. He sat out all of last year and will miss the first nine games this season after playing a limited number of games at the professional level in Sweden.
The biggest area needing improvement for the Wildcats is offensive production. Souza says a lot of that comes from structure, but also having healthy players such a Patrick Grasso, who missed a major portion of a season ago with injury.
Jim's pick: 7th
David's pick: 8th
NORTHEASTERN
HEAD COACH: Jim Madigan, entering his ninth season at Northeastern
2018-19 OVERALL RECORD: 27-11-1 (15-8-1, T-2nd)
KEY RETURNING PLAYERS: Senior defenseman Ryan Shea (3-13-16), sophomore defenseman Jordan Harris (1-12-13), sophomore forward Tyler Madden (12-16-28), senior forward Grant Jozefek (10-14-24), junior forward Zach Solow (15-8-23)
KEY LOSSES: Goalie Cayden Primeau (25-10-1, 2.09 GAA, .933 SV%), defenseman Jeremy Davies (8-28-36), forward Brandon Hawkins (12-21-33), forward Liam Pecararo (11-19-30), defenseman Eric Williams (3-9-12)
KEY ADDITIONS: Goaltender Craig Pantano (Merrimack, Hockey East), forward Brendan van Riemsdyk (New Hampshire, Hockey East), defenseman Jayden Struble (St. Sebastian's, USHS), defenseman Jeremie Bucheler (Victoria, USHL), defenseman Mike Kesselring (Fargo, USHL), defenseman Tyler Spott (Green Bay, USHL), forward Aidan McDonough (Cedar Rapids, USHL), forward T.J. Walsh (Des Moines, USHL)
2019-20 PREDICTIONS: "Last year, I was asked how we were going to replace Adam Gaudette, Dylan Sikura, and Nolan Stevens, and I said we had a lot of good players returning," NU coach Jim Madigan says. "This year, I'm asked how are you going to replace Primeau and Davies. We have a lot of good players returning."
At first glance, the biggest question is who will replace Primeau, a first-team All-American. However, graduate transfer Craig Pantano arrives from Merrimack where he was a two-year starter. Another graduate transfer, Brendan van Riemsdyk (New Hampshire), will bolster the front line. Beyond those two veterans, a host of freshman will need to fill some important roles.
"We're younger, without a doubt, but it's good, young skill," Madigan says. "We're bigger and faster than we were last year. We'll grow as the season goes along. We'll be better on November 1 than October 1."
Jim's pick: 3rd
David's pick: 3rd
PROVIDENCE
HEAD COACH: Nate Leaman, entering his ninth season at Providence
2018-19 OVERALL RECORD: 24-12-6 (14-7-3 Hockey East, tied for second)
KEY RETURNING PLAYERS: Sophomore forward Jack Dugan (10-29-39), senior defenseman Spenser Young (8-13-21), junior defenseman Ben Mirageas (2-11-13), sophomore forward Tyce Thompson (8-17-25), junior forward Greg Printz (11-7-18)
KEY LOSSES: Forward Josh Wilkins (20-26-46), defenseman Jacob Bryson, (4-24-28), forward Brandon Duhaime (11-23-34), goaltender Hayden Hawkey (24-12-5, 1.88 GAA, .921 SV%), forward Kasper Björkqvist (17-13-30), defenseman Vincent Desharnais (5-8-13), forward Scott Conway (15-14-29)
KEY ADDITIONS: Goalie Michael Lackey (Harvard, ECAC), defenseman Luke Johnson (Sioux City, USHL), defenseman Cam McDonald (Muskegon, USHL), defenseman Max Crozier (Sioux Falls, USHL), forward Parker Ford (Sioux City, USHL), forward Patrick Moynihan (USNTDP)
2019-20 PREDICTIONS: Providence's lineup that advanced to last year's Frozen Four won't be reappearing this season. That roster was decimated by early departures to the pros along with the graduation of several important seniors.
The Friars have earned selection to six straight NCAA tournaments, but will be sorely tested to extend that streak to seven.
"We're so young with so many new faces, I really don't have expectations," PC coach Nate Leaman says. "I'm coaching the team as if I took the program over yesterday. I'm just teaching and developing because it's a year of a lot of growth. We just need to be getting better every day."
It's not as though the cupboard is completely bare. Up front, Jack Dugan returns (though he's the only one of last year's top six scorers), along with Tyce Thompson and Greg Printz. Spenser Young, Ben Mirageas, Michael Callahan, and Davis Bunz remain on the blue line as three freshmen will be added to the mix, typically with a veteran alongside a freshman in each pairing.
In goal, graduate transfer Michael Lackey arrives from Harvard, where he backstopped the Crimson to an NCAA tournament berth.
Jim's pick: 6th
David's pick: 5th
VERMONT
HEAD COACH: Kevin Sneddon, entering his 17th season at Vermont
2018-19 OVERALL RECORD: 12-19-3 (5-19-3 Hockey East, 10th)
KEY RETURNING PLAYERS: Senior goalie Stefanos Lekkas (12-19-3, 2.26 GAA, .930 SV%), junior forward Max Kaufman (8-13-21), senior forward Derek Lodermeier (5-13-18)
KEY LOSS: Forward Liam Coughlin (6-11-17)
KEY ADDITIONS: Forward Jacques Bouquot (Chilliwack, BCHL), forward William Lemay (Brooks, AJHL), defenseman Andrew Lucas (Brooks, AJHL)
2019-20 PREDICTIONS: Vermont returns arguably the best goaltender in the league – and one of the tops in the nation – with Stefanos Lekkas.
But the greatest goaltender in only effective if the team in front of him can score, easily Vermont's biggest struggle in 2018-19. That is something head coach Kevin Sneddon hopes to have addressed in developing a team that plays as a unit of five. Getting the defense activated will be critical. But having a stellar goaltender on the back end certainly will allow the defense to take more offensive risks.
"It gives your team more confidence," said Sneddon of having a goaltender like Lekkas. "As a staff, we have to change our approach in teaching risks and when it is appropriate to take those risks.
"We don't want to be giving up breakaways or 2-on-1s all night, because those are high-risk plays. If you give up an odd-man rush, our defensemen need to be able to handle that and our goaltender can handle it."
Jim's pick: 8th
David's pick: 10th