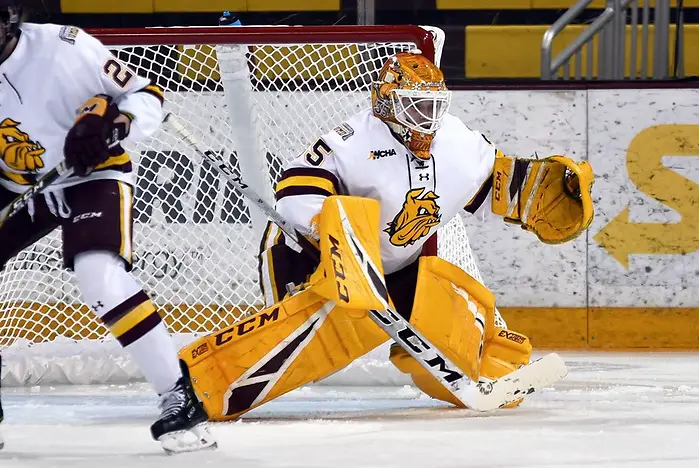 Since it would be a bit odd for me to just pick games with no context and keep track of my own record, I thought I'd change up the Friday picks a bit, offering a bit more insight into each series before choosing an outcome. I'll pick all of the ranked teams' games and add a few other series in each week.
Penn State at (1) Wisconsin
It's hard to believe this is the first-ever meeting between these two Big Ten schools. Wisconsin is unveiling their national championship banner on Friday night and has one of the best home records of any team playing. The experience of playing at LaBahn will be great for Penn State, but since they only managed two ties against Holy Cross last week, I'm picking this as a sweep for Wisconsin.
(2) Minnesota at Minnesota State
Both teams open up conference play with this series. The Gophers are 88-3-3 all-time against the Mavericks, but needed overtime to take them down in their final regular-season meeting last year. Minnesota State is coming off a road sweep of RPI, while Minnesota swept Colgate at home. MSU goalie Abbey Levy was incredibly strong for them in her rookie season and she'll be the most important player on the ice for them this weekend. I expect Minnesota to sweep, but think the Mavericks are capable of an upset.
(3) Clarkson at (10) Minnesota Duluth
These two teams met for the first time ever in a two-game set in Potsdam last season. Clarkson swept with 4-1 and 4-2 victories. This time they're in Duluth, opening the Bulldogs' season. The Golden Knights smothered UMD's offense last year. Minnesota Duluth returns nearly all their scoring from last season, but will be without Naomi Rogge, who suffered a season-ending knee injury. She was the team's second-leading goal scorer. Clarkson struggled in their first game against Syracuse last weekend, though they did manage to sweep. This could be an interesting defensive battle. I'm picking a split as I think UMD can take one of these games at home.
(4) Northeastern at Union
The reigning Hockey East champions take the ice for the first time this season to face Union, who were swept by Robert Morris last weekend. The Huskies own the all-time series between these two 6-1-0, though the Dutchwomen won the last time they met, a 1-0 victory in 2014. Northeastern will be looking to sophomores Alina Mueller and Chloe Aurard to lead their offense again this season. They're also counting on junior Hockey East Goaltender of the Year Aerin Frankel in net. I expect Northeastern to win this one.
 (7) Boston College at Syracuse
These two teams play annually for a trophy in what they call the "ACC Hockey Championship." Boston College leads the all-time series 6-1-1. Syracuse was swept last weekend by Clarkson while the Eagles took down Holy Cross 6-0 on Thursday night and swept Merrimack last weekend. BC goalie Maddy McArthur has allowed just one goal in three games so far this season. Syracuse earned their program's first-ever NCAA berth last season, winning the CHA tournament. They were eliminated in the first round by eventual champions Wisconsin. The Orange held their own in their first game with Clarkson last weekend, so I don't expect this to be a blow out, but I'll take BC.
(8) Boston University at Union
These two teams haven't met since 2013, but the Terriers own the all-time series 10-0. This is the season-opener for BU. They'll be counting on Patty Kazmaier top-10 finalist Jesse Compher to lead them on defense. She led Hockey East and was third in the country with 61 points last season. Boston University should win this one.
(9) Ohio State at St. Cloud State
St. Cloud State opens their season and Ohio State opens conference play in this series. The Buckeyes swept the season series last year and hold a 45-30-10 all-time record against the Huskies. OSU had a dramatic, last-second win over St. Lawrence last weekend to clinch a weekend sweep. Liz Schepers led the team with two goals and an assist on the weekend. St. Cloud State lost a number of their top scorers in the offseason and will reliant on their world class goalie tandem of Janine Alder and Emma Polusny. This will be my flyer pick of the weekend – I'm calling St. Cloud State to earn a split on the back of their stellar goaltending.
RPI at Merrimack
This is the first-ever meeting between these two programs. Merrimack opened their season with a pair of losses to Boston College. RPI was swept by Minnesota State in their first series of the season. The Engineers are still trying to figure out how to replace Lovisa Selander in net and are a bit too porous on defense. Merrimack blocks a lot of shots, but they also take a lot of penalties. Special teams play could be a deciding factor in this series. I expect Merrimack to sweep.