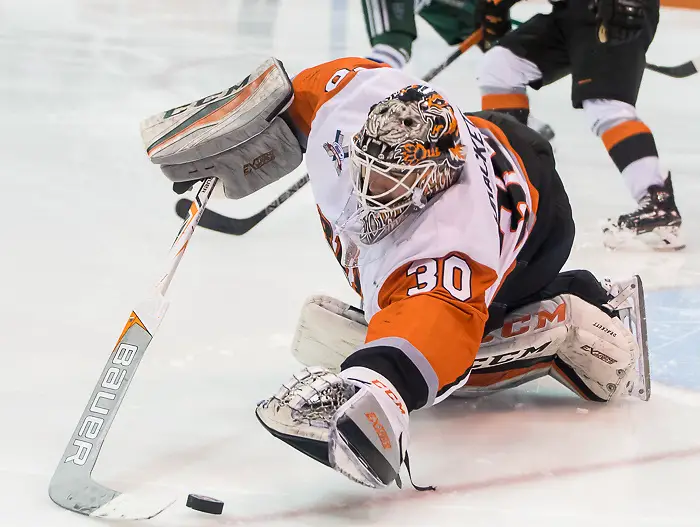 Air Force coach Frank Serratore has been known to say, "Sometimes this game shouldn't be called hockey. Sometimes it should be called goalie."
Serratore had a ringside seat to a pair of games that supported his axiom, watching Rochester Institute of Technology sweep his Falcons on home ice 2-1 and 1-0, despite Air Force holding an 80-22 shots advantage in the two games.
It was the first time in 14 visits to Cadet Ice Arena that the Tigers came away with a sweep, all the more astounding considering the wide disparity in scoring chances.
Junior goaltender Logan Drackett was exceptional for RIT, stopping 79 of 80 shots that he faced.
Despite the Tigers earning six points, coach Wayne Wilson wasn't happy with his team's effort, especially on Thursday, when RIT was outshot by a factor of four, 44-11.
But Drackett stole a win.
Probably two.
"We were just standing around watching," Wilson said about Thursday's win. "(Drackett) came up big in certain situations where we needed him. (Air Force) was trying to generate offense, throwing everything at the net and looking for rebounds and deflections. (Drackett) was there for us."
Friday's shutout was already the second of the season for Drackett. He currently sports a .966 save percentage and a 1.17 GAA. This is a step up from last year's .911 and 2.59 numbers, which were second in the league behind the graduated Billy Christopoulos (Air Force).
Two seasons ago, Drackett was a highly touted rookie competing for time with two other goalies. None of them could win the starting job, and RIT finished with the lowest team save percentage in Division I.
"They all had a chance and none of them grabbed it," said Wilson of RIT's goaltending woes at the time. "We didn't want to go through that again. After the (2017-18 season), when we couldn't find that one guy, we told them that who ever played the best in camp was going to start the season. In our opinion, coming out of training camp, Logan was going to get the opportunity to start, and he made the most of it.
"He was obviously the number one coming into this year. If he wasn't playing well, we might have shifted gears. But he's earned the right to be the number one.
"Last year was the kind of year we expected from him. And we expect all of our guys to get better each season."
Next up for the Tigers is Holy Cross this weekend at the Gene Polisseni Center as RIT opens the home portion of its 2019-20 schedule.
When asked what needs to be improved over last weekend, getting more offensive chances is a given, but Wilson said, "Everything. Until we're perfect, which we will never be, there's always something to work on. We're always trying to get better."
More goose eggs
Drackett wasn't the only netminder standing tall last weekend.
Shutouts were also posted by Bentley's Aidan Pelino (5-0 over Army West Point) and Sacred Heart netminder Josh Benson (4-0 over Niagara). Benson allowed just a single goal in his other start last weekend, a 3-1 win by the Pioneers over the Purple Eagles to complete the sweep. In all, Benson stopped 57 of 58 shots in the series.
Not getting a shutout this past weekend, but tied with Drackett for the most so far in Atlantic Hockey this season is Robert Morris' Justin Kapelmaster, who has blanked Bentley and Army West Point so far. Kapelmaster, a graduate transfer from Ferris State, has six career shutouts including four in three years with the Bulldogs.
Anticipation
Change is hard.
I've lost count of the number of times Atlantic Hockey coaches and sports information directors have referred to "getting four points" in conference series so far this season.
It's six points now, thanks to the league adopting a new overtime format that includes three points for an outright win, either in regulation or the first (five on five) overtime, and two points for winning either the ensuing three on three session or a shootout, should be teams still remain deadlocked. The loser of the three on three or the shootout earns a point.
None of the 10 conference games played so far have gone to even a five minute overtime, and the league isn't using the new format for non-conference games played at home, so we're still waiting for the first instance of the new system.
In non-conference overtime games, AHA teams are an impressive 4-2-3 so far. Those have all been played under the old format due to either league or location, or didn't need an overtime beyond five minutes to settle.
Games to watch this week
Some intriguing matchups to follow this weekend:
– Air Force at Sacred Heart: The Falcons have opened the season 0-6 and are desperate to get a win. The Pioneers, who always seem to play Air Force tough, are looking to build off a sweep of preseason No. 1 Niagara.
– Niagara at Denver: Niagara goes right back into the fire with a series against undefeated and top-ranked Denver. The Purple Eagles gave Minnesota all it could handle two weeks ago, but this is a taller order.
– American International vs. Army West Point – The Black Knights host on Friday with the action shifting to Springfield on Saturday. Former Army assistant and head coach of the defending champions, AIC's Eric Lang, will go up against his mentor, Black Knights coach Brian Riley. This is a rematch of last year's first round tournament series, won by the Yellow Jackets in three games.