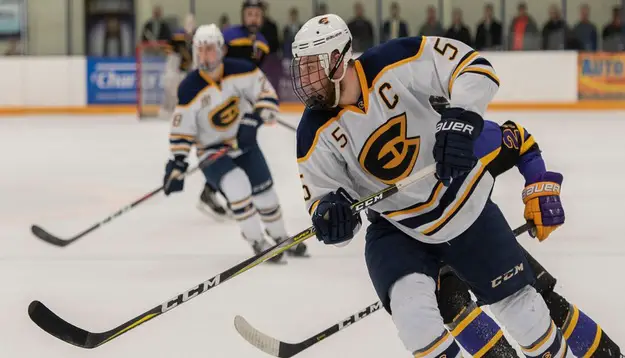 The second weekend of November brings a nice mix of conference and non-conference matchups, including a showdown between Augsburg and Wisconsin-Eau Claire on Saturday night. The national champs face a key test on the road in Minnesota and Lake Forest and Marian square off in a key NCHA series.
Friday
Wisconsin-Stevens Point at Saint John's
The reigning national champs pay a visit to Minnesota to take on a MIAC title hopeful in Saint John's. The Johnnies have had a tough time out of the gate, picking up just one win in their first three outings, but the Pointers haven't had the easiest time either, going 2-2 in their first four. Look for this one to be close. Wis.-Stevens-Point, 3-2
Saturday
Wisconsin-Eau Claire at Augsburg
The Auggies are unbeaten and atop the MIAC, outscoring the opposition 20-5. The Blugolds are unbeaten and have won their last two games. They have scored 13 goals and have given up just five. Goaltending could be the deciding factor in this one. Augsburg, 3-2
Friday and Saturday
Saint Mary's at Concordia
Saint Mary's goes on the road searching for its first win. The Cobbers have one win to their name. Both teams have struggled to get their offense going at times. This is a huge opportunity for one of these two teams to pick up important league wins and keep itself in the early running for a MIAC playoff berth. Concordia, 5-2; Saint Mary's, 4-2
Saint Scholastica at MSOE
The Saints are winless and have struggled to slow opponents down, allowing 16 goals. Milwaukee School of Engineering, meanwhile, is off to an impressive start, winning its first five games and scoring 19 goals. With the Raiders at home, they will be tough to beat. MSOE, 6-3 and 4-2
Lake Forest vs. Marian
Lake Forest begins a home-and-home at Marian and looking to keep its early-season momentum going after winning three of its first four. The Sabres are 2-1 and haven't played too badly. Both teams look relatively equal on paper, with each team tallying 15 goals. This could very well be one of the best series of the weekend.  Lake Forest, 2-1; Marian 3-2
St. Norbert at Trine
The Green Knights aren't accustomed to tough starts but find themselves sitting at 1-3. Trine, however, is rolling, jumping out to a 3-1 start to the season. This will be a good test for the Thunder on their home ice and serves as an opportunity to nail down a signature win. But the Green Knights, despite their struggles, are still talented and won't be an easy out. St. Norbert, 4-2 and 2-1.
St. Thomas vs. St. Olaf
It's a home and home series that begins in St. Olaf. The Tommies have won two of their first four games and the Oles are still looking for their first win of the year. St. Thomas is just a better team offensively, especially with Brett Gravelle, and that should be the difference in this series. St. Thomas, 5-2 and 4-1