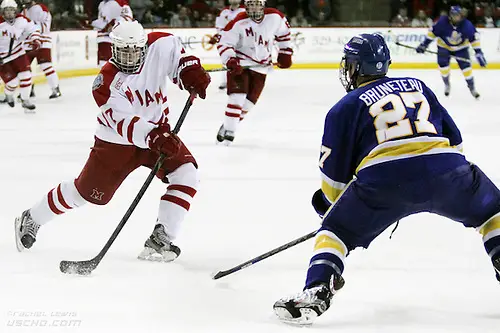 Welcome, to the inaugural season of the National Collegiate Hockey Conference. I and Matthew Semisch will be co-columnists this year for the conference. In addition to a Monday morning wrap blog and our weekly column, Matthew and I will be picking the games every Friday. To add a little spice, much like I do with women's D-I columnist Arlan Marttila, Matthew and I have decided to have a little contest. The winner of the season picks race gets a six pack of beer from the loser. Each week, we'll keep you updated on the race. Shootout wins will be worth a win, while a shootout loss will count as a tie. We will pick all NCHC games each week. Also, the win has to be picked on the correct date. Friday pick will be listed first, Saturday second if one of us is picking a split.
Here are our first week prognostications.
Friday-Saturday, Oct. 11-12
Merrimack at Denver
Candace: I've been covering Denver since 2006, and it's very strange to contemplate the bench without George Gwozdecky on it. DU looked a little rough in its exhibition loss last weekend to New Brunswick. I think goals are going to be hard to come by for the Pioneers, especially early. Merrimack 4-2, 4-3
Matthew: To me, this is our toughest series of the weekend to call. Merrimack was leading Hockey East as late as February last season, but couldn't find the net often enough to really keep the ball rolling. Very little is gone from last season's core Warriors group, and they're on the road this week at a Denver team that lost its exhibition game last weekend to New Brunswick and has a new head coach in Jim Montgomery and 10 freshmen. I can see Merrimack pulling out a win from this series — Friday seems more likely to me — but Denver should win at least one of these games. Merrimack 2-1, Denver 3-1
Western Michigan vs. Notre Dame (home-and-home; at ND Fri.; at WMU Sat.)
Candace: I got some grief from Broncos fans for picking them last in the conference, but to me, until the freshmen prove themselves, offense looks iffy for Western Michigan. A tie in at least one of these games wouldn't surprise me. I'll pick home ice for each. Notre Dame 3-1, Western Michigan 2-1
Matthew: The Broncos and Fighting Irish are no strangers to each other, having been CCHA league rivals before the teams moved to the NCHC and Hockey East, respectively. Both clubs are looking to start life in their new eras brightly, and I have a feeling they'll cancel each other out in this home-and-home series. These could be a very entertaining series in which I think they'll have to settle for a win apiece. Notre Dame 3-1, Western Michigan 3-2
Miami vs. Ohio State (home-and-home; at OSU Fri., at Miami Sat.)
Candace: Miami is one of the favorites for the conference title this year. Ohio State has moved on to the Big Ten, but I don't expect their fortunes to improve very quickly, especially since they have a new coach. Look for the RedHawks to roll both nights. Miami 4-1, 4-0
Matthew: Ohio State had a rough off season in which it fired head coach Mark Osiecki, who seemed to have the Buckeyes going in the right direction. They looked great last Saturday in their 9-1 preseason win over Toronto, but now they face a Miami team that won the CCHA last season despite having a dozen freshmen. I'd give OSU a better chance here if they hadn't lost superb goaltender Brady Hjelle to graduation, but I think the RedHawks find a way to win in Columbus and then roll at home in Oxford in the rematch. Miami 2-1, 4-0
Bemidji State at St. Cloud State
Candace: I picked St. Cloud to win the conference this year. St. Cloud did lose three big players in LeBlanc, Hanowski, and Jensen, but they return a ton of talent, especially Nic Dowd and Jonny Brodzinski. Plus, opening the season in their newly christened arena should give them extra incentive. Look for the Huskies to prevail in both. St. Cloud 4-1, 4-2
Matthew: St. Cloud's only exhibition game this season isn't until after New Year's, so Friday's tilt against former WCHA foe Bemidji State will be the Huskies' first game at the renovated and renamed Herb Brooks National Hockey Center. Whether SCSU can replicate last season's Frozen Four run and fully make up for the departures of Drew LeBlanc, Ben Hanowski and Nick Jensen, we'll see, but the Huskies return plenty of impact players at every position and should do well this weekend if they solve Andrew Walsh, BSU's very underrated goaltender. St. Cloud 3-1, 4-1
Michigan Tech at Minnesota-Duluth
Candace: Minnesota-Duluth was young last year, and is even younger this season. However, the Bulldogs could be underrated a bit this year, and I could see them finishing anywhere from fourth to sixth in the NCHC. Last season, Duluth took three wins and a tie with the Huskies. I think the Bulldogs should sweep at home. Minnesota-Duluth 4-2, 3-2
Matthew: The 2012-13 season gave a young UMD team a bumpy ride, but I saw enough from Bulldog pups like forwards Austin Farley and Tony Cameranesi and defenseman Andy Welinski to think that things can be brighter for Duluth in the new campaign. As for this week, though, we've got two teams who have a lot of question marks on the defensive end, and I think we'll be in for a pair of high-scoring games in this series. Michigan Tech 3-2, Minnesota-Duluth 4-2.
Vermont at North Dakota
Candace: Historically, Dave Hakstol teams start slow, and North Dakota lost top scorers Danny Kristo and Corban Knight to graduation. Nevertheless, Vermont doesn't have enough to take advantage of what could be a feeling-out period for North Dakota. North Dakota 4-1, 4-1
Matthew: This season's UND team is one of the youngest coach Dave Hakstol has ever had in Grand Forks, N.D., but his group looked comfortable in last Sunday's 3-0 win over Manitoba. This week, they welcome a Vermont team that finished last in Hockey East last season in both power play and penalty kill, and the Catamounts gave up an average of 3.03 goals per game in the 2012-13 campaign. Weird things can and often do happen in the first week of the season, but I'm taking UND to win both of these games. North Dakota 3-2, 3-1
Bentley at Nebraska-Omaha
Candace: Nebraska-Omaha was very up and down last season, but for the most part, Atlantic Hockey squads haven't done well against other conferences outside ECAC. However, Bentley is much more experienced than last year, and brings back two AHA rookies of the year. I expect the Falcons to give the Mavericks a run for their money, but come up just short. Nebraska-Omaha 2-1, 3-1
Matthew: Although questions surround UNO's defense and goaltending, the Mavericks looked good at every position Monday in a 6-1 exhibition win over the Northern Alberta Institute of Technology. Bentley should be a better team this season than the group of Falcons that had the personnel to contend for the Atlantic Hockey title in 2012-13 but finished 10th in the league. Most of last year's Bentley team is back, including senior forward Brett Gensler who is coming off of back-to-back 40-point campaigns, but UNO has enough offensive firepower that it should overpower its visitors this weekend. Nebraska-Omaha 4-1, 4-2