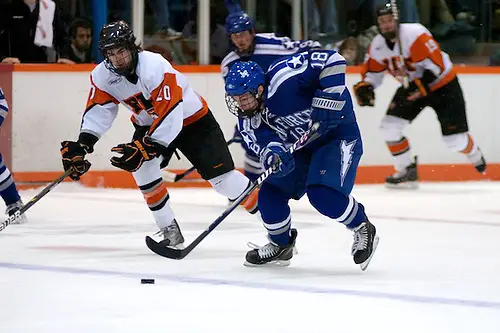 Most hockey coaches look for balance when assembling a team, and Air Force coach Frank Serratore knows he doesn't have that to start the 2014-15 season.
"We've got a bunch of freshmen and a bunch of seniors," said Serratore. "And not much in between. It's not ideal, but that's life at a service academy."
On the bright side, those seniors include one of the most prolific scoring lines in Division I last season; Cole Gunner (44 points last season), Chad Demers (41) and Scott Holm (29).
"It's a very strong senior class," said Serratore. "We have a lot coming back."
Besides its top line, Air Force looks to get a big final year from forward George Michalke. He missed missing the final part of the 2012-13 season with a concussion but returned last season to post 20 points, twice the output from his first two campaigns.
"Usually, after the kind of injury he had, guys don't come back the same," said Serratore. "But he has elevated his game. The time away made him a better player.
"Up front, they are four really good seniors that should be in the upper crust of scorers in the league."
On defense, the Falcons also have a wealth of experience, with six returning starters led by seniors Dan Weissenhofer and Alex Halloran.
"We've got three seniors and great experience," Serratore said of his blueliners. "We're in great shape."
That leaves goaltending, the main question mark for the Falcons after the departure of four-year starter Jason Torf.
Sophomore Chris Truehl appeared in 14 games last season, mostly filling in during a stretch in January and February when Torf was injured.
"Our goaltending is going to be somewhat questionable," said Serratore, who was then quick to praise Truehl.
"Chris Truehl did an exceptional job last season. We were able to secure home ice [in the playoffs]. Truehl helped us to that. I think he actually had better numbers than Torf over that stretch (8-3, 2.01 GAA, .921 save percentage)."
Two freshmen will compete with Truehl: Connor Girard and Austin Priebe, who played a combined 155 games in the NAHL.
In all, there are 12 rookies on the Falcons' roster.
"This big freshman class will get time to adjust," said Serratore. "We need our seniors to play like seniors and by the end of the season, the freshmen to play like sophomores. Historically, we have been able to do that. We have been fortunate to play our best hockey in the second half of the season, and we hope to do the same this year."
It's now been two seasons without a trip to Blue Cross Arena for the Falcons, who made the trip to the semifinals each of their first six seasons in Atlantic Hockey, winning five titles.
The seven seniors look to match the success they had as rookies, the last time Air Force won the AHA title.
"We build teams," said Serratore. "We're not a team that can bring in star players and start the season strong. In Atlantic Hockey, we win with teams, and that develops over the course of the season. There's no better example than Robert Morris, who won two games in the first half of the season. But they built themselves into a team. That's what we need to do to win in the playoffs and the NCAAs."
About the Falcons
2013-14 overall record: 21-14-4
2013-14 AHA record: 15-9-3 (tie, third)
2014-15 projected finish (coaches poll): Third
Key losses: G Jason Torf, D Adam McKenzie, F Jason Fabian
Players to watch: F Cole Gunner, F Chad Demers, D Dan Weissenhofer
Impact rookie: Blueliner Kyle Mackey played 99 games in the USHL for Youngstown, where he led the team in scoring by a defenseman.
Why the Falcons will finish higher than the coaches poll: The Falcons have experience on their side, and if their large rookie class can contribute right away, they'll be a force to be reckoned with.
Why the Falcons will finish lower than the coaches poll: Jason Torf won 54 games between the pipes and was consistently one of the top goalies in the league. Air Force has to worry about goaltending for the first time in four seasons.