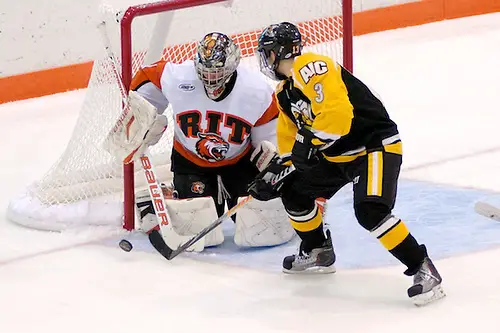 For most Atlantic Hockey programs, the current years are about progress and growth. At American International, those are terms taking on an entirely new meaning.
Despite a history dating to 1948, AIC is a team perennially associated with the back end of the conference. It hasn't finished over .500 in 20 years. The Yellow Jackets have recorded double-digit wins five times in that tenure, and in the first 10 years of the AHA, they never finished higher than the league's basement.
All of that changed two years ago. AIC went 12-17-6 and lost only one of its final 11 games to place ninth. It finished within two points of eighth-place Rochester Institute of Technology, bowing out to the Tigers in two straight games in the first round.
Unfortunately for coach Gary Wright, expectations and prognostications didn't build on that finish. AIC entered last year without the services of five of its best skaters. The Yellow Jackets had lost one of the best goalies in AHA history when Ben Meisner graduated. It seemed like everyone was merely waiting for the team to sink back to the depths from which they came.
AIC didn't get the memo.
The Yellow Jackets went 10-25-3, only good enough for 11th place, but they rattled some cages along the way. They started the year 3-3, including a perfect 3-0 record in AHA play. Despite going on losing streaks of nine and four games, they pulled off upsets of teams like Air Force and Niagara. They beat Massachusetts 3-2 despite giving up nearly 60 shots on goal. And they won four out of five games before a late-season swoon ended with them out of the playoffs, again in two straight games on the road.
"The growth of the program was only really a modest one," Wright said. "We still have a long way to go. But we're a lot more competitive."
The record and statistics say one thing, but for the second straight year, the Yellow Jackets remained in a hunt for home ice until the season's final weeks. They were in eighth place as late as mid-February, causing people to take notice of them from a competition standpoint.
"It makes [the games] more fun for the locker room," said Wright. "It's nice to be in late January and February with more smiles and to be in the hunt on any given night. The overall sentiment appeals to a sense of accomplishment, and it's a thrill to be a part of it. As a coach, it's only a modest growth, but it's still satisfying.
"You like seeing your players achieve success, and that sense of progress is what you want. It's not only what you want as a coach, but it's what you want for your players."
AIC will return a solid slate of individuals from last year's team. Despite losing Blake Peake and Jon Puskar to graduation, AIC returns phenom David Norris, a sophomore who scored a 30-point season in his rookie year last season.
The Yellow Jackets also will bring back Alexander MacMillan's 12 goals and 17 assists, and Chris Porter's 11 goals. In goal, Leisner is back for a sophomore year he hopes will turn more heads after winning eight games as a rookie.
"After you lose such a great senior class like the ones we've had [over the past two years], things would definitely appear more fragile," said Wright. "You had a guy like Ben Meisner who you could say put everyone on his back, and you had great players like the ones we've had. We've had three league all stars, which is something we've never had before.
"But we've had breakthroughs, and we're very hopeful for the guys that we have. We've had players make the all-rookie team two years in a row. It's a breakthrough. It's modest, but it's something we're very happy about."
AIC opens its season with the defending national champions, playing at Union on Oct. 10. The Yellow Jackets will play nonconference games with Michigan, Massachusetts, Dartmouth and Clarkson. In AHA play, they draw four games with Air Force, Army, Robert Morris and Canisius.
About the Yellow Jackets
2013-14 record: 10-25-1
2013-14 conference record: 9-17-1 (11th)
2014-15 predicted finish (coaches poll): 11th
Key losses: F Jon Puskar, F Blake Peake, D Jake Williams
Key returnees: F David Norris, F Chris Porter, F Jason Popek, F Nathan Sliwinski, D Dominic Racobaldo, D Steven Hoshaw, G Hunter Leisner
Impact rookie: In three years in juniors, Andrew DeBrincat consistently scored at or above the 30-point mark. He could step in and give the Yellow Jackets an all-rookie player for the third straight season.
Why the Pioneers will finish higher than the coaches poll: The AHA is tight and competitive, meaning minuscule results will separate 11th from a higher finish. Win a tight game here or there, especially from teams expected to finish at the top, and all of a sudden AIC is back in the hunt for home ice.
Why the Pioneers will finish lower than the coaches poll: Someone has to finish last, and it's easy to point at a team that struggled for a swath of last season. AIC is also without the benefit of the old eastern scheduling pod in the new structure, having to play the two AHA finalists, a perennial league power and a team on the rise four times.