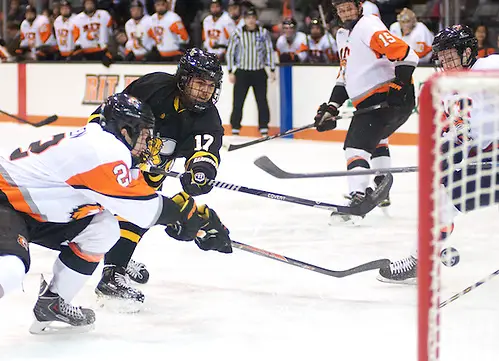 Coming off of a season in which they won only four games, it's easy to overlook American International in a field packed with as many front-running contenders as typically seen in Atlantic Hockey.
Yet every year, the Yellow Jackets seem to play into their mascot logo perfectly, stinging an unsuspecting hockey team and wiping out their chances for key playoff positioning. Two years ago, wins over Sacred Heart cost the Pioneers a potential trip to Holy Cross, instead sending them out to Buffalo for a postseason date with defending champion Canisius.
Last year, wins over Army West Point helped send the Black Knights on the road, representing four of the six-point difference between the cadets and home ice in the first round.
"We try to run our program with discipline and commitment [to each game]," coach Gary Wright said on what makes his team so tough to play against. "We recruit kids who are totally committed to the sport and totally committed to the team. While we need to be able to win more games [over the course of a season], we always continue to compete. And with our playoff format [where everyone makes the postseason], we know we can always compete straight into the postseason."
AIC's commitment to team can be seen in the explosion of stars it has had over the past few years. Junior Austin Orszulak is set to take the mantle as the latest star coming out of West Springfield, Mass., tallying 22 strikes along with 13 assists last season.
"He is extremely committed to the game," said Wright. "He loves playing hockey. He does such a great job with his stick skills, and he is really gifted when he shoots the puck. He's done a solid job for us scoring big goals."
The schedule for AIC looks to be slightly more forgiving than last year. A former eastern pod team, the Jackets found themselves playing three four-game series against former western teams (Canisius, Robert Morris and Air Force), going 0-11-1. This year, they'll have a slightly easier slate, drawing Bentley, Holy Cross and Niagara — teams they went 2-2-2 against last season.
Outside the league, AIC will play its annual rivalry game with Massachusetts at the MassMutual Center in Springfield in February. Also included is a season-opening trip to New Hampshire and an appearance in the Alaska Goal Rush.
"We're extremely enthusiastic and excited about the opportunity to take a team trip up to Alaska," said Wright. "It'll be a great experience for our entire program."
Last season
4-25-7, 4-17-7 (10th) in Atlantic Hockey. Lost to Air Force in the first round of the playoffs.
Names to know
Orszulak is the biggest goal-scoring weapon up front, but Johno May is back after putting up a team-high 23 assists last season. AIC also returns two goalies in Alex Murray and Hunter Leisner. Leisner won eight games two years ago, and Murray saw the bulk of the action last season, playing in 26 games.
Three questions
1. Can the defense match the offense's production? The Yellow Jackets scored 87 goals last year, better than two teams that finished ahead of them in the standings, but they gave up almost 40 shots per game and more than four goals per game.
2. Can May add goal-scoring to his resume? Despite 30 points, he had only seven goals. With Alexander MacMillan graduating, the opportunity is there to develop another tool.
3. Will AIC play at home in the playoffs? Favorable matchups could help boost it where unfavorable matchups hurt the team last season.
Crystal ball
AIC is one of the more dangerous teams because it's capable of beating anyone on any given night. If the goaltending can return to form, the offense will produce. Playing Sacred Heart and Army at home will help boost the Jackets. The best case scenario puts them at home in the first round, something that's never happened in program history.