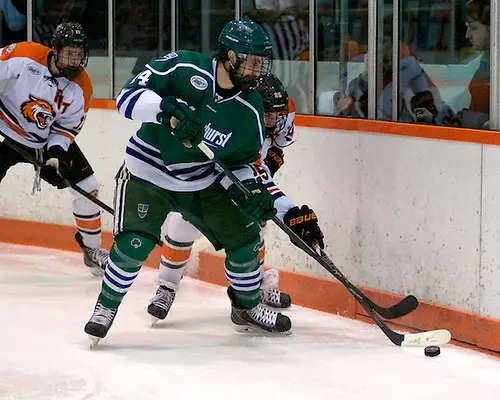 Mercyhurst coach Rick Gotkin's 28th season behind the bench may be one of his most challenging.
Gone is a large class that included five of the Lakers' top six scorers, three of their top four defensemen and goaltender Jimmy Sarjeant, a former Atlantic Hockey player of the year.
Associate coach Robert Ferraris took a coaching job at his high school alma mater.
As a result, after being near the top of the standings and making it to the title game last season, Mercyhurst was picked by the league's coaches to place eighth. That's an unfamiliar position for a program that's used to finishing in the upper echelon of the league.
"The poll was certainly interesting," said Gotkin. "Being picked to finish eighth by a group of coaches that I have a great deal of respect for is certainly a wake-up call for our program. Our goal, now, is to prove the poll wrong."
Despite the different cast of characters, Gotkin said there's continuity in a key area.
"It's a completely different challenge," he said. "And we're not sure we're going to be able to carry over a lot. But one thing that's the same is good leadership."
Anthony Mastrodicasa, the lone returning top-four blueliner for the Lakers, is the captain. Assisting will be a trio of forwards: senior Kyle Cook, junior Jack Riley and sophomore Jonathan Charbonneau.
The rookies got their feet wet in the first official game of the 2015-16 season, a 5-2 loss to No. 20 Colgate on Saturday.
"We're going to find out right away how our offseason went," said Gotkin. "We need to be prepared."
Last season
19-16-4, 14-11-3 (fifth) in Atlantic Hockey. Lost to RIT in the conference finals.
Names to know
Jack Riley, son of Army West Point coach Brian Riley, is the top returning scorer (24 points last season). Expect senior Anthony Mastrodicasa to lead an otherwise young defense and goaltender Brandon Wildung to build on last year's postseason success.
Three questions
1. Can the Lakers continue to be one of the top teams in the league despite such heavy losses to graduation?
2. Wildung emerged in the postseason as a playoff-caliber goaltender. Will it be enough to win the starting job going into his sophomore campaign?
3. Can the small group of upperclassmen provide the leadership to pull things together?
Crystal ball
Gotkin has a history of success and bringing talented players to Erie. Expect them to get things together by Christmas and finish higher in the standings than their predicted eighth.