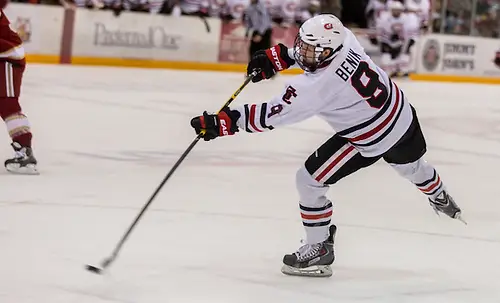 Last season, St. Cloud State had one of the toughest schedules in college hockey, and it seemed to wear the team down. This year, the players and coaches think the schedule might be even harder.
"We had 40 games last year, and 32 of those at the time we played them were top 10 in the country," said Huskies coach Bob Motzko. "That's something that no one would wish for, but we think our schedule is even harder this year.
"It is what it is. It's going to be an awful tough schedule, but our league prepares you for that, and it's just a challenge that we have to take on every year."
In addition to some losses to graduation, the Huskies were hit by the early departure of forward Jonny Brodzinski, who was in the top three in scoring on the team each of his three years. However, Motzko is excited about having three players back at full health.
"David Morley had a terrific second half last year," he said. "He finally got healthy, and I think he had 12 goals after Christmas. He took some major steps for us last year.
"Ryan Papa was out almost the entire year last year. He had 22 points as a freshman. To have him back in the lineup is a big plus for us.
"Kalle Kossila is coming off back-to-back surgeries, and he really wasn't himself last year. To see him back, we are seeing Kalle like he was two years ago. He's put his health issues behind him. Right now, he looks like where he was early in his career. We played him last year, but he was never himself. He had surgery in the offseason two summers ago, and he feels good again."
The Huskies have a large freshman class, including four forwards and four defensemen. Motzko expects the defense to have a chance to contribute early, as three defensemen graduated last spring.
"Our hole this year, our question mark, is defense," he said. "We had three guys who graduated, and toward the end of last year we moved Ben Storm to forward. We have four freshman defensemen, and one [Clark Kuster] is out 'til Christmas after surgery.
"We are a little young and a little thin on D. We are going to start with some unknowns at that position. We definitely have some strengths at that position with Ethan Prow back, our only senior. Ethan did a terrific job for us last year, but we are going to be counting on defensemen that we didn't lean on in the past, and freshmen are going to be a part of that."
Last season
20-19-1, 11-12-1 (sixth) in the NCHC. Lost to North Dakota in the NCAA West Regional final.
Names to know
With the departure of Brodzinski, senior Joey Benik will be counted on to score even more. His classmate, Kossila, is healthy again after a down year his junior season, and should help make up the points lost by Brodzinski. Senior defenseman Prow is a leader on the blue line, and will offset some of the youth in the blue line corps. For rookies, Will Borgen, Kuster, Jon Lizotte and Jimmy Schuldt are all defensemen who might be counted on to fill the holes left by graduated seniors Andrew Prochno, Tim Daly and Jarrod Rabey.
Three questions
1. Can St. Cloud get enough scoring from other sources to overcome the loss of Brodzinski to early departure?
2. Will the four freshman defensemen who are expected to start adjust quickly to the intensity of playing in the NCHC?
3. Can the Huskies improve their penalty kill, which succeeded only 80.3 percent of the time last season?
Crystal ball
The Huskies should battle two other teams, Miami and Omaha, for the final home-ice spot, and possibly advance to the NCAA tournament again.