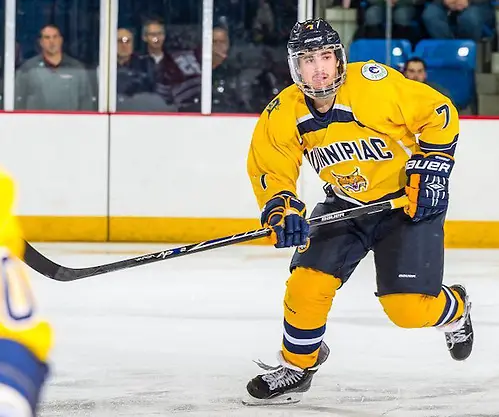 Quinnipiac has taken some big hits in the last few offseasons, and last summer was no exception.
The Bobcats graduated only three seniors: defensemen Dan Federico and Justin Agosta along with forward Matthew Peca, but each of them played important minutes.
Peca was a dynamic playmaker and one of the better defensive forwards in the league, while Federico and Agosta were key veterans amid a young defensive corps.
"I think the biggest thing for us is to try and replace Peca's minutes," Quinnipiac coach Rand Pecknold said. "He really made us go, not just on offense but on defense and that really established our identity. When your best players are willing to block shots with his body every night, it just sends a message to our team."
Quinnipiac made the NCAA tournament for the third straight season despite having 18 freshmen and sophomores on its roster. The Bobcats showed signs of their youth at times last year, but Pecknold hopes some of the younger players can continue to improve this season.
"Last year the one thing we did well was keep the hammer down," Pecknold said. "I don't know if we're the most talented team in the league, but sometimes that's not always the team that wins."
One piece of good news for Quinnipiac is that forward Sam Anas enters the season at 100 percent after missing time in the playoffs last year with a leg injury. The junior has scored at least 20 goals in each of his first two seasons and should be one of the Bobcats' top offensive threats again this year.
Last season
23-12-4, 16-3-3 (first) in ECAC Hockey. Lost to North Dakota in the first round of the NCAA tournament.
Names to know
Michael Garteig might be overlooked in goal, but the senior came on strong last season. Anas is joined up front by Travis St. Denis and Landon Smith, while Devon Toews is a solid two-way defenseman and Connor Clifton brings a physical presence to the blue line. His brother, Tim Clifton, and captain Soren Jonzzon have continued to improve throughout their careers and should be solid contributors again. Alex Miner-Barron will play this season as a graduate student, and filled in capably on both offense and defense last year.
Three questions
1. Who replaces the minutes of Peca, Federico and Agosta?
2. Will the Bobcats' young core from last season continue to progress?
3. It's not a bad problem to have, but Quinnipiac has been one-and-done in the last two NCAA tournaments. Will that change this season?
Crystal ball
No matter who they lose over the offseason, Quinnipiac has been in the mix for a top-four spot in the standings and a bid to the NCAA tournament the last two years. Expect that trend to continue, even with a number of teams that appear to be legitimate contenders for a first-round bye.