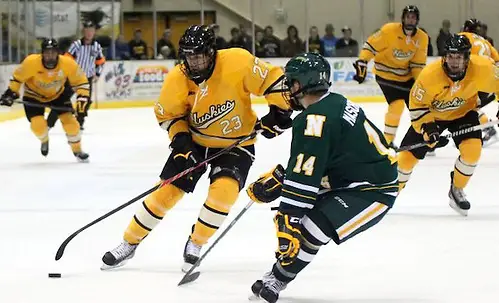 Change of plans: As we were about to go to press with our pre-announcement version of Hobey Watch, the 10 finalists for this year's Hobey Baker Award were revealed a day earlier than anticipated.
They are:
JT Compher, Michigan
Kyle Connor, Michigan
Thatcher Demko, Boston College
Zac Lynch, Robert Morris
Alex Lyon, Yale
Tyler Motte, Michigan
Alex Petan, Michigan Tech
Andrew Poturalski, New Hampshire
Ethan Prow, St. Cloud State
Jimmy Vesey, Harvard
So instead of a final prediction, here's our reaction to the 10 finalists.
The 10 include the top five that have been in earlier versions of our writers straw poll: Connor, Vesey, Motte, Lyon and Demko.
This week's poll results dropped Demko in favor of UMass-Lowell goalie Kevin Boyle, who was not among the actual finalists.
Our writers' final pre-announcement picks were:
1. Kyle Connor, Michigan
2. Tyler Motte, Michigan
3. Jimmy Vesey, Harvard
4. Alex Lyon, Yale
5. Kevin Boyle, UMass-Lowell
Others receiving votes: Greg Gibson, Robert Morris; Brock Boeser, North Dakota; Kalle Kossila, St. Cloud State; Cam Johnson, North Dakota; Ethan Prow, St. Cloud State; Thatcher Demko, Boston College; Zac Lynch, Robert Morris; Andrew Poturalski, New Hampshire.
Of all the players mentioned on our writers' ballots, Gibson, Boeser, Kossila and Johnson were not among the finalists.
Michigan's Compher received votes in earlier versions of our poll, but wasn't mentioned this week by our writers, and I'm going to guess that's because despite great numbers, it seemed doubtful that three forwards from Michigan were going to appear on the list of 10 finalists.
Petan flew under the radar of our staff, not appearing on any of our three straw polls. He was arguably the best player in the WCHA this season but didn't seem to us to be finalist material. In retrospect, all six conference had at least one finalist.
Our writers had Connor at the top of our list each week, and he has to be considered the favorite going into the final weekend of conference tournaments.
This weekend as well as the NCAA regionals will be in play as the 10 finalists are now turned over to a 27-member committee who will submit their ballots on March 28 and 29, with the Hobey Hat Trick announced on March 31.
The winner will be announced on April 8 at a ceremony at the Tampa Theatre during the Frozen Four.